ENGLISH COURSES IN BROWNS AUSTRALIA
Study English in BROWNS English Language School in 2023 or 2024.
Located in Australia, its two campuses in the cities of Brisbane and Gold Coast are fantastic venues to receive thousands of international students who are eager to fulfill their dreams of learning English. More than 35.000 students from around the world have graduated from BROWNS to date, and you can become one of them!
Contact a representative to get a quote, to receive more information, and a pdf brochure

TOP 10 REASONS

TO STUDY ENGLISH AT BROWNS ENGLISH LANGUAGE SCHOOL

This institution is acclaimed by students around the world for its quality education and exceptional facilities, offering excellent opportunities for you to learn English and continue studying, prepare an exam, boost your professional career, work, or go abroad.
WIDE RANGE OF ENGLISH PROGRAMS
Multiple course options according to students' needs, such as Intensive General English, Academic English, International Exam Preparation, English PLUS programs, School Preparation, Junior Camps, Study Groups, etc.
QUALITY TEACHING PROFESSIONALS AND MATERIALS IN ESL
Effective learning is guaranteed due to an efficient teaching system of continuous practice and assessment in the development of all language skills, supported by proper materials and virtual resources.
BROWNS IS PERFECTLY LOCATED IN BRISBANE AND GOLD COAST
Brisbane and Gold Coast Campuses have an excellent location in the vibrant state of Queensland in Australia, with modern facilities equipped to assist all students and make them feel welcomed by classmates and staff members.
GREAT LIFESTYLE AND COMMUNITY EXPERIENCE
BROWNS is the suitable institution to meet students from all over the world, live challenging experiences and enjoy the magnificent natural parks, sunny beaches, art galleries, libraries, museums, and more.
BROWNS IS TOP IN WORLDWIDE RANKINGS
This English School is awarded every year in rankings such as ST Star Awards as winners, stating the quality of teaching as well as of students' academic and personal experiences.
ENGAGING ACTIVITIES AND ATTRACTIVE SCENERIES
Students can practice the contents learned outside the classroom and join a highly diverse and fascinating community in steady progress. Conversation clubs, city walks, sports practices are some fun alternatives.
STUDENT SERVICES, CLUBS AND EXCLUSIVE DISCOUNTS
Wide range of services and students' groups to interact and boost your learning experience coordinated by the School Activities Program, which offers dozens of recreational activities to keep practicing and join in positive interactions.
FLEXIBLE STUDY PROGRAMS
You can choose full-time or part-time courses and take extra practice and homework review modules, or thematic classes depending on your objectives. Also, you can complement classes with volunteering, sports courses, etc.
PERSONALIZED STUDY PLANS
By taking an Online Placement Test you can get the right study plan for you, oriented to work on your areas of interest and advance on your communicative abilities.
LEARNING WITH SOCIAL RESPONSIBILITY
BROWNS encourages students to get involved in social issues and use their knowledge in practical contexts such as charity and sustainability, held by the Elevate Initiative organization.
About BROWNS English Language School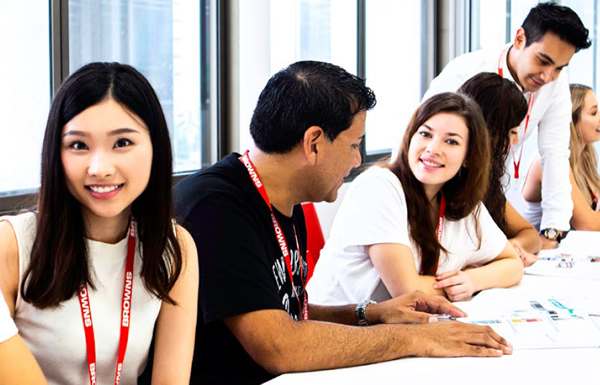 BROWNS English School is an award/winning institution founded in 2003 establishing one of the best educational communities in two of the most attractive hubs of Australia: Brisbane and Gold Coast. 121.000 international students prefer BROWNS every year, coming from 160 different countries to achieve their learning goals, benefit from the country's high living standards, cultural diversity, and friendly environment.
DESTINATIONS
BROWNS has two locations in Australia
BROWNS LANGUAGE SCHOOLS LOCATIONS 2023
Browns has two amazing locations in Australia, Brisbane and Gold Coast
Australia
This country that extends as a continent, also known as Commonwealth of Australia, is widely recognized for its multicultural society, with a quarter of citizens coming from other latitudes such as the Middle East, UK, China, Africa, and many others. To have an idea, four out of ten Australians correspond to migrants or children of migrants, with many coming from contexts where English was not spoken. With more than 22 million people, Australia is one of the most urbanized areas worldwide, where 70% of individuals inhabit in the 10 main cities. The south-eastern part of the territory and the coastline are preferred sectors to live in. Inhabitants enjoy spending time outside due to mild weather and outdoor natural landscapes, extraordinary flora and fauna, the perfect scenario for practicing sports, touring one of the 516 national parks, and share a pleasant evening with classmates and friends in a famous restaurant, theatre, or museum, there are plenty of attractions to discover while you study in the Australian nation.
BRISBANE
Brisbane is the state capital of Queensland. Brisbane is a modern, cultural, and vibrant city with a warm climate all year round. The local people are friendly and like a relaxed outdoor lifestyle. With 2.17 million people, it is a perfect sized city to explore and enjoy. BROWNS Brisbane headquarters has a modern design, and locates in the heart of the city, opposite to Brisbane City Hall.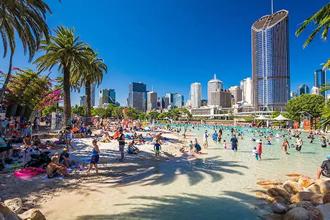 City Facts
Average Temperature: 15-26ºC
Population: 2.17 million people
283 days of sunshine a year
Capital city of Queensland
Home to three QS World University ranking Universities
School Location
Address: Level 8, 102 Adelaide Street, Brisbane 4000, Australia

GOLD COAST
The city of Gold Coast is famous for its wonderful surfing beaches, extensive waterways, subtropical rainforest and vibrant nightlife. With an average of 300 days of sunshine a year, it's no wonder visitors don't want to leave! BROWNS Gold Coast locates in the Southport sector, surrounded by shopping, parks, and at 4 minutes from the light rail station to the popular Surfer's Paradise.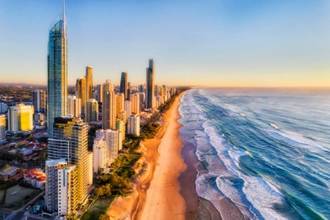 City Facts
Average Temperature: 17-25ºC
Population: About 600,000 people
300 days of sunshine a year
World famous beaches
World-class sporting infrastructure
School Location
Address: 5 Hicks Street, Southport 4215, Gold Coast, Australia

ENGLISH PROGRAMS IN BROWNS ENGLISH LANGUAGE SCHOOL
2023 - 2024
BROWNS offers several English language programs for international students and residents
Choose your ideal destination and program
These courses fit perfectly with the needs of students in terms of contents and schedule. They can select full or part-time, and work on linguistic aspects as well as develop their communicative and social skills in diverse practice groups.
BROWNS offers courses for preparing students for English International Examinations, such as the International English Language Testing System IELTS, the Cambridge English First Certificate FCE, and Cambridge English Advance CAE. Students receive personalized assessment and feedback to cover each test section and level up their skills to achieve the suitable score.
These courses prepare young learners to succeed in their academic careers, providing the right tools and innovative methods to keep them engaged and entertained with interactive lessons and materials. These are pathway course that allow continuity in subsequent institutions.
At BROWNS you can enjoy extra courses where you will develop your English while performing an occupation, such as housekeeper, or hotel/resort attendant. Also, you can volunteer, be part of study tours, or practice some fascinating sport.
If your goal is to enter University, Technical and Further Education (TAFE) or College, the English for Academic Purposes EAP course at BROWNS facilitates your access. Teachers will train you with useful materials to succeed in your in future studies.

The requirements of the Pathway Partner Programs vary depending on the institution. Thus, most programs require a minimum IELTS score of 5.5, 6.0, or 6.5, and the completion of an EAP level, FCE exam, or IGE course. There is the benefit of an English language waiver for students that do not meet all the English proficiency requirements but, based on their previous experience and qualifications, are admitted to the course.
Become a barista at BROWNS, where you will learn the trade and exercise your English every day. This serves perfectly for students who wish to access the hospitality field in Australia.
Program Features
Duration: 5 weeks
Location: Brisbane and Gold Coast Campuses
Hours per week: 30 hours (20 hours of hospitality English + 3 hours of research and group work + 10 hours of practical training in hygiene for food safety, coffee preparation, alcohol service).
Specialist Barista@Boost Training in tea preparation, cold pour coffee and tray service
Expand your abilities to access Australian hospitality industry
The 3 units of contents from the Tourism, Travel and Hospitality Training Package are recognized under the Australian Qualifications Framework, and students can receive a Statement of Attainment after their completion
Entry Requirements
Strong Pre-Intermediate English language level or above. Validated results of a standardized test or BROWNS Online Placement Test.
Minimum age: 16 years old. Check with a representative, some restrictions may apply
Student visa, Working Holiday visa or Visitor visa
Prices and Dates
Complete the contact form to request more information about prices, dates, and the application process.
Contact a representative for more information about each program
Prices | Dates | Availability | Application process | Visa Requirements | Housing and more
The language school can change the curriculum, requirements or any other aspect of each program without prior notice
JOB OPPORTUNITIES FOR INTERNATIONAL STUDENTS IN AUSTRALIA
In BROWNS you will have the guidance to find a job in Brisbane or Gold Coast
JOB CLUB AT BROWNS ENGLISH LANGUAGE SCHOOL
Jobs Club is a free service for international students that want to take advantage of the many job opportunities that are available during their stay in Australia.
In Australia, student visas are granted with permission to work. As a result, the student visa holders (and their family members travelling with them) do not need to apply for permission to work separately once they arrive in Australia. A student visa permits the student to work up to 20 hours per week while their course is in session and unlimited hours while their course is not in session. Note: The student cannot undertake work until they have commenced their course in Australia. Students in a tourist visa are not allowed to work.
Browns offer a free service for international students that want to take advantage of working in Australia while taking an English program.
Check the following video for more information about the Job Club at BROWNS English Language School.
HOW TO APPLY FOR AN ENGLISH PROGRAM IN BROWNS
All the application process is online. Follow the instructions of a representative
You need to contact a representative who will guide you throughout the entire application process.
If you need to process a student visa, we recommend applying to the program at least two months in advance.
The application process and requirements depend on many factors like the school location, program, age of the student, type of visa, etc.
HOUSING OPTIONS IN BROWNS
International students have several housing options
BROWNS HOUSING OPTIONS IN 2023
You can book accommodation through BROWNS or you can search on your own
Browns Apartments and Residences
Homestays
Search on your own
Browns Apartments and Residences
BROWNS Student Apartments are located approximately 5-10 minutes walk from your BROWNS campus, close to shopping centres and public transportation. Living in BROWNS apartments is ideal for those who want to share with others students, live close to the school, and experience a more independent stay.
Accomodation is subject to space availability so it is suggested that students apply for housing as soon as possible.
Homestay Families
Homestays provide year-round accommodations. Students live and interact with a family. Meal plans are available. Homestays are located within 50 minutes public transportation to your BROWNS campus.
Accomodation is subject to space availability so it is suggested that students apply for accomodation as soon as possible.
Search on your own
Do you have a place to stay?, or Do you want to arrange your own housing? No problem!. Booking accommodation through BROWNS is not mandatory.
If the housing option is not managed by BROWNS, students must contact the housing provider directly.
Contact a representative for more information about each program
Prices | Dates | Availability | Application process | Visa Requirements | Housing and more
FAQS
Do you have any question about studying English at BROWNS?
FREQUENTLY ASKED QUESTIONS ABOUT STUDYING ENGLISH IN BROWNS
If you do not find the answer, please contact a representative filling the form below
Why should I prefer BROWNS?
BROWNS is one of the top English Language Schools in the world. Since 2003, more than 35,000 students from 102 nationalities have completed a BROWNS English program. With two amazing campuses located in Brisbane and Gold Coast, BROWNS gives you the opportunity to enjoy an exceptional English learning experience.
Which English levels does BROWNS have?
Its curricula are grounded on the Common European Framework of Reference for Languages (CEFR), a worldwide guide for categorizing language levels implemented by the European Council. It is applied by many academic institutions to determine linguistics competence within a range of six levels, from A1 Beginner to C2 Advanced. The skills assessed are reading, listening, writing, and speaking. BROWNS levels are created in accordance with the CEFR descriptor.
What kind of accommodations are available?
Accommodation is not included in the program. Students can look for accommodation on their own or apply for the accommodation offered by BROWNS. Please let us know if you would like to know the accommodation alternatives and their respective costs.
Are there any extracurricular activities?
The BROWNS Activities Coordinator organizes fun and free activities for students every day of the year. In addition, you can join one of the following student clubs: soccer, tennis, dance, conversation, ping-pong, cooking, among others.
What will my weekly schedule be?
All full-time programs offer 20 hours of classes per week from Monday to Friday + 5 optional hours of Accelerate and Homework Review. The exact class schedule will depend on the level of the student, it can range from 8.20am to 3.10pm; 8.50am to 3.30pm; 9.30am to 3.25pm.
How much does it cost to study at BROWNS English School?
To give you a personalized quote, tell us how long you would like to study for, and the program you are interested in. Remember you can study for as long as you wish between 2 and 52 weeks, starting any Monday
Is there a minimum age to apply for an English course at BROWNS?
The minimum age for applying for a course at BROWNS is 16 years old in most cases. For Junior Programs is 6 years old for Primary School Preparation, and 11 years old for Highschool Preparation.
Is there any deadline to apply and enroll in a course?
There is not a fixed application date, however it is recommended that you start the process with enough anticipation to meet all the requirements on time. Whereas the minimum for enrollment is 1 week.
What type of visa do I need to enroll in Browns programs?
It depends on the course you take, you might need a Students, Visitor, or Working Holiday Visa, and for Junior Programs a Dependent Visa is required.
How much does the application fees cost for BROWNS courses?
It depends on the program you want to study. Contact us for a quote.
Do I need to get a health insurance?
BROWNS issues a health coverage for international students, with an Overseas Student Health Cover OSHC provider, the Allianz Care Australia. Therefore, while you accept the offer, this health insurance has to be paid.
Are there any scholarships for the English courses?
No, there are no scholarships to study at BROWNS, but there might be some discounts for specific regions. Contact us for further information.
When do I pay? What are the payment methods for these ESL courses?
At BROWNS you have several options to pay your fees. You can use NexPay payment platform, Telegraphic Transfer (TT), Credit Card, transfer at a local bank, and in cash. You must consider surcharges that may be applied and 1-5 days to confirm the transaction. Remember doing it after the school sends you the Letter of Offer.
Does BROWNS have virtual resources for students?
Yes, this center has available a virtual platform called my.BROWNS. You can have access from anywhere to your academic progress, class schedules, attendance to courses, tasks and online materials uploaded by teachers.
What is the approximate number of students per class?
Usually, there are 12 students attending a class.
Is there an evaluation of my current English level?
Yes, once at BROWNS you will take a placement test which assesses reading, listening, writing, and speaking. Then you are assigned to a specific level according to your linguistic competence.
Do I get a certificate at completing the course at BROWNS?
Yes. After successfully completing the course, students get a BROWNS certificate. It indicates name, completed course, course duration, grades in listening, reading, writing, and speaking, attendance and achievement.
What services are available for students?
BROWNS is committed to students to have a wonderful learning experience. So from day one they are assisted in their immersion on Australian lifestyle, introduced to the school and accommodations. Also, they can require airport transfer, academic counselling, and many more activities on or off campus.
What is the teaching methodology at BROWNS Language School?
This English School implements the program Active8 (in the Intensive General English course), which consists in practicing core skills during the morning, and in the afternoon, you are trained in individual aspects of English language, such as pronunciation, vocabulary, etc. Additionally, students are supervised in their progress by checking daily homework and taking tests every week.
The answers provided in the frequent asked questions may change from time to time. In order to confirm any of these answers, we suggest to contact a representative filling the form below.
GET A QUOTE - CONTACT US
Fill the form below, and a representative will send you a brochure in pdf by email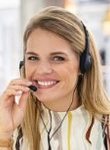 GET A QUOTE AND THE BROCHURE IN PDF
Get in touch with one of our representatives to receive more information about the English Language programs at BROWNS
Get a Quote / Contact Us
To request a quote, please complete the following form. If you don't know the dates yet, please provide an estimate.
Give us a Call
+1 310 341 4337