ENGLISH LANGUAGE COURSES IN BRISBANE, AUSTRALIA:
A COMPLETE GUIDE AND LIST OF THE BEST ENGLISH PROGRAMS FOR INTERNATIONAL STUDENTS IN THE CITY OF BRISBANE IN 2023

Brisbane is one of the top destinations for learning and studying English as a second language (ESL). The city of Brisbane has several English language schools, institutes, and prestigious universities that offer English classes.
Brisbane stands out for studying English over other cities, mainly for being an incredible city for both tourists and students. It has a mild, sunny weather; a low cost of living; a great public transportation system; and a perfect blend of exciting urban life and relaxing outdoor experiences. Moreover, as the third most populous city in Australia and the capital of Queensland, Brisbane offers huge amounts of entertainment, great networking, a diverse population, and lots of opportunities to interact with native speakers and practice your English skills. Therefore, not only you'll grow as a professional, but you'll also expand your vision of the world and live a life-changing experience.
The city of Brisbane has English programs for all ages and budgets. We suggest you read this page and click on each language school you think is a good option. All universities and language institutes listed here offer English programs that allow you to apply for a student visa. Most of the programs are also available for citizens and residents in full-time or part-time options.
The most common programs are "General English" or "Academic English Programs", which allow you to improve your English level for academic or professional purposes.
Common questions
Where to study English in Brisbane, Australia?
What is the best English language course in Brisbane?
How can I study English in Brisbane?
English programs near Brisbane?
Cheap and good English courses in Brisbane?
You will find the answer to these questions on this website and a complete list of English language schools available for international students and residents. Click on the specific language school or university to get more information. You will find more details about the programs on those pages, helpful resources, and tips as housing, reviews, comments, and testimonials. As a leading world agency in ViveCampus, we can guide you in all the steps to study English in Brisbane, Australia.
1. Best places to learn English in
Brisbane

, Australia

English courses as a second language in top universities and institutions
Brisbane is Australia's third biggest city and the capital of Queensland. With a population of around 2.5 million people, and just like most Australian cities, it's incredibly diverse, because many of its people have been born in other countries, with adds up to a wonderful cultural experience abroad. So you can learn English, network with other professionals, and learn lots of new things about other cultures.
In Brisbane and surroundings we can find the following places:
City of Brisbane
Logan City
Moreton Bay Region
City of Ipswich
Redland City
Scenic Rim Region
List of English Language Schools in Brisbane:
2.
TOP SEVEN REASONS

TO STUDY ENGLISH IN BRISBANE

One of the best destination for international students in Australia
A REMARKABLE SELECTION OF ENGLISH SCHOOLS
You'll find a wide variety of English language schools in Brisbane, from which you can choose the one that best fits your goals.
ADDITIONAL SERVICES AND GREAT FACILITIES AT SCHOOLS
On top of great English language instruction, English language institutions in Brisbane will also offer fantastic extra services, such as: modern sport facilities, extracurricular activities and trips, access to student organizations, among others.
LEARN AT SCHOOL AND PRACTICE EVERY DAY
An abroad English program in Brisbane is an excellent opportunity to learn both inside and outside the classroom, as you'll put into practice in everyday life all the new contents you learn at school.
NETWORK WITH PROFESSIONALS FROM ALL INDUSTRIES
Since it's Australia's third biggest city, in Brisbane you can find a great metropolis full of professionals coming from all parts of the country and the world, which translates into a great chance to meet other people from the same industry and make meaningful connections.
LIVE A MULTICULTURAL EXPERIENCE ABROAD IN BRISBANE
Just like many other Australian cities, Brisbane is a multicultural place open to all cultures and customs, so you'll have a great time making new friends, meeting new people and expanding your world vision.
HAVE A BLAST IN A WONDERFUL AND FUN CITY
Brisbane is an exciting city where there's always something fun to do, whether is outdoor activities or fun events around town, you'll always be having fun.
A MASSIVE AMOUNT OF TOURIST ATTRACTIONS TO
In Brisbane, there are some of the finest tourist attractions you can visit in Australia. Some of these destinations are: Story Bridge, the Lone Pine Koala Sanctuary, The Cultural Precinct, QAGOMA, James Street, South Bank, Queen Street Mall, Moreton Island, the Museum of Brisbane, the City Botanic Gardens, and many more.
3. Trends in
2023
In 2023, international students are looking for the following English language courses:
In 2023, Australia continues to be an appealing destination for international students pursuing English as a second language (ESL) studies. Its world-class educational institutions, diverse culture, and stunning natural landscapes make Australia a top choice. For those looking to study abroad and immerse themselves in the Australian way of life, several trends are enhancing the ESL experience in Australia.
A significant trend in Australian ESL education is the incorporation of experiential learning. Beyond traditional classroom teaching, Australian ESL schools are integrating real-world experiences into their curriculum. Students can engage in community volunteering, cultural excursions, and internships, allowing them to practice their English skills in authentic settings and immerse themselves in Australian culture.
Furthermore, the rise of specialized ESL programs tailored to students' specific needs and goals adds to the appeal of studying in Australia. Whether students are interested in business, academic preparation, or conversational fluency, Australia offers ESL courses to help them acquire the language skills necessary for their chosen field. These targeted programs ensure that students are well-prepared for their future endeavors.
Technology is playing an increasing role in ESL education in Australia. Virtual classrooms, interactive language apps, and online resources have become essential tools for ESL students. These technologies provide a more flexible and engaging learning experience, allowing students to practice their English skills at their own pace and receive instant feedback.
Australia's multicultural environment is another draw for international students. Many ESL programs in Australia include cultural exchange and language partner programs, giving students the opportunity to practice English with native speakers and learn about Australian culture from various perspectives. This enriching experience not only improves language skills but also fosters cross-cultural understanding and global perspectives.
One of the most appealing aspects of studying in Australia is the opportunity for international students to work while pursuing their studies. Australia's policies allow international students to gain valuable work experience while studying, helping them to practice their English skills in real-life settings and become more independent. The ability to study and work gives students a more well-rounded experience and better prepares them for their future careers.
Australia's strong commitment to student support is also noteworthy. Australian ESL institutions offer a wide range of services to help international students adapt to their new environment, such as orientation sessions, counseling services, and study skills workshops. This comprehensive support ensures a positive and successful ESL learning experience.
In conclusion, Australia remains an attractive destination for studying English as a second language in 2023. With trends such as experiential learning, specialized ESL programs, technology integration, a multicultural environment, and the opportunity to study and work, Australia is an excellent choice for international students. By studying and living in Australia, students can improve their English skills and enjoy a unique and unforgettable cultural experience.
4.
Requirements

to take an English Course in Brisbane, Australia

Some programs can have their own special requirements
Visa Requirements
For you to be allowed entry into Australia to enroll on an English course in Brisbane, you need to apply for a visa or an authorization. Based on your nationality and for how long you wish to study and stay in Australia, the document you need will vary. Some of these are: an Electronic Travel Authority, an eVisitor, a Visitor Visa, a Working Holiday Visa, or a Student Visa.
By holding an Electronic Travel Authority, an eVisitor or a Visitor Visa, you're allowed to study for three months maximum. Each one has different requirements and limitations, such as being a citizen of certain countries and differences in terms of costs and processing times.
The Working Holiday Visa allows you to study for 17 weeks maximum and its available only for people coming from certain countries and aged between 18 and 30 years old, or 35 for some countries.
Although the Student Visa can last for several years, its ultimate duration is determined by how long does your program last. Additionally, it allows part-time labor of up to 40 hours every two weeks and include your spouse and/or children as dependents. The school you wish to enroll on must be a registered institution that it's able to issue a CoE (Confirmation of Enrolment) and the program must be an ELICOS (English Language Intensive Course for Overseas Students). Other mandatory requirement is having an OSHC, a type of insurance that covers health expenses while you study in Australia, which can be arranged by the institute or university you'll be enrolling on.
Additionally, all visas and authorizations have mandatory health and character requirements you must meet. Moreover, citizens from certain countries must give their biometrics at a Visa Application Centre or an Australian Biometrics Collection Centre. You can check this website of the Australian government to find more information about visas in Australia to study in Brisbane.
Age Requirements
There's a minimum age requirement for English language programs in Brisbane, due to the fact that these are designed for adult learners. The minimum age is usually set between 16 and 18, and there's no maximum age. Nonetheless, some schools have special programs for teenagers and children, with activities and English lessons appropriate for them.
Proof of Sufficient Funds
Visa applicants must show proof that they have the necessary funding to cover their expenses while they study in Australia. The total amount they need to prove they have is determined by what kind of visa they're applying for and the total duration of their stay. Moreover, the tuition fee must be paid in total in advance, unless you're studying for more than 26 weeks, in which case it's possible to pay half at the beginning and the other half later. These funds must also be enough to cover for air tickets, your accommodation and any school fees that may remain. Finally, you must also have access to such funds and must be in an account that belongs to you or your sponsor, if someone else is covering your expenses. That person must also be a close relative.
Minimum English Language Level
There's a minimum English language proficiency requirement for ESL programs in Brisbane, that will be different for each program. Normally, there are several levels, from beginner to advanced, so students need to have a minimum level of English in which they can understand basic commands. Your current skills will be assessed with a placement test you take before or after the program's start day. Additionally, in some cases, students who wish to apply for a more advanced ESL course will need provide the results of an English language proficiency test, such as IELTS, TOEFL, and in Cambridge English Test in some institutions, in order to be accepted.
5.
Prices, dates and costs

of English courses in Brisbane 2023 - 2024

Explanation about main costs
Prices and dates of ESL programs are different according to each school and program.
To calculate your final budget, you must consider that some extra costs can be applied to the final tuition fee. Some of these are: housing, OSHC insurance, access to sport facilities and student services, extracurricular activities and visits to popular locations, and class materials.
You can use the information down below to assess the amount of money you'll need to cover the different expenses of studying abroad in Brisbane.
Main costs to consider if you want to study in Brisbane, Australia
ENGLISH PROGRAM
As we mentioned before, how much you'll spend on the ESL course will change depending on the school and the course you pick, as well as for how many weeks you'll study. As an example, special and full-time programs are more expensive than regular and part time programs.
HEALTH INSURANCE
Those on a Student Visa must have an OSHC insurance. This offers health coverage while in Australia and can be acquired through the English school or from an authorized insurance company. Moreover, it's recommended to have travel insurance, whether you're covered by OSHC or not, as it only offers coverage during your stay in Australia and not while you're travelling from one country to the other.
BOOKS
Books and other class materials could be included within tuition fees, but ultimately, this will depend on the English school and the course you select.
HOUSING
As most big cities, there's a wide array of different prices for housing in Brisbane. That's why how much you'll spend on this item will vary according to the area and for long you'll be staying. For example, furnished housing in a 45m2 studio apartment costs around AUD $1400-1500 per month in a normal, non-expensive zone. Some cheaper options include staying at a residence, sharing a room or an apartment, or staying at a homestay with a host family.
FOOD
How much you'll spend on this item depends on where you plan to eat. For example, some accommodations could include meals and you won't expend much on extra food. Other options could be eating at home or eating out. As a reference, a fast food meal costs AUD $12, while a basic lunch menu in an expensive area of Brisbane can costs around AUD $17.
VISA
Electronic Travel Authorization: Online Application Service Charge. eVisitor: free of charge. Visitor Visa: standard fee. Working Holiday Visa: standard fee. Student Visa: fee for the main student, fee for partners, and a fee for each child.
TRANSPORTATION
The cost of this item depends on how far you're from the school. Some good options, if possible, are using public transport, walking or riding a bike. Some other more expensive options are taking a cab or renting a car.
FLIGHT TICKETS
This cost will vary according to where you fly from, the season on which you fly, and the airline and class you select. That's why you'll want to look for the best possible prices on the internet. Finally, holidays are the most expensive dates to fly, such as Christmas and New Year's Eve.
6. Who study English in Brisbane, Australia?
Students come from all over the world to learn English in Brisbane
Brisbane is an excellent option for international students who are looking to enroll on ESL programs, since it's a place where they can meet other professionals, make new friends, and put their English skills into practice in everyday life situations. All of these opportunities offer students a great way of enhancing their academic and professional prospects, which is one of their main motivators. Another reason they make is decision is the fact that after taking English lessons back in their countries, they realized that in order to see significant results, it's important to experience the language in an environment where only English is spoken.
Young Students
Young students are currently in high school or college, and choose an ESL course in Brisbane as a way of improving their academic and professional career. They usually study in Australia during their school recess.
Young Professionals
Young professionals have recently finished undergraduate studies and are looking for ways to further specialize and apply for higher job positions. Moreover, having a high English proficiency level also allows them to enroll on graduate studies in other countries.
Senior Professionals
These experienced professionals hold higher positions in their companies and have all the different responsibilities the job entails. Some of these include interacting with partners from around the world, for which knowing English at a high proficiency level is essential.
Residents
Both temporary and permanent residents in Australia need a certain level of English proficiency, in order to be able to interact with other people in different everyday life contexts.
7. Photos about studying English in
Brisbane

, Australia

Look some of the photos of the ESL programs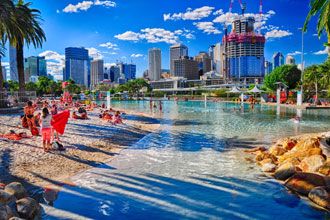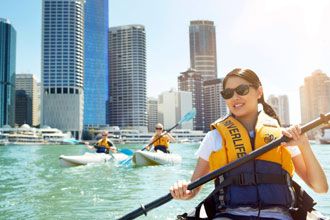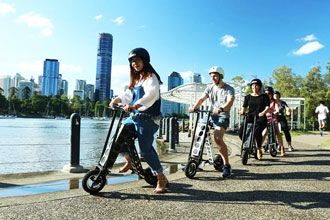 8. Videos about studying English in
Brisbane

, Australia

Click to watch the videos
9. Information about
Brisbane, Australia
Established in 1825, Brisbane is Australia's third biggest city and the capital of Queensland. It has a metropolitan population of around 2.5 million people, and like most Australian cities, its significantly diverse, as many of its inhabitants have been born overseas. Just like neighboring Sidney, Brisbane was first established as a penal colony and later became a regular settlement. As the capital of the Sunshine State, in Brisbane you can expect up to 300 days of sunshine per year and an overall warm climate.
Nowadays, its blend of exciting urban destinations and relaxing outdoor locations has positioned the city as one of the most livable cities in the world and as a prime destination for tourists, students, and professionals alike. Since it's close to the Pacific Ocean, while you stay in Brisbane, you'll be able to visit seaside locations such as Gold Coast and Sunshine Coast, or pay a visit to nearby Moreton Island and North Stradbroke Island. Moreover, within a short commute you'll find great urban locations, such as Southbank, where you can have lots of fun and enjoy fascinating cultural activities.
Therefore, Brisbane is an excellent location to study and spend your free time, as you'll have lots of things to do and innumerable places to visit. Some of these must-visit tourist attractions include:
Story Bridge, where you can climb to the top and enjoy breathtaking views of the city.
The Lone Pine Koala Sanctuary, where you can meet up close one of Australia's most famous animals.
The Cultural Precinct, located in South Bank, there you'll find galleries, museums and performance venues, where you can live Brisbane's fantastic cultural scene.
QAGOMA, officially the Queensland Art Gallery & Gallery of Modern Art, this destination is home to innumerable works of art from all over the world, specially Australia, the Pacific and Asia.
James Street, a fashion hub, where you can find boutiques and other luxurious stores.
South Bank, home to an artificial urban beach, museums, galleries, theaters, restaurants, bars, etc. In short, everything you need to have a wonderful time.
Queen Street Mall, a great shopping destination with innumerable stores.
Moreton Island, a place you can access by ferry from downtown Brisbane, full of golden sands, turquoise waters, and lots of fun activities to do outdoors in the ocean.
The Museum of Brisbane, where you can learn more about the fascinating history of Brisbane.
The City Botanic Gardens, full of relaxing green areas that take you away from the bustling metropolis and into a great experience outdoor, surrounded by Australia's beautiful tropical flora.
10. Frequently Asked Questions about studying English in
Brisbane
What are the different steps to apply for a visa or authorization to study an English course in Brisbane, Australia?
First, you need to be enrolled on an English course, pay the whole tuition fee in advance, and have an OSHC if you're applying for a student visa. Afterwards, you must make sure you have a valid passport and all the documents that you need in order to apply for the visa or authorization. Later, you must access the online application and fill in all the requested information to complete it. After this, you may be asked to give extra information, such as your biometrics, or to be subject to a medical checkup. Once the reviewing process is completed, you'll receive a confirmation and your visa or authorization will be issued. For more information regarding visas and authorizations to study in Australia, check the following website from the Australian government.
What are the different accommodation options in Brisbane?
Although you can arrange some kind of accommodation with the school, usually this is not included within the tuition fees, and you'll need to pay extra. Moreover, you can also choose one of the following options: renting an apartment, sharing a room or an apartment, or staying at a student residence.
Am I allowed to work while I study English in Brisbane?
Part-time work is allowed for those on a Student Visa, which can be maximum 40 hours every two weeks. Students on a Working Holiday Visa may work for more time, but can study for up to 17 weeks. Finally, those on a different kind of visa or travel authorization won't be able to work.
Where can I enroll on ESL programs in Brisbane?
In Brisbane you'll find different English language centers at which you can enroll on ESL programs. Check a complete list of English programs in Brisbane on our website.
Which is the best English center in Brisbane?
All English language centers are different and offer different experiences, which makes it difficult to say whether one is better and the other. For instance, ESL courses at English centers will have different starting dates, schedules, contents, prices, and different areas of specialization. That's why it'll ultimately depend on you to choose the one that best fits your purpose. You can check on our website the different centers where you can study English in Brisbane.
Do schools and universities offer scholarships to study English in Brisbane?
No, there are no scholarships to study English in Brisbane. Nevertheless, some schools can offer special discounts for non-domestic students.
What payment options are there to pay for English courses in Brisbane? What are the different steps?
Usually, institutions offer wire transfer, credit card payment, or both options. Based on how much does the program last, you might be asked to pay the tuition fee in advance. In case you're applying for a course that lasts more than 26 weeks, you can optionally pay half in advance and later pay the rest. However, other extra costs, such as the OSHC, are paid in advance whatever the case.
I'm not a student at the moment. Can I enroll on an English language program in Brisbane?
Yes, you can enroll on an English language program even if you're not a student at the moment. You must only meet the minimum requirements for the program you've chosen.
Is there a minimum age requirement to apply for an ESL program in Brisbane?
Yes, there's a minimum age requirement of between 16 and 18 years of age to apply for an ESL program in Brisbane, as these are planned for adult students. However, in some cases, there could also be junior programs for students below the age limit.
Which are some of the must-visit tourist locations in Brisbane?
Some tourist locations in Brisbane that you must visit are:

Story Bridge, The Lone Pine Koala Sanctuary, The Cultural Precinct, QAGOMA, James Street, South Bank, Queen Street Mall, Moreton Island, The Museum of Brisbane, and The City Botanic Gardens.
11. Testimonials of international students
The best thing about Brisbane is its relaxed lifestyle and the welcoming people who live there. I really enjoyed my stay in this beautiful and modern city, especially for its sunny weather almost all year round and pleasant temperatures that encouraged me to explore the entire city by bicycle.

Are you looking for a place to learn English and work? Brisbane is your place. There are many international students here. Brisbane is the ideal city if you want to have all the comforts of a big city in a smaller area and at a lower cost of living than other Australian cities.
12. Benefits of studying English Abroad in Brisbane
In the global world we live in, mastering the English language and having experience abroad is highly valued by companies and employers.
But the benefits are not only professional, as people who study abroad develop valuable skills such as competence in a new language, cultural exposure, tolerance, adaptability, leadership, and independence. All these skills are directly fostered by learning and living abroad.
Click on the screen to watch the video
Other popular destinations to study English abroad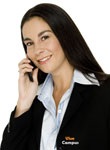 GET IN TOUCH WITH ONE OF OUR REPRESENTATIVES TO RECEIVE MORE INFORMATION ABOUT THE ENGLISH LANGUAGE PROGRAMS IN BRISBANE
You can write the message in your language
Get a Quote / Contact Us
To request a quote, please complete the following form. If you don't know the dates yet, please provide an estimate.
Give us a call
+1 310 341 4337