ENGLISH LANGUAGE COURSES IN ORLANDO, FLORIDA:
A COMPLETE GUIDE AND LIST OF THE BEST ENGLISH PROGRAMS FOR INTERNATIONAL STUDENTS IN THE CITY OF ORLANDO IN 2023

Orlando is one of the top destinations for learning and studying English as a second language (ESL). The city of Orlando has several English language schools, institutes, and prestigious universities that offer English classes.
Orlando stands out for studying English over other cities in The USA, mainly because of its incredible tourist attractions, such as Walt Disney World and other famous theme parks; the fantastic museums you can find in this city; the numerous national parks, zoos, and reserves; as well for having a prime location in Florida, close to important cities such as Miami, Tampa, and Jacksonville.
The city of Orlando has English programs for all ages and budgets. We suggest that you read this page and click on each language school you think is a good option. All universities and language institutes listed here offer English programs that allow you to apply for a student visa. Most of the programs are also available for citizens and residents in full-time or part-time options.
The most common programs are "General English" or "Academic English Programs", which allow you to improve your English level for academic or professional purposes.
Common questions
Where to study English in Orlando, Florida?
What is the best English language course in Orlando?
How can I study English in Orlando?
English programs near Orlando?
Cheap and good English courses in Orlando?
You will find the answer to these questions on this website and a complete list of English language schools available for international students and residents. Click on the specific language school or university to get more information. You will find more details about the programs on those pages, helpful resources, and tips as housing, reviews, comments, and testimonials. As a leading world agency in ViveCampus, we can guide you in all the steps to study English in Orlando, USA.
1. Best places to learn English in
Orlando

, USA

English courses as a second language in top universities and institutions
Orlando stands out for studying English over other cities, mainly because of its incredible tourist attractions, such as Walt Disney World and other famous theme parks; the fantastic museums you can find in this city; the numerous national parks, zoos, and reserves; as well for having a prime location in Florida, close to important cities such as Miami, Tampa, and Jacksonville.
In Orlando and surroundings we can find the following places:
Winter Park
College Park
East Orlando
Lake Nona
Celebration
Downtown Orlando
Thornton Park
Audubon Park
The Milk District
Ivanhoe Village
Mills 50
Downtown
Lake buena Vista
Kissimmee
Oviedo
Meadow Woods
Hunters Creek
Winter Park
List of English Language Schools in Orlando:
2.
TOP SEVEN REASONS

TO STUDY ENGLISH IN ORLANDO

One of the best destination for international students in the USA
CHOOSE FROM A GREAT VARIETY OF SCHOOLS AND COURSES
Orlando offers a great variety of high-quality English institutions, where you can select the course you like the best and start improving your English skills.
USE THE NUMEROUS SERVICES AND FACILITIES SCHOOLS OFFER
Schools and English Centers offer student clubs, libraries, sport facilities, extracurricular activities, among others.
A HUGE NUMBER OF OPPORTUNITIES TO IMPROVE YOUR ENGLISH OUTSIDE CLASSES
In this city, you will have numerous opportunities to improve your English language skills both inside and outside class.
ENHANCE YOUR CARREER BY NETWORKING WITH OTHER STUDENTS
You will have networking opportunities where you can meet new people and exchange experiences, which will be beneficial for your future.
STUDY IN A PRIME LOCATION IN THE AMERICAN EAST COAST
Orlando is located in the American East Coast, close to great cities such as Miami, Tampa, and Jacksonville, and surrounded by fantastic theme parks, lakes, and parks where you can connect with nature.
EXCELLENT COMMUTING AROUND ORLANDO
Orlando has a great public transportation system to connect the city with its surrounding areas.
VISIT AWESOME TOURIST ATTRACTIONS
Orlando is characterized by its countless attractions and entertainment, such as outlets, wildlife experiences, and awesome theme parks and resorts.
3. Trends in
2023
In 2023, international students are looking for the following English language courses:
In 2023, the most popular English courses in the United States are academic English courses, preparation courses for the TOEFL or IELTS, and specific English courses for professionals such as business-focused English courses.
Many people have realized the importance of the English language, either to apply for a better job or to enhance their career, and that is why English language learning courses with a certain specialization are ideal in these times.
Due to the contingency that is currently being experienced in the world due to the pandemic (Corona Virus Covid-19), many of these English programs in the USA are being carried out online or hybrid (part online and part face-to-face) and in some parts completely in-person classes.
On the other hand, the change of government in the United States and the new policies of the new president have favored international students to study English courses and specialization programs in the USA. There are many universities and English institutes that have already started with their completely face-to-face English classes and other universities hope to resume face-to-face programs in the second semester of the year.
4.
Requirements

to take an English Course in Orlando, USA

Some programs can have their own special requirements
Visa requirements
The F-1 student visa is mandatory if you want to take an intensive English program (18+ hours a week), for which you have to apply by presenting the I-20 Form, that the institution you choose will send you with the acceptance letter. However, you can enroll with a tourist visa or ESTA permit if you select a part-time program (less than 18 hours a week). You can learn more about the Visa Waiver Program (VWP) by visiting this website: https://travel.state.gov/content/travel/en/us-visas/tourism-visit/.
Age Requirements
It depends on the university or English center you choose. However, the minimum age limit is between 16 and 18 years old since most of these programs are aimed at adult students. In some cases, younger students can find special programs for children and teenagers.
Proof of Sufficient Funds
You have to prove that you have enough funds to cover the program cost and your living expenses to be eligible for an F-1 student visa. The amount of money you must prove depends on the institution and program you choose. Keep in mind that these amounts of money must be in your bank account or in an account that belongs to your sponsor, who could be part of your family or your company.
Minimum English Language Level
A minimum English language level is not required, but it is recommended to have basic knowledge of English, such as being able to say simple sentences, and ask and answer simple questions. This is because you will arrive in an English-speaking city and you will need to communicate with people around you. English courses are mostly offered from the basic to the advanced level, and your current proficiency will be decided with a test once you arrive at the institution. Nevertheless, some programs do require a minimum English level to enroll, which is usually verified with a TOEFL or IELTS test score.
5.
Prices, dates and costs

of English courses in Orlando 2023 - 2024

Explanation about main costs
Prices and dates for ESL programs in Orlando, will depend on the institution you select and how long your course is.
Take into account the fact that some schools and English centers may include extra items on the final program fee. Some of these are: accommodation cost, health insurance, program books and supplies, extracurricular activities, etc.
You have to keep in mind that studying English as a Second Language in Orlando involves certain costs. The amounts on the list are just estimated, and the final fee will depend on the course and English school you select. However, you can use this price list as a guide to calculate how much money you will need to study an ESL program in this city.
Main costs to consider if you want to study in Orlando, USA
ENGLISH PROGRAM
The cost will depend on which English language course you select (intensive or part-time, for how long, for how many hours a week, etc.).
HEALTH INSURANCE
Some schools and English centers offer to include health insurance costs in the final price, which starts at around $160 USD a month. Keep in mind that F-1 Visa students must have a health insurance.
BOOKS
The cost of books and supplies depend on the university or English center you select, and the price is around $100 USD.
HOUSING
Some institutions have on-campus accommodation, with prices starting at around $1,000 USD per semester. Off-campus options include campus partners housing services with prices starting at $600 USD per month, or renting a private apartment, with average prices starting at $1,000 USD a month for a one-bedroom apartment
FOOD
Some on and off-campus options include meal plans which can range from basic to elaborated options. Prices will change according to housing you choose, how many meals you receive a day, and how many days a week.
VISA
The cost of the student visa, plus the SEVIS number is required for students who enroll on an intensive program. The price of the F-1 visa is $160 USD, and the I-901 SEVIS number registration is $350 USD.
TRANSPORTATION
Orlando offers different transportation systems, such as bus services, a free circulator bus in the downtown area, rail services and taxicabs. There is also transportation inside the resorts to go to theme parks. The cost will depend on the time of day and distance you travel.
FLIGHT TICKETS
The cost will depend on where you begin your travel, if you are flying on peak or off season, and the flight class you choose. The most expensive prices are usually before Christmas and after New Year. In between you can find offers.
6. Who study English in Orlando, USA?
Students come from all over the world to learn English in Orlando
The students who enroll on these programs in Orlando come from all over the world. They are mostly motivated by the opportunity to improve their academic or professional career. Usually, these students have already taken ESL lessons in their countries, but do not speak the language in their daily life, which makes progressing difficult.
Young Students
These people are currently studying in high school or college and usually take these programs in Orlando during their summer or winter recess. These students are generally looking to increase their English ability, for an academic or recreational purpose. In addition, there are some universities that offer English courses plus undergraduate classes for students interested in entering an undergraduate program in a US university or college.
Young Professionals
These students are mostly people who already graduated from a higher-education institution and do not have many years of work experience. They are generally looking to learn in Orlando and use their English, either to obtain a better job position or enter a postgraduate program.
Senior Professionals
These professionals are people with many years of working experience and generally have senior positions in their workplace. However, they have realized that their English proficiency is not enough to establish good communication with other professionals at an international level. They ask for a leave of absence or resign their jobs, while others make use of the period of time between jobs by taking an English program in Orlando.
Residents
These students are permanent or temporary American residents in Orlando. They are usually accompanying employees who have been transferred to the USA. These types of students are looking to develop their English language level with the purpose of communicating in their daily lives and understanding American news and TV shows.
7. Photos about studying English in
Orlando

, USA

Look some of the photos of the ESL programs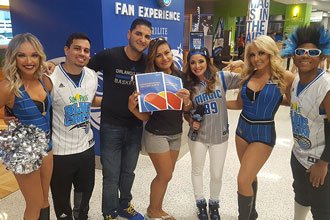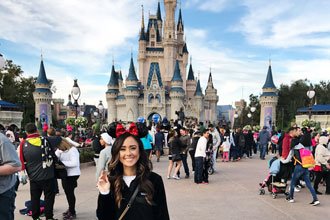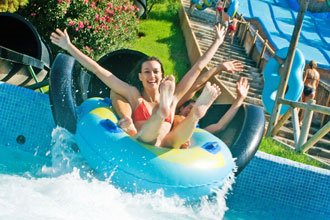 8. Videos about studying English in
Orlando

, USA

Click to watch the videos
9. Information about
Orlando, USA
Orlando is located in Central Florida and it is the center of the Orlando metropolitan area. Its population is more than 2 million, and it is also known as "The City Beautiful".
This city is popular for its theme parks, such as Walt Disney World and I-Drive, the latter boasting famous places, such as Universal Orlando Studio, Discovery Cove and SeaWorld Orlando, among many other entertainment opportunities. Millions of tourists come every year to Orlando, looking for unforgettable experiences. You can also enjoy Legoland and Crayola. However, not everything is about theme parks, as Orlando offers countless activities to do. If you are looking for an exciting wildlife experience, you cannot miss Gatorland, the Safari Wilderness Ranch, Forever Florida Nature Preserve, Central Florida Zoo and Florida State Parks.
You can find famous museums, such as Madame Tussauds Orlando Wax Museum; Ripley's Believe It or Not; Titanic: The Artifact Exhibition Orlando; Orlando Museum of Art; Orlando Science Center, Albin Polasek Museum & Sculpture Gardens, The Mennello Museum of American Art. If you want to immerse in nature, you have to visit Natural Spring and State Parks, and Kelly Park and Rock Spring Run, where you can enjoy swimming, canoeing, snorkeling, scuba diving, picnicking, and wildlife viewing. Also, in Orlando there are beautiful beaches. Finally, If you are looking for a shopping day, you will be delighted with the several premium outlets that Orlando offers.
10. Frequently Asked Questions about studying English in
Orlando
Can I travel only with an ESTA permit and study a full-time intensive program if my country has an agreement with the U.S.?
You can only take a part-time English program with an ESTA permit or a tourist visa because a full-time intensive program requires an F-1 student visa.
Which are the different steps of the application process for the F-1 student visa to study an English program in Orlando?
Please check with us what type of visa you need to take the program you are interested in.

All full-time programs in the U.S. require a F-1 student Visa. With an F-1 visa, you can extend your stay in the United States as long as you continue studying.
Part-time programs (18 hrs/week or less) can be taken with a tourist visa or visa waiver ESTA. With a tourist visa, you can only stay in the U.S. the duration your tourist visa allows, since your main purpose in the U.S. should be tourism.

If you need an F-1 student visa, please apply as soon as you receive your acceptance documents (I-20 form) from the English school. In some countries it can take several weeks to obtain a visa interview at the U.S. embassy.

You must confirm these steps on the website of the U.S. embassy in your country. You can look for your nearest U.S. embassy here: https://www.usembassy.gov/
Is there an age limit to enroll on ESL courses in Orlando?
Each English institution has their own minimum age limit, which will vary between 16 and 18 years old. However, there is no maximum age limit to enroll on a program.
Which is the best university or institution to enroll in an ESL course?
On this same website, you can learn more about the best English language institutions; so, you can choose the one that fits your needs and goals.
Can I apply for a scholarship if I enroll in an intensive or part-time course?
Unfortunately, you cannot obtain any scholarships since schools and English centers do not offer them. However, some institutions offer price discounts for international students.
Can I work and study at the same time while I am taking an ESL program?
The F-1 student visa allows you to work on the university campus 20 hours at most per week. Nevertheless, the institutions reserve these working positions for degree students, therefore students of ESL may not have many opportunities. Also, the schedule of English student does not allow you to have many hours to work on campus.
What payment methods are available for ESL programs?
The payment methods may vary depending on the school or English institution you select. Generally, they ask for an initial fee of around $180 USD, and in some institutions the cost of sending the documents you will need to apply for the student visa are covered by this fee. The program cost is usually paid once you arrive at the institution and this is preferably done via credit card.
What is the recommended amount of money that I need for my entire stay in Orlando?
Although there is no set amount of money, it is recommended that you make an estimated cost sheet with the university or English center fee and the extra items, such as food, transportation, housing and university extracurricular activities. It is important that you have a cash cushion in case on any emergency or trouble, so you are not caught by surprise.
What is the best neighborhood for living?
No neighborhood is better than the other since each one has its own characteristics, which differentiates one from the other. Thus, some people could be enchanted and think they are living in the best neighborhood, while others think otherwise. For this reason, the choice is up to you depending on your needs.
11. Testimonials of international students
I had already visited Orlando as a tourist because I went on vacation to Disneyworld and Universal studios parks, and that is why I knew that it would be in a good place. However, studying English in Orlando is a completely different experience, even better than what I thought. Living in this city allowed me to get to know the community, I felt welcomed by the people, and this helped me a lot to achieve the level of English I wanted since I was able to practice the English language every day. There are many activities you can do outdoors and the weather is great all year round. I highly recommend that you take English courses in Orlando.

Studying English in Orlando has been a very positive experience. Not only because of the high quality courses which was excellent, but because of everything that this city and its surroundings involve. The climate is wonderful and that allows people to do many things outdoors. With my classmates we went to all the theme parks of Disneyworld, Universal Studios, we visited Tampa and its beaches. In summary, all the recreational, sports, and cultural activities that we did helped me to achieve the fluency of English that I wanted, and the life experience was the best of all. Now I have friends from all over the world that I met in these English courses in Orlando.
12. Benefits of studying English Abroad in Orlando
In the global world we live in, mastering the English language and having experience abroad is highly valued by companies and employers.
But the benefits are not only professional, as people who study abroad develop valuable skills such as competence in a new language, cultural exposure, tolerance, adaptability, leadership, and independence. All these skills are directly fostered by learning and living abroad.
Click on the screen to watch the video
Other popular destinations to study English abroad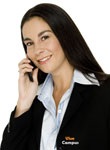 GET IN TOUCH WITH ONE OF OUR REPRESENTATIVES TO RECEIVE MORE INFORMATION ABOUT THE ENGLISH LANGUAGE PROGRAMS IN ORLANDO
You can write the message in your language
Give us a Call
+1 310 341 4337