ENGLISH LANGUAGE COURSES IN BOSTON, MASSACHUSETTS
A COMPLETE GUIDE AND LIST OF THE BESTg ENGLISH PROGRAMS FOR INTERNATIONAL STUDENTS IN THE CITY OF BOSTON IN 2023

Boston is one of the top destinations for learning and studying English as a second language (ESL). The city of Boston has several English language schools, institutes, and prestigious universities that offer English classes.
Boston stands out for studying English over other cities in The United States, mainly for being a place full of prestigious higher-education institutions, museums, historical sites, delicious cuisine, and fun activities you can enjoy. As the home for world-renowned universities, this city is perfect for networking with other students and fellow professionals from different areas. Boston is also close to other important cities such as Cambridge, Philadelphia and New York.
The city of Boston has English programs for all ages and budgets. We suggest that you read this page and click on each language school you think is a good option. All universities and language institutes listed here offer English programs that allow you to apply for a student visa. Most of the programs are also available for citizens and residents in full-time or part-time options.
The most common programs are "General English" or "Academic English Programs", which allow you to improve your English level for academic or professional purposes.
Common questions
Where to study English in Boston, Massachusetts?
What is the best English language course in Boston?
How can I study English in Boston?
English programs near Boston?
Cheap and good English courses in Boston?
You will find the answer to these questions on this website and a complete list of English language schools available for international students and residents. Click on the specific language school or university to get more information. You will find more details about the programs on those pages, helpful resources, and tips as housing, reviews, comments, and testimonials. As a leading world agency in ViveCampus, we can guide you in all the steps to study English in Boston, USA.
1. Best places to learn English in
Boston

, USA

English courses as a second language in top universities and institutions
Boston and Cambridge, where the ESL courses and programs are offered, are the main cities in the whole metropolitan area. They are both great places, full of prestigious higher-education institutions, museums, historical sites, delicious cuisine, and fun activities you can enjoy. Some of the tourist attractions you can visit and experience are: The Seaport District, where you can try all kinds of seafood; the Old State House Museum; the SoWa area and its wonderful art scene; enjoying a baseball game in Fenway Park, the oldest, still-functioning baseball park; the Boston Public Library; the Freedom Trail, a fascinating look into the history of the American Revolution; and of course, the campuses of the MIT and Harvard University.
In Boston and surroundings we can find the following places:
Downtown Boston
Downtown Boston
Worcester
Providence
Manchester
Lowell
Cambridge
Allston
Back Bay
Bay Village
Beacon Hill
Brighton
Charlestown
Chinatown
Dorchester
East Boston
West Boston
South Boston
Nort Boston
Fenway
Kenmore
Hyde Park
Harvard Square
Mission Hill
South End
North End
West End
East End
Kendall Square
Jamaica Plain
Union Square
Central Square
List of English Language Schools in Boston:
2.
TOP SEVEN REASONS

TO STUDY ENGLISH IN BOSTON

One of the best destination for international students in the USA
A WIDE ARRAY OF UNIVERSITIES AND SCHOOLS
In Boston, you can find numerous courses and programs in great institutions, such as English language schools and universities.
AWESOME ADDITIONAL SERVICES AND INCREDIBLE FACILITIES
In some cases, your program or course fees will include the costs of using sport facilities, being able to join student organizations, and participate in exciting excursions to local tourist sites.
FUN ACTIVITIES TO PRACTICE YOUR ENGLISH
Boston is full of fun activities you can enjoy while you put your English language skills into practice in a real-life setting.
MAKE NEW FRIENDS AND EXPAND YOUR PROFESSIONAL NETWORK
By studying English language programs and courses offered in Boston and Cambridge you can meet other people, and specially, other professionals from all over the planet, and develop networking relations for the future.
LEARN MORE ABOUT OTHER CULTURES
The Greater Boston area is full of culture and history, while also being a multicultural haven for people from different cultures. This translates into a fascinating experience where you can learn more about other people and their customs.
GREAT COMMUTING AROUND BOSTON
There is a great commute inside the Greater Boston area, with several services connecting the different cities, including Boston and Cambridge, so moving around the metropolitan area will not be a problem.
DISCOVER GREAT TOURIST ATTRACTIONS
There are numerous tourist sites to visit and exciting activities to do in the Greater Boston area: The Seaport District; the Old State House Museum; the SoWa area; Fenway Park; the Boston Public Library; the Freedom Trail; and of course, the campuses of the MIT and Harvard University.
3. Trends in
2023
In 2023, international students are looking for the following English language courses:
The United States of America, known for its diverse culture, world-renowned educational institutions, and lively cities, has long been a preferred destination for international students aspiring to study English as a second language (ESL) in 2023. With multiple institutions to choose from, such as private language schools or prestigious universities offering ESL programs, the US offers unparalleled opportunities for students seeking to enhance their English language skills and immerse themselves in a unique and exciting environment.
The trend of experiential learning is on the rise, where schools are integrating real-life experiences into their ESL programs. By participating in local events, interacting with native speakers, and engaging in activities that mirror everyday life, students have the chance to practice their language skills in a natural setting. This hands-on approach not only improves language proficiency but also helps students gain a deeper understanding of American culture and customs.
Another trend in the US ESL sector is the increasing focus on technology-driven learning. Schools are incorporating online platforms, interactive language apps, and digital resources into their curricula. These tools provide students with a flexible and engaging learning experience, allowing them to practice their English skills at their own pace, receive instant feedback, and access resources from anywhere. This trend is particularly beneficial for those who wish to continue their language studies after returning to their home countries.
One significant advantage of studying ESL in the US is the diverse range of institutions available. Whether you're interested in attending a private language school that focuses solely on ESL or enrolling in a prestigious university that offers ESL programs as part of a broader curriculum, the US has options to fit every need and preference. These institutions often provide additional support services, such as orientation sessions, academic counseling, and extracurricular activities, ensuring a positive and successful ESL learning experience.
The US also offers a wide variety of settings for ESL study, from bustling urban centers like New York and Los Angeles to picturesque college towns and quieter suburban areas. Students can choose a location that suits their preferences and immerse themselves in the American way of life. The exposure to different accents, regional expressions, and cultural nuances further enriches the language-learning experience.
In conclusion, the United States is an excellent destination for studying English as a second language in 2023. With its diverse range of institutions, innovative learning approaches, and vibrant settings, the US provides an enriching and immersive experience for international students. By studying and living in the US, students can not only improve their English skills but also gain valuable insights into American culture, broaden their horizons, and create lifelong memories.
4.
Requirements

to take an English Course in Boston, USA

Some programs can have their own special requirements
Visa Requirements
If you take an intensive English course or program in Boston, which are those consisting of 18+ hours of class a week, you will need an F-1 student visa, and for that purpose, you will also need an I-20 form that the English language institution will send you, along with your acceptance letter. It is also possible to study a part-time course or program (less than 18 hours) in the U.S. with a tourist visa or an ESTA. You can learn more about the Visa Waiver Program (VWP) by visiting this website: https://travel.state.gov/content/travel/en/us-visas/.
Age Requirements
The English programs and courses we represent are mostly aimed at adult students, so institutions set a minimum age limit of 16, 17, or 18; and there is no maximum age to enroll, so you can always take a program or course and start improving your English language skills. In some cases, special programs for teenagers and children may be offered.
Proof of Sufficient Funds
One of the requirements you must meet in order to obtain your visa is providing a proof of sufficient funds, which must be enough to cover all expenses, including the course fees and your own personal expenses. The total amount of money you will need will depend on where you enroll, the course you select, and where you will be staying, as different cities have different costs of living. The funds must be on your account or the account of your sponsor if it applies.
Minimum English Language Level
There is usually no minimum English level requirement for these programs and courses, apart from having a basic knowledge of English. Moreover, there are different levels of English in which you will be enrolled, and your current level will be determined with a placement test once you arrive. However, there are some programs and courses that will require a certain English proficiency level, which is shown via proficiency test results, such as the IELTS or TOEFL.
5.
Prices, dates and costs

of English courses in Boston 2023 - 2024

Explanation about main costs
Prices and dates for the English courses and programs vary in Boston, depending on the institution you choose, for how long you study, if it is an intensive or part-time course, and for how many hours per week it is taught.
When calculating the costs of your time abroad studying English, you have to keep in mind that institutions may include certain items on the course fees, such as the following: accommodation, health insurance, use of facilities, activities and events, books, etc.
Below you will find estimations of how much money you will need and how it changes according to the program or course you choose, and the city and institution where you plan to study. Therefore, you can use it for guidance to calculate how big does your budget need to be in order to study English in Boston.
Main costs to consider if you want to study in Boston, USA
ENGLISH PROGRAM
The cost of the English course depends on where you study and the course or program on which you enroll, for how long you plan to study, and the number of hours a week it is taught.
HEALTH INSURANCE
In some cases, the health insurance cost is included in the final fee, but this will change for each school. Have in mind that all F-1 students in the U.S. must have health insurance.
BOOKS
How much you pay for books depends on where you want to study, as some schools include them in the course fee, while others charge separately for each English language level.
HOUSING
How much you pay for books depends on where you want to study, as some schools include them in the course fee, while others charge separately for each English language level.
FOOD
You should put away at least $600 USD per month for food purposes. In some cases, accommodation may include food costs on the final fee, while on the other hand, universities may have meal plans you can buy to eat at the campus cafeteria.
VISA
$160 USD for the student visa and $350 USD for the I-901 SEVIS registration fee. It applies to all the students who enroll on an intensive program.
TRANSPORTATION
This will vary depending on where you live and how far you need to move in order to get to the school. We recommend living as close as possible, so you can walk, ride a bicycle or use the public transportation. This is because renting or buying a car can be really expensive and it may affect your budget.
FLIGHT TICKETS
This cost changes depending on where you are flying from, arrival and departure date, and the class you fly. Our recommendation is to check different travel websites and agencies, so you can get the best possible price. As a quick fact, the most expensive dates for flying are Christmas and New Year's Eve. In between you can find offers.
6. Who study English in Boston, USA?
Students come from all over the world to learn English in Boston
Students go from all parts of the world to Boston to study English language courses and programs. This is because the are looking to enhance their proficiency level, therefore directly improving their possibilities for the future. The reason for this is the fact that many of these students have taken English language lessons back in their countries, but due to the fact that English is not spoken on a daily basis, the are not capable of reaching higher proficiency levels.
Young Students
High-school or higher education students who are looking to enhance their English skills in Boston for academic or work-related purposes. They usually take time off during their vacations to enroll on these courses.
Young Professionals
Freshly graduated people or those who do not have many years of experience. Among the reasons to take an ESL program or course, the main one is improving their English in Boston to enroll on a graduate studies program abroad or to obtain a higher job position in an international company.
Senior Professionals
They are older professionals who tend to have more experience and higher job positions. Their main motivation is usually improving their English skills to communicate with other professionals from around the world, as this language has obtained a status of common language spoken amongst people across all areas of human endeavors. This is why the visit Boston to learn English.
Residents
They are American citizens who reside in Boston or people who moved with employees transferred to the U.S. The reason to enroll in a course or program tends to be being able to communicate with others in everyday situations in an environment in which only English is spoken.
7. Photos about studying English in
Boston

, USA

Look some of the photos of the ESL programs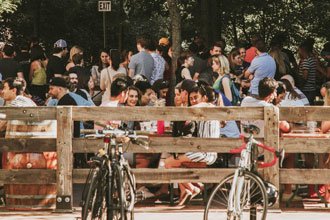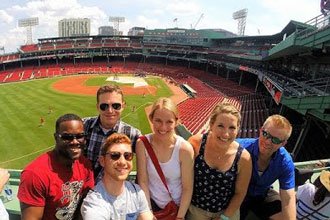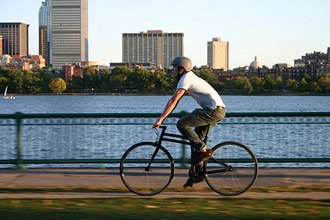 8. Videos about studying English in
Boston

, USA

Click to watch the videos
9. Information about
Boston, USA
The cities of Boston and Cambridge belong to a bigger area that is known as Greater Boston, which comprises several cities around the Boston area, has a population of more than 4 million people, and is located in the state of Massachusetts. Both Boston and Cambridge are really old cities, as they were founded in 1630, and thus have a rich cultural heritage, of which you can learn about in fascinating tours and visits to popular local attractions. When it comes to climate, Boston has mild summers and cold winters, so if you do not like winter, you can always go during the summer or spring season. As it is usually known, most of the population is from Irish origin, followed by those with Afro-American and Latino ancestry.
The Greater Boston area is also renowned for being a cultural, technological, historical, and economic center in the east coast. As a city with a long tradition of prestigious higher-education institutions, it has attracted many high-tech companies, which in turn has raise revenue and prosperity in a location that it is still a very important port in the Atlantic Ocean. Some well-known educational institutions include the MIT, Harvard University, Boston University and the Berklee College of Music.
Finally, Boston offers a great urban environment that mixes the old, historical architectural heritage with modern, exciting university life. Some of the locations you can visit are:
The Seaport District, where you can have different kinds of seafood
The Old State House Museum
The SoWa area and its fascinating art scene
Fenway Park, the oldest, still-functioning baseball park, where you can watch a Red Sox game
The Boston Public Library, one of the most beautiful in the country
The Freedom Trail, an exciting look into the history of the American Revolution
And of course, the campuses of the MIT and Harvard University
10. Frequently Asked Questions about studying English in
Boston
Can I travel only with an ESTA permit for a full-time intensive program (18+ hours a week) if my country has an agreement?
An intensive English program (18+ hours of classes a week) requires a F-1 student visa, so even if your country has an ESTA agreement or if you already have a tourist visa, you must have an F-1 student visa to take an intensive English program You can only take a part-time English program with an ESTA permit or tourist visa.
How does the F-1 Student Visa application process work to study English in Boston?
Please check with us what type of visa you need to take the program you are interested in.

All full-time programs in the U.S. require a F-1 student Visa. With an F-1 visa, you can extend your stay in the United States as long as you continue studying.
Part-time programs (less than 18 hours a week) can be taken with a tourist visa or visa waiver ESTA. With a tourist visa, you can only stay in the U.S. the duration your tourist visa allows, since your main purpose in the U.S. should be tourism.

If you need an F-1 student visa, please apply as soon as you receive your acceptance documents (I-20 form) from the English school. In some countries it can take several weeks to obtain a visa interview at the U.S. embassy.

You must confirm these steps on the website of the U.S. embassy in your country. You can look for your nearest U.S. embassy here: https://www.usembassy.gov/
What kind of accommodations are available in Boston?
In many occasions, the accommodation will not be included on the final course fee. However, you might be able to find accommodation inside the campus in the summer season, when most college students are on vacations. Some other options you can choose from are sharing an apartment, living in a student residence, or staying in a homestay, inside the house of a local family. Moreover, the institution you choose to apply to offers more information about the different options you will have available for choosing.
Can I work and study at the same time in Boston?
Students who are enrolled on an intensive English program or course in Boston may be able to work on campus, up to 20 hours a week. However, in most cases, those kinds of jobs are reserved for regular students, so the availability is really limited.
Where can I study English programs and courses in Boston?
We represent numerous universities, institutes and schools in Boston, so you can check this same website to find one that fits you best.
Which is the best university or language institute to study English in Boston?
All the institutions we represent offer great English courses and programs, taught by highly qualified teachers, so it's up to you to find which option is the best fitting. Some factors that might help you decide are your current needs and goals, which contents you wish to study, and where is the school located inside Greater Boston.
Do universities offer scholarships to study English in Boston?
Currently there are no scholarships offered for the English language programs and courses, although in for some cases, language institutes and schools offer discount prices for international students.
What payment methods are available for these English courses and programs?
The payment method usually depends on each institution. They usually ask for an initial fee to begin with the application process, which also covers the shipping costs for the documentation you'll need to apply for the student visa. Additionally, usually after you've arrived to the school, you need to pay for any remaining fees that may be left, for which credit card is the preferred payment method.
Do I need to be currently studying back in my country to apply for an English course or program in Boston?
No, you don't have to be a student to apply for these English language programs and courses, as you only need to meet the minimum requirements for each program. That's why anyone can enroll on this programs and courses, from young adults to senior professionals, whether they're currently studying or not.
Is there an age limit to apply for an English course in Boston?
These English programs and courses are mostly designed for adult students, so all institutions set a minimum age limit of usually between 16 and 18 years old, and no maximum age. Nonetheless, there are also programs and courses for children and teenagers, for which special contents and extracurricular activities are planned, so they can expect excellent education, as well as a great number of fun things to do.
Which are the main tourist attractions in Boston?
Some of the tourist attractions you can see and visit in Boston are the following: the Seaport District, where you can enjoy all the seafood this city has to offer; the Old State House Museum, which is full of historic pieces related to Boston's history; the SoWa area, where you'll discover a fascinating art scene; Fenway Park, the oldest baseball park that is still functioning; the Boston Public Library, considered by many as one of the most beautiful in the U.S.; the Freedom Trail, a classic tour through different sites related to the history of the American Revolution; the campuses of the MIT and Harvard University; among other attractions.
11. Testimonials of international students
Boston is the ideal city to study anything. The best universities in the USA and the world are in Boston, and although I only went to study English, I was able to know and experience the university and intellectual environment that exists in this city. I was able to visit Harvard, MIT, and Boston University, which was where I studied. I love the Boston community, and it is not as crowded as New York City. Many of the people who were studying English here in Boston also had planned to continue their studies at one of the prestigious universities here, so now I can say that I improved my English a lot and I have very intellectual friends haha.

I was amazed by the city of Boston! Its parks, people, life atmosphere, public transportation, sporting events, and bohemian life helped me to improve my English faster than I thought. Every week we did activities with my classmates and that made me feel confident to start communicating in English in a better way. Even when we went out to eat together, I was always thinking about what to say to the cashier, the waiter, etc., and that ultimately helped me with the fluency of the English language. I would return a thousand times to Boston. Go red socks!
12. Benefits of studying English abroad in Boston
In the global world we live in, mastering the English language and having experience abroad is highly valued by companies and employers.
But the benefits are not only professional, as people who study abroad develop valuable skills such as competence in a new language, cultural exposure, tolerance, adaptability, leadership, and independence. All these skills are directly fostered by learning and living abroad.
Click on the screen to watch the video
Other popular destinations to study English abroad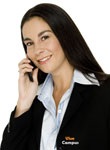 GET IN TOUCH WITH ONE OF OUR REPRESENTATIVES TO RECEIVE MORE INFORMATION ABOUT THE ENGLISH LANGUAGE PROGRAMS IN BOSTON
You can write the message in your language
Get a Quote / Contact Us
To request a quote, please complete the following form. If you don't know the dates yet, please provide an estimate.
Give us a Call
+1 310 341 4337