> English Courses in New Zealand
ENGLISH LANGUAGE COURSES IN NEW ZEALAND
A COMPLETE GUIDE AND LIST OF THE BEST ENGLISH PROGRAMS FOR INTERNATIONAL STUDENTS IN NEW ZEALAND IN 2023

New Zealand is one of the top destinations for learning and studying English as a second language (ESL). New Zealand has several English language schools, institutes, and prestigious universities that offer English classes.
New Zealand stands out for studying English over other cities, mainly because of the high standards of its English schools; for being multicultural and welcoming place; and for offering a wonderful mixture of urban and natural life, as you can enjoy visiting cities such as Auckland, Queenstown, Wellington and Christchurch, but also explore the breathtaking natural destinations around these locations, such as mountains, lakes, forests, beaches, and even glaciers.
Language schools in New Zealand usually have different programs for different kinds of people and needs. Some focus on English courses for adults, including professionals and executives. Others focus on programs for teenagers or students currently in college. In addition to the English language program, you need to pay attention to the location, weather, and prestige of the language institute. Also, you should choose an English language course that best fits your budget and level. There are general English programs and specific courses in New Zealand: as Academic English, Business English, Communication English, Conversation English, Culture English, English for traveling, Intensive, Part-time, online, and English classes that prepare you for exams like the TOEFL, IELTS or TOEIC to name a few.
We suggest that you read this page and click on each language school you think is a good option. All universities and language institutes listed here offer English programs that allow you to apply for a student visa. Most of the programs are also available for citizens and residents in full-time or part-time options.
Common questions
Where to study English in New Zealand?
What is the best English language course in New Zealand?
What is the best city in New Zealand to study English?
Cheap and good English courses in New Zealand?
You will find the answer to these questions on this website and a complete list of English language schools available for international students and residents. Click on the specific language school or university to get more information. You will find more details about the programs on those pages, helpful resources, and tips as housing, reviews, comments, and testimonials. As a leading world agency in ViveCampus, we can guide you in all the steps to study English in New Zealand.
1. Best places to learn English in
New Zealand
English courses as a second language in top universities and institutions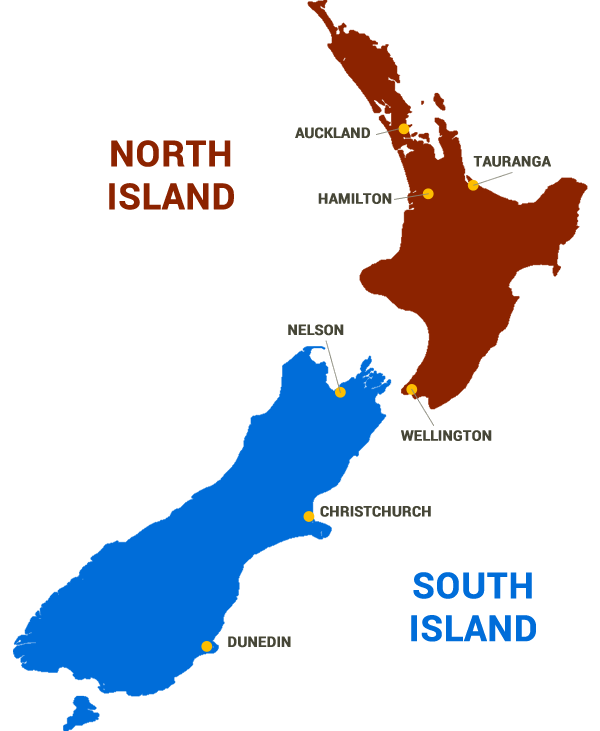 List of English Programs in New Zealand
The territory of New Zealand can be divided into two main islands: North Island and South Island
Click on each institution to get more information
List of English Language Schools in New Zealand
Auckland, New Zealand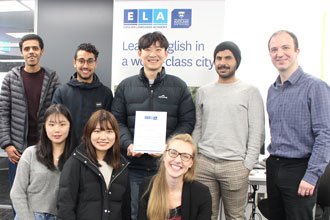 THE UNIVERSITY OF AUCKLAND
AUCKLAND ELA
Auckland, New Zealand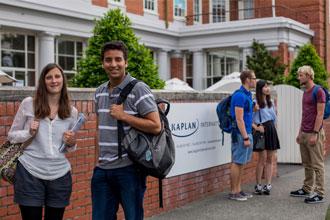 KAPLAN AUCKLAND
KAPLAN
Information about the cities that offer English courses in New Zealand
As shown in the above map, apart from several smaller islands, New Zealand can be divided into two main islands: North Island (or Te Ika a Māui) and South Island (or Te Waipounamu).
New Zealand is renowned for its beautiful, breathtaking landscapes full of amazing natural life, of which the kiwi is perhaps the most famous animal. Apart from wonderful outdoor locations, you can also enjoy urban life in one of its lively and vibrating cities, such as Auckland, Wellington or Christchurch. This is why New Zealand is so popular among tourists and students, as it can appeal to all tastes, whether you love nature or urban life.
Some of the attractions you can find in this country are: urban destinations such as Auckland and Wellington; innumerable outdoor activities in Queenstown; captivating national parks and beautiful islands; and numerous natural destinations such as mountains, lakes, forests, beaches, and even glaciers.
In New Zealand we can find the following cities:
Auckland
Wellington
Christchurch
Nelson
Hamilton
Tauranga
Dunedin
2.
TOP SEVEN REASONS

TO STUDY ENGLISH IN NEW ZEALAND

One of the best destination for international students in New Zealand
LOTS OF OPTION TO LEARN ENGLISH IN NEW ZEALAND
You will have plenty to choose in terms of English language institutions and English programs to learn English as a Second Language (ESL).
ENJOY GREAT STUDENT SERVICES, FACILITIES, AND ACTIVITIES
English language institutions in New Zealand offer high-quality facilities and services, some including gyms, social activities, student clubs, extracurricular activities and events, visits to nearby famous tourist locations, among many others.
EXPLORE THE REAL WORLD AND PRACTICE YOUR ENGLISH
Additional to all the high-quality English language learning, you will have plenty of opportunities to explore and live the real world outside the classroom, where you will be able to improve your English skills while interacting with native speakers.
MAKE NEW FRIENDS AND NETWORK WITH POTENTIAL PARTNERS
Studying an ESL course in New Zealand is also a great chance to meet other people and generate networking relations for the future.
LIVE AND STUDY IN A LAND OF CONTRASTS
New Zealand is a greatly diverse country with a rich history and culture. Both its population and nature are proof that it is indeed a land full of amazing contrasts.
GREAT CONNECTIVITY AROUND NEW ZEALAND
Apart from two airports in Auckland and Christchurch with international flights, each main city has bus services you can use to move around without expending much money.
VISIT FASCINATING TOURIST SPOTS
New Zealand is full of amazing tourist attractions in both urban and outdoor areas. Some examples are: the Abel Tasman National Park; Waiheke Island; the Sky Tower in Auckland; Mount Maunganui; the Hobbiton Movie Set; Lake Taupo; Franz Josef Glacier; Hamilton Gardens; the Southern Alps; among others.
3. Trends in
2023
In 2023, international students are looking for the following English language courses:
New Zealand, with its picturesque landscapes and welcoming people, has become a sought-after destination for international students wanting to study English as a second language (ESL) in 2023. The ESL education sector in New Zealand has experienced several transformative trends, providing an enriching learning experience for those seeking to immerse themselves in the Kiwi way of life.
One of the most significant trends in New Zealand's ESL education is the focus on immersive language learning. ESL schools have begun integrating experiential learning activities into their curricula, such as community involvement, cultural events, and local field trips. These experiences enable students to practice their English skills in real-life situations and develop a deeper appreciation for New Zealand's unique culture.
Another trend is the rise of specialized ESL courses tailored to students' individual needs and goals. Whether it's business English, academic preparation, or conversational fluency, students can choose a program that aligns with their objectives. This targeted approach helps students acquire the language skills necessary for their chosen field, ensuring they are well-equipped for future success.
Technology has also played an increasingly important role in ESL education in New Zealand. Online platforms, language apps, and interactive learning tools have become essential for ESL students. These digital resources provide a more flexible and engaging learning experience, enabling students to practice their English skills at their own pace and receive immediate feedback.
New Zealand's friendly and welcoming culture is a major draw for international students. Many ESL programs incorporate language exchange and cultural immersion initiatives, connecting students with local Kiwis to practice English and learn about New Zealand's diverse way of life. This enriching experience not only enhances language skills but also fosters cross-cultural understanding and global perspectives.
One of the most appealing aspects of studying ESL in New Zealand is the opportunity for international students to work while pursuing their studies. New Zealand's policies allow students to gain valuable work experience and become more independent. This ability to study and work provides a well-rounded experience and better prepares students for their future careers.
Moreover, New Zealand's ESL institutions prioritize student support. They offer a range of services, such as orientation sessions, counseling, and study skills workshops, to help international students transition to their new environment. This comprehensive support ensures a positive and successful ESL learning experience.
In conclusion, New Zealand is a top destination for studying English as a second language in 2023. With trends such as immersive language learning, specialized ESL programs, technology integration, a friendly culture, and the opportunity to study and work, New Zealand offers a unique and unforgettable experience for international students. By studying and living in New Zealand, students can improve their English skills while enjoying the Kiwi way of life.
4.
Requirements

to take an English Course in New Zealand

Some programs can have their own special requirements
Visa Requirements
Based on your country of origin, you may be able to study an English language program in New Zealand for up to 3 months without a visa, by using a travel authorization you can obtain online. It costs around $44 NZD and it takes about 72 hours to process. You can check if your country is visa exempted in the following website
In case your country is not listed in the above website, you can still study up to 3 months with a tourist visa, which costs around $246 NZD, plus $29 for the application and $60 for shipping costs.
Finally, if you will study for more than 3 months, you will need a student visa, which also allows you to have a part-time job for up to 20 hours a week. This visa costs around $333 NZD and it can take up to 4 months to be processed.
Age Requirements
Most of the English language programs offered are aimed at adult students, so there is usually a minimum age of around 16 and 18 years old for each program. However, there is no maximum age, so you can always begin learning a new language. Nevertheless, there are programs for teenagers and children, where they learn English while exploring the city and have lots of fun.
Proof of Sufficient Funds
Proving you have sufficient funds to cover for the course's fees and your personal expenses is mandatory to be eligible for a student visa. The amount you will need to prove you have will depend on the English language institution you chose, the city where you are going, and for how long you will study. These funds must be on your personal bank account or on your sponsor's if that is your case.
Minimum English Language Level
Most of the English language courses offered do not require a minimum level of proficiency, and they are usually divided in several levels, from beginner to proficient. On which level you are placed will be determined with a placement test once you have arrived, which could be taken onsite or online. Moreover, there are some intermediate and advanced courses that require a minimum level of English proficiency, which you will have to prove by showing a TOEFL or IELTS exam score.
5.
Prices, dates and costs

of English courses in New Zealand 2023 - 2024

Explanation about main costs
Prices and dates for these English programs in New Zealand depend on the city and institution where you study, for how long you plan to study, and for how many hours a week you study.
For a better comparison in terms of cost and budget, you have to consider that some universities and institutes include unrelated items directly on the final cost. Some of these are: housing, health insurance, facilities usage, extracurricular activities and events, books and materials, among others.
If you plan to study an English language course in New Zealand, you must consider some associated costs. Most of them will depend directly on where you want to study, but we will try to be as thorough as possible.
Main costs to consider if you want to study in New Zealand
ENGLISH PROGRAM
This cost changes depending on the institution you choose, the kind of course you will study, for how many hours classes are taught, and what kind of course you choose. Apart from the course fee, you should also consider an application fee and in some cases, a smaller fee for using the school facilities and services.
HEALTH INSURANCE
Some institutions tend to include the cost of health insurance within the course's fees, while others don't. Prices begin at around $65 NZD a month.
BOOKS
In some cases, books might be included in the final fee, while in others they are charged separately.
HOUSING
This will depend mainly on which city you want to live in and the kind of accommodation you choose. It can go from $1,500 NZD for a furnished studio apartment in a normal area, to $2,750 NZD for furnished accommodation in an expensive area. All prices are monthly and do not include utilities nor other services.
FOOD
Some accommodation options may include food within the fee that you pay, and some universities also offer meal plans for students to eat in the school cafeteria. Otherwise, you should set apart around $1,000 NZD per month to eat at home or $1,500 NZD if you plan to eat out.
VISA
Travel Authorization (for countries with visa waiver): $44 NZD. Tourist Visa (for countries without visa waiver): $246 NZD. Student Visa (for courses longer than 3 months): $333 NZD.
TRANSPORTATION
How much you will spend on commuting depends on how far you are living from school and what kind of transport you use. We suggest living as near as possible, so you can either walk, go by bike or use the public transport; since buying or renting a car might be too expensive.
FLIGHT TICKETS
This depends on where you are flying from and the date you choose to study. We suggest checking different websites to get the best possible quotation. As a side note, the most expensive dates to travel are the Christmas and New Year holidays.
6. Who studies English in New Zealand?
Students come from all over the world to learn English in New Zealand
New Zealand receives students coming from all parts of the world, who are looking to study English courses, in order to enhance their proficiency level and improve their prospects. The main reason is looking to experience the language on a daily basis, after usually taking lessons back in their countries, without being able to reach high levels of proficiency, due to the fact that English is not spoken every day.
Young Students
They are high school or college students looking to improve their skills for academic or work-related purposes. They tend to take time off during their summer or winter vacations to sign up on these ESL courses in New Zealand.
Young Professionals
These are professionals who've just graduate or do not have many years of experience. Their reason to enroll on an ESL program in New Zealand is to improve their proficiency to join a graduate program abroad, or to obtain a higher job position.
Senior Professionals
They are older and more experienced people, who usually have higher job positions. Their motivator tends to be improving their English skills, so they can communicate with other professionals from other parts of the world, since this language is nowadays widely spoken by everyone involved at the international level. This is why they choose to study English in New Zealand.
Residents
They are either citizens or people who have arrived along with employees that were transferred to New Zealand. Their reason to take a course is being able to communicate with other people in everyday contexts in an English-speaking country.
7. Photos about studying English in
New Zealand
Look some of the photos of the ESL programs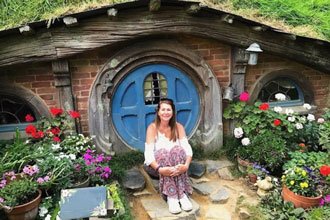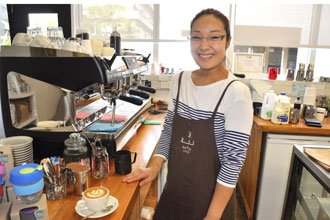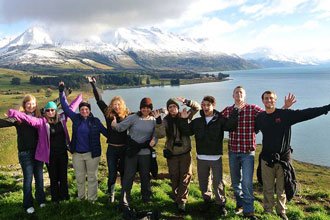 8. Videos about studying English in
New Zealand
Click to watch the videos
9. Information about
New Zealand
New Zealand is located in the southwestern Pacific Ocean and first became a part of the British Empire in 1841. With a population of almost 5,000,000, is a relatively small country, which is divided into two main islands: the North Island (Te-Ika-a-Māui) and the South Island (Te Waipounamu). It is renowned for its beautiful landscapes that have been featured in several films, including the Lord of the Rings trilogy. New Zealand is a land of contrasts, with all kinds of climates, from the wet south to the dry north, you can experience all kinds of weathers and locations. Islands, mountains, grasslands, beaches, forests, and beautiful captivating cities, New Zealand has it all. Moreover, an important part of New Zealand's cultural identity is the Maori culture, the original inhabitants of the islands, with many descendants still living in New Zealand and cultivating their ancient traditions.
Finally, some of the wonderful places you can visit in New Zealand are: Abel Tasman National Park, full of forests and sunny beaches; Waiheke Island, only 40 minutes away from Downtown Auckland, full of beautiful vineyards and beaches; the coastal city of Auckland, particularly the world-famous Sky Tower and the breathtaking views from the lookout; Mount Maunganui and its wonderful beaches and awesome waves for a superb surfing; the Hobbiton Movie Set; Lake Taupo, New Zealand biggest; Franz Josef Glacier; Hamilton Gardens; the Southern Alps; among other great destinations.
10. Frequently Asked Questions about studying English in
New Zealand
How do I obtain the student visa to study English in New Zealand?
First you apply for the specific English program you want at least 2 months prior the start date. Then, you pay the program fees via credit card or bank transfer, depending on what options does the institution offer. Afterwards, you receive the English center's acceptance letter, along with the receipt that confirms they have received your payment. Finally, you apply to the student visa, which can take some time to process, so we recommend applying as soon as possible. You can check the specific institutions offering English language courses on our website.
Which accommodation options are available while studying English in New Zealand?
In many cases, the housing is not included on the final fee. However, in some universities you may be able to find on-campus accommodation during the summer season, when most students are away on vacations. Other options are sharing an apartment with other students, living inside a residence, or living in a homestay with a local family. Moreover, the institution you are applying to can offer more information about the several options that there might be on the specific location where you will study.
Can I work and study at the same time in New Zealand?
Only those studying a full time English language program with a student visa for longer than 14 weeks can work up to 20 hours a week.
Which is the best city to study English in New Zealand?
There is no right answer for this question, since each student may prefer a different city. Our recommendation is to think about your needs and wishes and choose the city that best fits you.
Where can I study English courses in New Zealand?
As you may have noticed, you can find different English programs in different cities in New Zealand. You can check the list of cities where you can find English courses on our website.
Which is the best university or language institute to study English in New Zealand?
There are many universities and language institutes in New Zealand, which all offer high-quality English language courses. Therefore, we suggest that you think about where you would like to live, what kind of program you would like to take, and the available budget you have for studying abroad.
Do universities offer scholarships to study English in New Zealand?
Typically, universities do not offer scholarships for the English programs they offer. Nevertheless, many language schools offer special discounts for international students.
How does the payment process work and what are the preferred payment methods for these English language courses abroad?
The payment process changes depending on the institution. Regularly, institutions ask for an initial fee to begin your application process. This fee includes the shipping costs for the documents you will need in order to apply for a visa. Any remaining payments are made once you arrive to the school or a couple of weeks prior to this, and the preferred method of payment is by credit card.
Do I need to be currently studying in my country of origin in order to apply for an English language program in New Zealand?
No, anyone can apply, as there is no need for you to be currently studying. Some of the applicants may be university students using their vacations to study English, but there are also employees who take a time off their jobs in order to improve their CVs by enhancing their English language skills.
Is there an age limit to apply for an English program in New Zealand?
As they are designed for adult students, these courses have a minimum age limit of 16, 17 or 18; with no maximum age, so anyone over the limit can apply. Moreover, in some cases universities and schools offer special programs for children and teenagers, in which contents are tailored to suit their needs and interests, so they have a fun time studying abroad.
Which are the main tourist attractions in New Zealand?
Some of the main tourist attractions you can find in New Zealand are: Abel Tasman National Park; Waiheke Island; the coastal city of Auckland, particularly the world-famous Sky Tower and the breathtaking views from the lookout; Mount Maunganui; the Hobbiton Movie Set; Lake Taupo, New Zealand biggest; Franz Josef Glacier; Hamilton Gardens; the Southern Alps; among other great destinations.
11. Testimonials of international students
Learning English in New Zealand opened the doors for me in the social and work sphere. I have traveled a lot since then and now I can speak English without problems at work and when I travel for vacation. New Zealand is my favorite country, for its nature and for its people. The courses are very inexpensive and many friends were working part time when they were learning English, so I highly recommend studying English in NZ.

It was difficult for me to decide where to study English, but after having read a lot about the subject I opted for New Zealand, and I think it was the best decision I made. The quality of life in New Zealand is very high, and now 6 months after my arrival, what I value the most is not that I learned English, which I now speak fluently, but the life experience I have had here. My student visa allowed me to work part time, I grew a lot as a person, and I improved my English a lot. Now I feel like one more Kiwi :)
12. Benefits of studying English Abroad in New Zealand
In the global world we live in, mastering the English language and having experience abroad is highly valued by companies and employers.
But the benefits are not only professional, as people who study abroad develop valuable skills such as competence in a new language, cultural exposure, tolerance, adaptability, leadership, and independence. All these skills are directly fostered by learning and living abroad.
Click on the screen to watch the video
Other popular destinations to study English abroad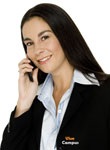 GET IN TOUCH WITH ONE OF OUR REPRESENTATIVES TO RECEIVE MORE INFORMATION ABOUT THE ENGLISH LANGUAGE PROGRAMS IN NEW ZEALAND
You can write the message in your language
Get a Quote / Contact Us
To request a quote, please complete the following form. If you don't know the dates yet, please provide an estimate.
Give us a Call
+1 310 341 4337