> English Courses in the USA
ENGLISH LANGUAGE COURSES IN THE USA
A COMPLETE GUIDE AND LIST OF THE BEST ENGLISH PROGRAMS FOR INTERNATIONAL STUDENTS IN THE UNITED STATES 2023
United States is one of the top destinations for learning and studying English as a second language (ESL). United States has several English language schools, institutes, and prestigious universities that offer English classes.

The United States stands out for studying English over other countries, mainly because of its innumerable world-class universities offering English programs; its fantastic multicultural cities, full of tourist attractions; the wide variety of places where you can study and improve your career; and of course, because of the many opportunities you have for networking and for making new business partners.
Language schools in the USA usually have different programs for different kinds of people and needs. Some focus on English courses for adults, including professionals and executives. Others focus on programs for teenagers or students currently in college. In addition to the English language program, you need to pay attention to the location, weather, and prestige of the language institute. Also, you should choose an English language course that best fits your budget and level. There are general English programs and specific courses in the USA: as Academic English, Business English, Communication English, Conversation English, Culture English, English for traveling, Intensive, Part-time, online, and English classes that prepare you for exams like the TOEFL, IELTS or TOEIC to name a few.
We suggest that you read this page and click on each language school you think is a good option. All universities and language institutes listed here offer English programs that allow you to apply for a student visa. Most of the programs are also available for citizens and residents in full-time or part-time options.
Common questions
Where to study English in the United States?
What is the best English language course in the United States?
What is the best city in the United States to study English?
Cheap and good English courses in the United States?
You will find the answer to these questions on this website and a complete list of English language schools available for international students and residents. Click on the specific language school or university to get more information. You will find more details about the programs on those pages, helpful resources, and tips as housing, reviews, comments, and testimonials. As a leading world agency in ViveCampus, we can guide you in all the steps to study English in the United States.
1. Best places to learn English in
the United States of America
English courses as a second language in top universities and institutions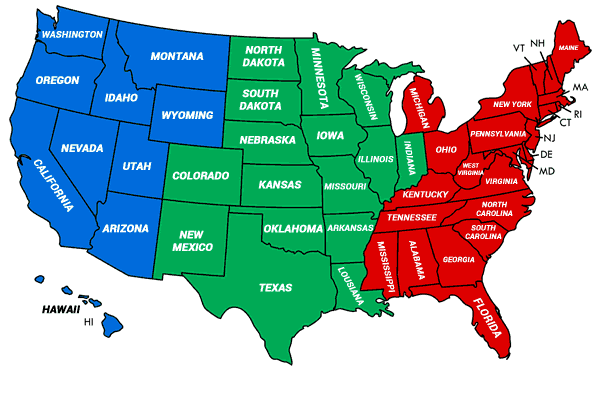 List of English Programs in the USA
Since the territory of the USA is so large, we divide the country into 3 sections: West, Central and East
Click on each institution to get more information
List of English Language Schools in the West coast of the USA:
List of English Language Schools in the central part of the USA:
List of English Language Schools in the East coast of the USA:
English courses in West USA
Since the Western part of The United States was populated later than other areas of the USA, its architecture and culture is newer compared to the central or eastern part of the country. Its demographic composition has influences from all continents. The west coast is characterized by the promotion of renewable energies, recycling and healthy living. The weather is good all year round, especially in the south.
On the West Coast of the United States, we will consider the following states:
Main cities in the West coast are:
English courses in Central USA
The Central Zone of the country is characterized as an area where immigration hasn't influenced much in culture. It is said that if you want to have a truly American experience you should go to the center of the United States. The climate is very variable depending on the location of the state.
On Central USA, we will consider the following states:
Main cities in the middle of the USA:
English courses in East USA
The Eastern Zone of the United States is the part of the country where the first cities were built, its imposing architecture is the reflection of this, especially in cities such as Boston or New York. The East Coast has a strong influence from immigrants from all continents. The climate is hot and humid during the summer months, but during the winter, the northern zone is much colder than the southern zone.
On the East Coast of The United States of America, we will consider the following states:
Main cities in the east coast of the USA:
2.
TOP SEVEN REASONS

TO STUDY ENGLISH IN THE UNITED STATES

One of the best destination for international students in the USA
HIGH QUALITY OF THE PROGRAMS
In the United States you can find the best universities in the world. The academic quality of its institutions is recognized everywhere. In the world ranking of Universities, 8 of the best 10 Universities in the world are in the USA. Many of these universities offer English as a second language classes for international students. These institutions will ensure a program of high academic quality, high-quality English teachers, and high-quality facilities.
THE AMERICAN DIALECT IS THE STANDARD AND MOST USED DIALECT IN THE WORLD
Although the English language is one only, there are many different accents and dialects. The most universal English, the one that is used in the business world and the one we hear in most of the movies and television series is the English of the United States. If you speak English with an American accent, people from all over the world can understand you without any problem.
UNIVERSITY CAMPUSES
University campuses in the United States are almost like small cities. The facilities are not only limited to libraries and classrooms, but also stand out for their sports facilities, large parks, and entertainment venues. You will be able to complement the English classes with extracurricular activities in state-of-art facilities and you will experience a real American university atmosphere with American students.
OPPORTUNITY TO EXTEND YOUR STUDIES IN THE USA
While you are participating in the English courses, you will be able to search for other academic programs of your interest and personally ask about opportunities to continue your studies in the United States. Many students remain in the country after completing the English course because they decide to continue their studies in an academic program. This is one of the reasons of why it is said that USA is a country of opportunities.
A MULTICULTURAL PLACE
In the United States you will meet people from all over the world. English courses are attended by students from all continents, so you will have the opportunity to share and learn about their cultures, cuisine and ways of living.
TOURIST ATTRACTIONS, ARTISTIC AND SPORTS SHOWS
While studying an English program in the USA you can take advantage of what the city and their surroundings have to offer. Regardless of the city you choose to study, most likely you will have interesting places and touristic attractions you can visit nearby. The United States also stands out for its theme parks and artistic and sporting events both on and off university campuses. USA is also an excellent place to go shopping.
FLIGHT TICKETS
One of the reasons why the United States is one of the favorite places to study English is because it's very accessible regardless of the country where you live. There are many flights and offers of flight tickets to the main American cities from places like Europe, Asia and South America.
3. Trends in
2023
In 2023, international students are looking for the following English language courses:
The United States of America, known for its diverse culture, world-renowned educational institutions, and lively cities, has long been a preferred destination for international students aspiring to study English as a second language (ESL) in 2023. With multiple institutions to choose from, such as private language schools or prestigious universities offering ESL programs, the US offers unparalleled opportunities for students seeking to enhance their English language skills and immerse themselves in a unique and exciting environment.
The trend of experiential learning is on the rise, where schools are integrating real-life experiences into their ESL programs. By participating in local events, interacting with native speakers, and engaging in activities that mirror everyday life, students have the chance to practice their language skills in a natural setting. This hands-on approach not only improves language proficiency but also helps students gain a deeper understanding of American culture and customs.
Another trend in the US ESL sector is the increasing focus on technology-driven learning. Schools are incorporating online platforms, interactive language apps, and digital resources into their curricula. These tools provide students with a flexible and engaging learning experience, allowing them to practice their English skills at their own pace, receive instant feedback, and access resources from anywhere. This trend is particularly beneficial for those who wish to continue their language studies after returning to their home countries.
One significant advantage of studying ESL in the US is the diverse range of institutions available. Whether you're interested in attending a private language school that focuses solely on ESL or enrolling in a prestigious university that offers ESL programs as part of a broader curriculum, the US has options to fit every need and preference. These institutions often provide additional support services, such as orientation sessions, academic counseling, and extracurricular activities, ensuring a positive and successful ESL learning experience.
The US also offers a wide variety of settings for ESL study, from bustling urban centers like New York and Los Angeles to picturesque college towns and quieter suburban areas. Students can choose a location that suits their preferences and immerse themselves in the American way of life. The exposure to different accents, regional expressions, and cultural nuances further enriches the language-learning experience.
In conclusion, the United States is an excellent destination for studying English as a second language in 2023. With its diverse range of institutions, innovative learning approaches, and vibrant settings, the US provides an enriching and immersive experience for international students. By studying and living in the US, students can not only improve their English skills but also gain valuable insights into American culture, broaden their horizons, and create lifelong memories.
4.
Requirements

to take an English Course in the United States

Some programs can have their own special requirements
Student Visa
Students wishing to take an intensive English course (program of 18 or more hours of English a week) must apply for an F-1 student visa. To process this visa, the educational institution must send you a document called I-20. Students who wish to take a part-time English course may take the course with a tourist visa or visa waiver ESTA.
Age Requirements
Most English courses in the USA are for adults. The minimum age to take the courses will depend on the institution, but it is usually 16 or 18 years old. There is no maximum age, so it's never too late to learn a new language.
Financial Verification
To process the F-1 student visa you must show that you have the money to pay for the course and living expenses. The amount to be shown will be given by the institution offering the English course. This money must be in the bank account of the student or a sponsor which may be a relative, friend, company or government.
Minimum Level of English
In most English courses, a minimum level of English is not required, since they offer different levels of education, including a basic level. The level of English is measured during the orientation week or first day of classes with a placement test. Some institutions do not have basic English levels, please ask before applying to the course.
5.
Prices, dates and costs

of English courses in the United States 2023 - 2024

Explanation about main costs
The prices and dates of English courses in the United States vary depending mainly on the city, institution, methodology and number of hours per week of the specific English course.
To better compare prices, you need to have in mind that some institutions and universities include items not directly related to the course in the total price. These extra items may consider accommodation, medical insurance, access to facilities, extra-program activities, events, books, among others.
If you want to take an English course in a country like the United States, you should consider the associated costs. Many of these will depend specifically on the place chosen to take the course, but we will try to break down these costs as much as possible.
Main costs to consider if you want to study in the USA
ENGLISH PROGRAM
It will depend on the institution and the number of class hours per week
HEALTH INSURANCE
Some institutions include insurance, others don't. You can find medical insurance for international students starting at $ 100 per month. Keep in mind that all F-1 students in the U.S. must have health insurance.
BOOKS
It will depend on the institution, but generally you should spend approximately $100 per level of English.
HOUSING
It will depend mainly on the city and the type of accommodation. It can vary between $700 and $1600 per month for a single room.
FOOD
Some accommodation options include food, in others you can buy meal plans within the University residences. Consider a budget of at least $600 a month in food.
VISA
All international students who take an intensive English course must pay the student visa F-1 and the I-901 SEVIS Fee. The visa costs $160 and the SEVIS $350.
TRANSPORTATION
The cost will depend on how far you are living. We suggest to live nearby to be able to walk or take public transportation. Buying a car is more complicated since you have to add the cost of parking.
FLIGHT TICKETS
The cost will depend on the country in which you are, the place of destination and the dates. Try looking at sites that look for values on several airlines and in several days. The most expensive prices are usually before Christmas and after New Year. You can find offers in between.
6. Who studies English in the United States?
Students come from all over the world to learn English in the USA
English programs in the USA usually have students from all five continents. The main reason for people is to improve the language for professional or academic reasons. Many of these students have taken English classes in their countries either during high school or university, but without achieving an advanced level. One of the main reasons of why students do not learn English in their countries is that it's very difficult to learn the language in a non-English speaking country and with a few hours of English classes per week.
Young Students
This group of young students, usually take English classes in the USA during summer or winter vacations in their respective institutions and Universities.
Young Professionals
This group consists of recent graduates of universities and professionals with few years of work experience who are looking to study in the USA. They need English for academic reasons, if they wish to enroll on a postgraduate program, or for professional reasons to obtain a promotion.
Senior Professionals
This group is made up of professionals who realized that they need English in order to qualify for better positions and have better job opportunities. Some of them ask for a leave at their work, others quit, or use their time in between jobs to improve their curriculum by learning English in the USA.
Residents
They are American residents or companions of people who were transferred to the United States. They need English to be able to communicate, find better jobs, understand television programs, among other everyday situations.
7. Photos about studying English in
the United States
Look some of the photos of the ESL programs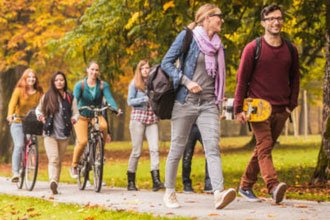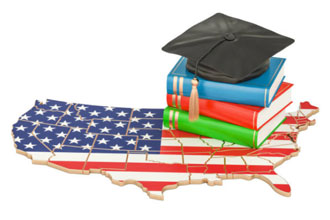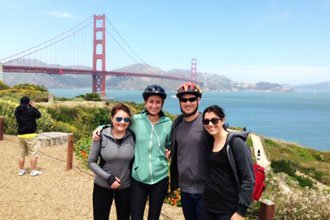 8. Videos about studying English in
The United States
Click to watch the videos
9. Information about
The United States
The United States of America (USA), commonly known as the United States, USA or America, is the third largest country in the world in size and almost third in terms of population with more than 325 million people. Located in North America, the country borders the Pacific Ocean to the west and the Atlantic Ocean to the east. Along the northern border is Canada and the southern border is Mexico. The USA is made up of 50 states and the District of Columbia. Some of the main states in terms of economic relevance are California, New York, Texas and Florida.
Throughout its history, the United States has been a nation of immigrants. The population is diverse, with people from all over the world, which makes it one of the most multicultural countries in the world. This means that, apart from learning English, you'll also make friends from different cultures, you'll learn about different types of cuisine, and that you can also meet potential business partners from all over the planet.
The capital is Washington, D.C., and the largest city by population is the city of New York. Other important cities include Los Angeles, San Francisco, San Diego, and Seattle in the West Coast; Miami, Orlando, Boston, Philadelphia, and Chicago in the East Coast; and Houston, Dallas, Austin, New Orleans and Denver in the Central Region.
10. Frequently Asked Questions about studying English in
the USA
Can I travel only with an ESTA permit for a full-time intensive program (18+ hours a week) if my country has an agreement?
An intensive English program (18+ hours of classes a week) requires a F-1 student visa, so even if your country has an ESTA agreement or if you already have a tourist visa, you must have an F-1 student visa to take an intensive English program You can only take a part-time English program (less than 18 hours a week) with an ESTA permit or tourist visa.
Which are the different steps of the application process for the F-1 student visa to study English in the United States?
Please check with us what type of visa you need to take the program you are interested in.

All full-time programs in the U.S. require a F-1 student Visa. With an F-1 visa, you can extend your stay in the United States as long as you continue studying.
Part-time programs (less than 18 hours a week) can be taken with a tourist visa or visa waiver ESTA. With a tourist visa, you can only stay in the U.S. the duration your tourist visa allows, since your main purpose in the U.S. should be tourism.

If you need an F-1 student visa, please apply as soon as you receive your acceptance documents (I-20 form) from the English school. In some countries it can take several weeks to obtain a visa interview at the U.S. embassy.

You must confirm these steps on the website of the U.S. embassy in your country. You can look for your nearest U.S. embassy here: https://www.usembassy.gov/
What housing options will I find in the US?
Your accommodation is usually charged separately, although in some cases the school or university may be able to arrange housing for you. Some of the options you will find in this country are: shared apartments; living in a residence from a private provider; or staying with a local family in a homestay. The institution on which you enrolled may be able to offer more information about housing in the USA.
Can I work and study English at the same time?
Students who are taking an intensive English course in the United States are authorized to work up to 20 hours a week, only on the University campus. While it is possible, the availability of work will depend on the University.
What is the best city to study English in the USA?
There is no single answer about which is the best city to study English. Our recommendation is that students look for a city where they feel comfortable. There are universities that offer courses in large cities, others are located in smaller cities, which are usually cities that operate around the University. If you have any questions, do not hesitate to contact us so we can help you take the best option based on your needs and budget. You can also check our website.
What is the best American university or Language School to study English?
All the American universities and Language Schools that we represent offer high-quality English courses. We recommend that you analyze the place where you would like to live first, then you can also analyze the type of program and the cost. If you have any questions, do not hesitate to contact us so we can help you.
Do universities offer scholarships to study English in the US?
American Universities do not offer scholarships for students who are only applying for an English course and one of the reasons is that, since it is a language course, it's not possible to have a selection process. Some institutions offer scholarships to study a second session or discount for foreign students from certain countries.
How can I pay for the English course?
The payment process for English courses vary according to the University. Generally, American Universities and Language Schools request an initial payment of around USD$200 to begin with the registration process, which includes sending the necessary documentation via certified mail to the student so that the student can process the F-1 visa. Full payment of the course is usually done upon arrival at the University. The preferred method of payment by Universities is by credit card. We will guide you during this process.
Do I need to be a university student in my country to take an English course in an American university?
No, English courses for adults in American universities can be taken by anyone. It is not necessary that you are currently studying or working in your country. There are college students who take an English course during their vacation, others ask for permission in their jobs or simply take an English course in their free time to improve their resumes, careers and lives.
Is there an age limit for taking an English course abroad?
Since these English courses are for adults, universities have a minimum age limit that is usually between 16 and 18 years old. There is no maximum age limit. It's never too late to learn a new language. Some University and Language schools offer English courses and Summer camps for children and teenagers.
11. Testimonials of international students
Studying English in the United States has been one of the best decisions of my life, not only because of the quality and prestige of the US institutions but also because the English accent in the USA is the most used and understood accent in the world. The quality of life, safety, and the environment that one lives in the USA is spectacular, and personally I think it helped me improve my English level, since I felt safe doing activities outside of the classes. I am glad I learned English in this country. Later on, I continued studying and stayed working here in the USA. Everything started with the idea of learning English in the United States.

Learning English in the USA is the best investment you can make. At first, I had doubts about which country to take English Courses in, and my English was too basic. Finally, a relative convinced me that there were more options in the United States and that I could find greater cultural and social diversity that would allow me to improve my English more easily by participating in activities with other people from other countries and cultures. Today I am grateful that I learned English in the USA and I value the fact that I have friends from all over the world and different cultures.
12. Benefits of studying English in the USA
In the global world we live in, mastering the English language and having experience abroad is highly valued by companies and employers.
But the benefits are not only professional, as people who study abroad develop valuable skills such as competence in a new language, cultural exposure, tolerance, adaptability, leadership, and independence. All these skills are directly fostered by learning and living abroad.
Click on the screen to watch the video
Other popular destinations to study English abroad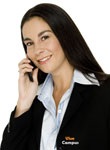 GET IN TOUCH WITH ONE OF OUR REPRESENTATIVES TO RECEIVE MORE INFORMATION ABOUT THE ENGLISH LANGUAGE PROGRAMS IN THE USA
You can write the message in your language
Get a Quote / Contact Us
To request a quote, please complete the following form. If you don't know the dates yet, please provide an estimate.
Give us a Call
+1 310 341 4337