ENGLISH LANGUAGE COURSES IN DUBLIN, IRELAND:
A COMPLETE GUIDE AND LIST OF THE BEST ENGLISH PROGRAMS FOR INTERNATIONAL STUDENTS IN THE CITY OF DUBLIN IN 2023

Dublin is one of the top destinations for learning and studying English as a second language (ESL). The city of Dublin has several English language schools, institutes, and prestigious universities that offer English classes.
Dublin stands out for studying English over other cities in Ireland, mainly because it's the biggest city and the capital of Ireland. This city is considered as a center for education, arts, administration and industry in Europe, and has become a very cosmopolitan city due to the fact that Ireland is part of the European Union. Therefore, it's a prime location for students looking to improve their English skills, while also meeting other people, learning about other cultures and customs, and enjoying invaluable networking opportunities. Part of the city's appeal is its fascinating history and wonderful tourist attractions, ranging from castles to great museums and guided tours.
The city of Dublin has English programs for all ages and budgets. We suggest you read this page and click on each language school you think is a good option. All universities and language institutes listed here offer English programs that allow you to apply for a student visa. Most of the programs are also available for citizens and residents in full-time or part-time options.
The most common programs are "General English" or "Academic English Programs", which allow you to improve your English level for academic or professional purposes.
Common questions
Where to study English in Dublin, Ireland?
What is the best English language course in Dublin?
How can I study English in Dublin?
English programs near Dublin?
Cheap and good English courses in Dublin?
You will find the answer to these questions on this website and a complete list of English language schools available for international students and residents. Click on the specific language school or university to get more information. You will find more details about the programs on those pages, helpful resources, and tips as housing, reviews, comments, and testimonials. As a leading world agency in ViveCampus, we can guide you in all the steps to study English in Dublin, Ireland.
1. Best places to learn English in
Dublin

, Ireland

English courses as a second language in top universities and institutions
Dublin is the capital and most important city in Ireland, and it's located in the east coast, next to the Irish Sea, in the province of Leinster. It's metropolitan area has a population of nearly 2 million people and has been populated since the first millennium AD. This city is very popular among students because Ireland is part of the European Union and, in certain cases, it allows them to work during their studies.
In Dublin and surroundings we can find the following places:
The City Centre
The City Centre
Dún Laoghaire
Grafton Street
Portobello
Ranelagh
Rathmines
Temple Bar
List of English Language Schools in Dublin:
Dublin, Ireland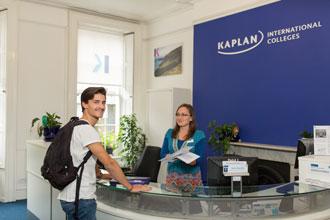 KAPLAN DUBLIN
KAPLAN
Dublin, Ireland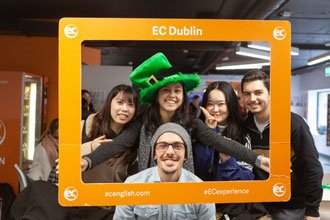 EC DUBLIN
EC
2.
TOP SEVEN REASONS

TO STUDY ENGLISH IN DUBLIN

One of the best destination for international students in Ireland
EXCELLENT QUALITY INSTITUTIONS IN DUBLIN OFFERING ESL PROGRAMS
You can find all kinds of top-quality English language schools in Dublin where you can study ESL programs.
ADDITIONAL SERVICES AND FACILITIES TO USE AT SCHOOLS
Some courses include within the fees the usage of facilities, signing up for student organizations, and in some cases, even tours to local tourist locations.
HAVE LOTS OF FUN WHILE CONTINUING TO PRACTICE YOUR ENGLISH IN REAL LIFE
Dublin is a great place to study, since it's full of fun activities and tourist locations you can visit, so you can continue practicing your English skills, while also having lots of fun.
MEET OTHER PEOPLE AND NETWORK WITH FELLOW PROFESSIONALS, WHILE LEARNING ABOUT OTHER CULTURES
Dublin gives you the opportunity to meet other people, enjoy great networking opportunities, learn more about other cultures and customs, and therefore, it's an excellent chance to enhance your career.
ENJOY DUBLIN'S DIVERSITY AND ANCIENT AND FASCINATING CULTURE
Dublin is renowned for being an important cultural, economic and historical center in Europe, with roots that go back to the early middle ages. It's also home to a very diverse community of people coming from all parts of the world, who along with the friendly Irish people, will offer you an unforgettable experience abroad.
GREAT CONNECTION AROUND THE METROPOLITAN AREA
Within the city center of Dublin everything is at walking distance. Moreover, the city has excellent bus and tram services that can take you to all the places you need to visit while studying in this beautiful city.
LOTS OF TOURIST ATTRACTIONS TO ENJOY
There are lot of places to visit in Dublin, including: Temple Bar, the Guinness Store House, Dublin Castle, Grafton Street, St. Stephen's Green, Phoenix Park, the National Museum of Ireland, Howth, the Jameson Distillery Bow St, and much more.
3. Trends in
2023
In 2023, international students are looking for the following English language courses:
In 2023, the most popular English courses in Ireland are academic English courses, TOEFL or IELTS preparation courses, and specific English courses for professionals, including business-focused English courses.
In these times, the English language is essential to opt for a postgraduate degree, find a better job, or enhance a professional career. This is why English courses with an academic or business focus are ideal this 2023 in Ireland.
Due to the contingency that is currently being experienced in the world due to the pandemic (Corona Virus Covid-19), many of these English programs in Ireland are being carried out remotely or hybrid (part online and part face-to-face).
Ireland has beneficial policies for foreigners who study English in institutions in this country. This is why people who are going to study for more than 3 months and opt for a study visa, have the option of working part time in Ireland.
4.
Requirements

to take an English Course in Dublin, Ireland

Some programs can have their own special requirements
Visa Requirements
Non-Visa Exempted Students:
If you're a citizen of countries that need to apply for a visa to enter Ireland, you must apply for either a C or Visit-Tourist Visa, or a D or Study-Work Visa, which will depend on the amount of time you'll study in Ireland: less or more than 3 months. Additionally, the documents you'll need to show at border control are: letter of acceptance from the English language institute, proof of necessary funds, proof of medical insurance, evidence of education and/or employment history.
Visa exempted students:
Students who are citizens of certain countries, including the European Union and the European Economic Area, aren't required to have a visa when studying either for less or more than 3 months. Nevertheless, they must still pay the full tuition in advance and bring all the necessary documents for the border control, including letter of acceptance; proof of payment; proof of sufficient funds; passport; and proof of medical insurance acquired from an Irish company, which can be, for example, the medical coverage offered by the English language school's partner institution.
Additional requirements for full-time students:
Those who study for longer than 3 months, whether they needed an entry visa or not, are obliged to register with the local immigration officer for the district where they're staying, the Burgh Quay Registration Office in the case of Dublin. This Registration must be done before the date given at the border control. The registration costs €300, which must be paid via credit or debit card (cash not accepted), and you need to present several documents, including: passport, letter of acceptance from the English school, proof of payment, medical insurance policy, and proof of finance (if you entered Ireland without a visa) of at least €3000. After registration as a full-time student, you'll be able to work for 20 hours a week, or 40 hours during certain times of the year. In this registration process, you'll be issued a permit that allows you to stay in Ireland for longer than the original days given at border control, up to 8 months. Near the end of this period, you must take an external officially recognized exam, such as IELTS, FCE, CAE. You can later apply for a permit renewal and if approved, you may apply for another English course of up to 8 months.
Visa Fees
Single Entry: €60.
Multi Entry: €100.
Full time student registration: €300 (same for renewals).
You can visit the website of the Department of Justice and Equality of the Irish government for further information about visa requirements.
Age Requirements
There's no maximum age requirement for English courses in Dublin. However, schools do set a minimum age limit for students, who must comply with it by the time the program starts. This limit tends to be between 16 and 18 years old. Nevertheless, some institutions teach special programs for children and teenagers, in which they can learn English at the same time they have lots of fun in extracurricular activities related to their studies.
Proof of Sufficient Funds
Regardless of the visa requirements for your country, you must show that you have enough funds to cover for all expenses while studying in Dublin, in order to be able to enter Ireland. This amount will depend on the type of visa you're on, but it tends to be €3000, apart from the course's fees, and without considering the amount of money you could earn by working while studying. For students studying for less than 6 months, the amount is 500€ per month, up to €3000. Finally, this proof of sufficient funds must come in the form of a bank statement, from a bank account on your name (as shown on your passport), that doesn't have less than 1 month of antiquity, and be accompanied with a debit card with your own name and from the same bank account. Another option is having a pre-paid credit card or debit card(s) with the above amount of money in credit, e.g. a card with €3000 or more in credit.
Minimum English Language Level
There are all kinds of ESL programs available in Dublin, so you can find the one that fits you, regardless of your current English language skills, as they go from the advanced to the basic level. The program placement is usually done via an English test, which can be done online or once you're already at the school, depending on each institution. Nevertheless, programs with higher English language requirements do ask you for a proof of English language proficiency, in the form of an English exam score, such as IELTS or Cambridge.
5.
Prices, dates and costs

of English courses in Dublin 2023 - 2024

Explanation about main costs
The prices and the dates for English programs in Dublin are subject to change depending on the school, for how long you'll study, and the number of weekly hours the program has (intensive, part-time, etc.).
For some cases, items not related to the course fees will be included on the final fee, so you have to consider them when you calculate the costs and your budget for studying English abroad. Some of the items are: housing, health coverage, using services and facilities, participating in activities and events, books and materials, among other items.
In the table below you'll see a list of different items, what modifies the cost, as well as some estimative prices for some of the items, which you can use as a guide when calculating your budget, while considering the minimum amount the Irish government requires you to have.
Main costs to consider if you want to study in Dublin, Ireland
ENGLISH PROGRAM
This cost changes depending on the school you chose, the type of course you'll enroll on, and the intensity of the course, e.g. if it's intensive or part-time. Apart from this, you should also consider the price of the application fee, and sometimes, a fee to access the facilities and services the English institutes offer. Additionally, keep in mind that Ireland requires for students to pay the course fee in advance.
HEALTH INSURANCE
English language schools in Ireland have partner health insurance providers that offer coverage that you can choose to buy or not; however, every student in Ireland, no matter for how long they study there, need health insurance. In some cases, travel insurance can be used, but for various cases the Irish government asks for health insurance from a company based in Ireland, and doesn't accept health coverage provided by foreign companies. Whatever the case, we recommend having some form of health coverage to protect you in case of any accidents or health issues.
BOOKS
In Dublin you'll find different kinds of accommodation, as well as different prices. Schools tend to offer rooms in homestays or in private student residences, both including different amenities. You can also opt to rent an apartment on your own or with other students. Prices start at €1,153 for a 45m2-studio apartment in a normal area, without utilities. In an expensive area this will cost around €1,627.
HOUSING
It will depend mainly on the city and the type of accommodation. It can vary between $700 and $1600 per month for a single room.
FOOD
In some cases, the different housing options arranged or promoted by English institutes can include food within the fees you pay, which is the case for homestays and some residences. However, in other cases you'll have to pay for food, either eating out in restaurants or cooking at home, if possible. As an example, a fast food combo costs around €8.
VISA
Single Entry: €60 Multi Entry: €100 Full time student registration: €300 (same for renewals)
TRANSPORTATION
How much you spend on transportation changes in relation to how far you live from the school and what kind of transport you use, so our recommendation is to live close to where you'll be studying. If you do so, you'll be able to either walk, ride a bicycle or the public transport to go to the school. That way, you don't have to spend money with more expensive options, such as car rentals or taxis.
FLIGHT TICKETS
This cost will depend on the location of your departure and the date on which you fly. Our recommendation is to check different travel websites to browse different prices and dates. As an advice, you can avoid travelling during the Christmas and New Year season, as they are both very expensive dates to travel. You can find offers in between.
6. Who study English in Dublin, Ireland?
Students come from all over the world to learn English in Dublin
All kinds of people from different countries visit Dublin to study ESL programs. Their decision comes from the fact that they wish to improve their English proficiency to communicate and enhance their careers, by studying in an English-speaking environment in Ireland where they can put into practice their skills on everyday situations, and advance faster than by studying English back in their home countries.
Young Students
They're either high school or college students, who want to improve their English fluency by studying in a foreign country during their summer or winter vacations. Their purpose of study is usually enhancing their academic and work-related English language skills, which results in a direct improvement of their future opportunities.
Young Professionals
They're recent college graduates, who in turn, don't have much job experience, so they wish to improve their English language fluency to enhance their careers, by gaining a new qualification that allows them to find better jobs or even study abroad.
Senior Professionals
Compared to other professionals, these have more experience and higher positions in their companies. That's why a higher English language fluency it's such a valuable qualification, as they usually conduct business at an international level, and need to be able to communicate with other senior professionals from around the world.
Residents
Residents are Irish citizens or people who have moved together with employees or scholars that have been transferred to Ireland. Their main reason to improve their English fluency is to communicate with native speakers in a place where English is one of the main official languages.
7. Photos about studying English in
Dublin

, Ireland

Look some of the photos of the ESL programs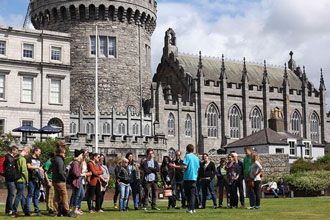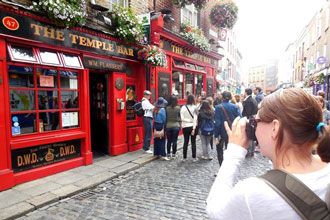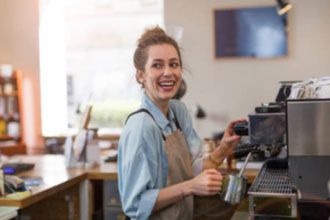 8. Videos about studying English in
Dublin

, Ireland

Click to watch the videos
9. Information about
Dublin, Ireland
Dublin is the capital and the biggest city in Ireland, it's located in the east coast, in the province of Leinster, and its Greater Dublin area has a population of 1,904,806 people, according to the 2016 census. Established by the Gaels in the first few centuries of the first millennium AD, this city has a long history and has also been considered for many years as an important cultural, historical, educational, economic and industrial center in Ireland and Europe. In addition to this, during the last decades, Dublin has become an important economic center in Europe, with an increased economic growth since 1997, which has completely transformed the landscape in a city that combines both history and modernity, and it's thus a great tourist and business destination, for all kinds of students.
The city is divided in several postal districts, it's surrounded by the M50 Motorway, and has different public transportation options, such buses, trams, and trains, with these last being able to take you to different areas near Dublin. Moreover, its reduced city center can be easily explored by foot; therefore, you can shop around, sightsee famous landmarks, eat at restaurants offering delicious cuisine, or have a drink, all in a single day.
In this sense, some of the awesome places you can explore and incredible activities you can try in Dublin are: having a drink at the historical Temple Bar, that dates back to the early 1300's; trying the Guinness Store House tour, to learn more about the history of this traditional Irish beer; visiting Dublin Castle and marvel with its beautiful medieval appeal; go shopping at Grafton Street, a place with lots of boutiques and department stores; taking a stroll around St. Stephen's Green or Phoenix Park, where you can relax and spend some time around nature; exploring the National Museum of Ireland, where you can see exhibits related to the history of this wonderful country; trying some delicious seafood in Howth; joining a tour through the Jameson Distillery Bow St, a place to learn more about the history of whiskey in Ireland; and much more.
10. Frequently Asked Questions about studying English in
Dublin
How do I know if I need an entry visa to study in Dublin?
You should check the official Irish Immigration Service website: https://www.irishimmigration.ie/. You must enter your country, purpose of visiting, and how long will you study. You can find more information regarding visa requirements on our website.
Unlike other countries, Ireland sets a difference between an Entry visa and a residence permit. An entry visa allows you to enter the country and stay for 90 days. So, if you're a short-term student studying for less than 3 months, you can study with that entry visa or without it if you're exempted, without the need of a registration with the local authorities.

However, if you're a full-time student, apart from entering the country via an entry visa or visa exemption, you still need to register with the local authorities, in order to obtain a residence permit that allows you to stay for longer in Ireland, specifically up to 32 weeks. At the end of that period you have to take an exam to prove your progress, such as an IELTS or Cambridge test. You can find more information on our website.
What are the steps to obtain an entry visa to study English in Dublin?
In case you're required to obtain an entry visa to study in Dublin according to the website provided above, you need to: 1) pay for the English course in full, in order to receive the letter of acceptance and the confirmation of payment that you'll need later when applying for the visa; 2) fill in the online visa application form; 3) print, sign and date the application summary sheets that you'll need to mail, along with a passport copy and other documents to the visa application office, which in your case will be an Irish embassy or consulate; 4) pay the mandatory application fee, which is €60 for a single-entry visa, whether is a long or short stay. Some of the documents you'll need to send to the visa application center, within 30 days from your application, are:

Visa application summary sheets.
An application letter you must write yourself.
Your study plan (with accommodation, study and insurance plans).
Proof of payment of your visa fee.
Two recent passport-size photographs with your name and application transaction number in the back.
A photocopy of the first page of your passport, along with all the pages that contain stamps. This document must be valid for at least 6 months after your departure date from Ireland.
A photocopy of all currently or previously-held passports. If not able to do so, you must provide a written explanation as to why you can't.
A proof that you have enough funds (such as a bank statement).
Proof that you'll return to your home country, such as having strong ties to your country, including work, education, family, or property.
Stating any refusals of visa by other countries.

You can check the status of your visa application with the application office (embassy, consulate, etc.). For more information regarding visa requirements, check our website.
Can I work and study at the same time in Ireland?
If you're a full-time student, and you take a 25-week program or longer, you can work up to 20 hours a week during school season, and 40 hours a week during the months of June, July, August, and September (inclusive), and from December 15th to January 15th. Please consider that you need obtain a Personal Public Services Number (or PPS Number) in order to work in Ireland, comply with the Universal Social Contribution (USC), Pay Related Social Insurance (PRSI), employment laws and taxation requirements, and that employers usually only pay wages to a bank account from an Irish bank, so you may need to set up a bank account.

First you need to process a temporary resident permit upon arrival. You can do it online on the following website: https://www.irishimmigration.ie/registering-your-immigration-permission/how-to-register-your-immigration-permission-for-the-first-time/. This information can change at any time, usually you will have an orientation at the language school about this process.
Which accommodation options are available to study English in Dublin?
The accommodation arrangements are normally not included on the course fees, in which case you must find your own accommodation. Nevertheless, it's possible that some schools offer or mention certain external services, such as private residences or homestay providers. On the other hand, you can choose to rent an apartment on your own or with other students.
Where can I study English programs in Dublin?
You can find various language institutes in Dublin offering a wide array of ESL courses. You can check these on our website.
Which is the best university or language school to study English in Dublin?
For this question there aren't any right answers. This is because students have their own tastes, needs and purposes, so you can't say that one school is better than the other, as it all depends on what they're looking for. Since there's a wide selection of institutions in Dublin, you can check and find the one that best fits your needs and goals. You can check different language schools and universities on our website.
Are there any scholarships to study English in Dublin?
As they're language programs and not graduate or undergraduate degrees, there are no scholarships to study English in Ireland. There are; however, schools that offer discounts for students coming from certain countries.
How does the payment process work for English courses in Ireland? Which are the preferred methods to pay?
Although this will depend entirely on each school, the preferred payment methods are usually by credit card, bank transfer, or check from a bank from the same country, in this case Ireland. Moreover, take into consideration that the Irish government requests that students pay in advance the whole tuition fee in order to be allowed entry into Ireland. This may also match the requirements of some schools that also require for you to pay the program's fees in advance.
Do I need to be a student in my country to apply for an ESL course in Dublin?
There's no need for you to be a student in your country to apply for an ESL course offered in Dublin. Everybody can apply if they meet the minimum requirements set for the program the chose. That's why applicants come from all kinds of different backgrounds, such as: students, employees, business entrepreneurs, senior executives, etc. For more information about the student profile in Dublin, check our website.
Are there any age limits to apply for an English program in Dublin?
Most of the courses offered in Dublin are aimed at adult students, so there tends to be a minimum age limit of 16, 17, or 18 years of age, and no maximum age. Still, English language schools sometimes have special programs for children and teenagers that give them the high-quality English instruction, as well as fun activities to have a blast while they learn English and explore the city.
Which are the main tourist attractions in Dublin?
You can visit lots of places and enjoy different activities while staying in Dublin. Some of these are: Temple bar, the Guinness Store House, Dublin Castle, Phoenix Park, among others. Check our website for more information about Dublin and its tourist attractions.
11. Testimonials of international students
I choose Dublin mainly because you can study and work at the same time while you are learning English. After saving some money I was able to travel all around Europe, flight tickets are cheap if you buy them with time. It is crazy, I visited Paris during the weekend, and I went to Rome the next one. I recommend you to look for a job in a restaurant or pub. The tips are good here. The international community of students is huge here. I have friends from all over the world.

I decided to study English in Dublin, and it was the best decision of my life. I have met the best friends I could ask for. In school and the street, you can practice English. Also if you take a course longer than 25 weeks, you can work. To have a job here is excellent to practice English, especially in the hospitality sector. There are a lot of opportunities for international students.
12. Benefits of studying English Abroad in Dublin
In the global world we live in, mastering the English language and having experience abroad is highly valued by companies and employers.
But the benefits are not only professional, as people who study abroad develop valuable skills such as competence in a new language, cultural exposure, tolerance, adaptability, leadership, and independence. All these skills are directly fostered by learning and living abroad.
Click on the screen to watch the video
Other popular destinations to study English abroad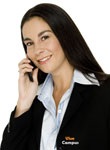 GET IN TOUCH WITH ONE OF OUR REPRESENTATIVES TO RECEIVE MORE INFORMATION ABOUT THE ENGLISH LANGUAGE PROGRAMS IN DUBLIN
You can write the message in your language
Give us a call
+1 310 341 4337