ENGLISH LANGUAGE COURSES IN FLORIDA
A COMPLETE GUIDE AND LIST OF THE BEST ENGLISH PROGRAMS FOR INTERNATIONAL STUDENTS IN THE STATE OF FLORIDA IN 2023

Florida is one of the top destinations for learning and studying English as a second language (ESL). The state of Florida has several English language schools, institutes, and prestigious universities that offer English classes.
Florida stands out for studying English over other cities in The United States, mainly because of its numerous beaches in both its coasts, for being a very important economic center for the southeast region ofthe USA, and a preferred tourist destination for people from all over the world. Some of the things you can find in the Sunny State are breathtaking nature destinations; fun theme parks; golden sand beaches; a rich, cosmopolitan culture; and of course, great English language programs.
The state of Florida has English programs for all ages and budgets. We suggest that you read this page and click on each language school you think is a good option. All universities and language institutes listed here offer English programs that allow you to apply for a student visa. Most of the programs are also available for citizens and residents in full-time or part-time options.
The most common programs are "General English" or "Academic English Programs", which allow you to improve your English level for academic or professional purposes.
Common questions
Where to study English in Florida?
What is the best English language course in Florida?
What is the best city in Florida to study English?
Cheap and good English courses in Florida?
You will find the answer to these questions on this website and a complete list of English language schools available for international students and residents. Click on the specific language school or university to get more information. You will find more details about the programs on those pages, helpful resources, and tips as housing, reviews, comments, and testimonials. As a leading world agency in ViveCampus, we can guide you in all the steps to study English in Florida, USA.
1. Best places to learn English in
Florida

, USA

English courses as a second language in top universities and institutions
Florida is home to numerous beaches in both its coasts, a very important economic center for the southeast region of the USA, and a preferred tourist destination for people from all over the world. Some of the things you can find in the Sunny State are: breathtaking nature destinations; fun theme parks; golden sand beaches; a rich, cosmopolitan culture; and of course, great English language programs.
The main cities in Florida are:
Miami
Orlando
Tampa
Jacksonville
St. Petersburg
Fort Lauderdale
Gainesville
Melbourne
Ocala
Hialeah
Port St. Lucie
Tallahassee
Cape Coral
List of English Language Schools in Florida:
2.
TOP SEVEN REASONS

TO STUDY ENGLISH IN FLORIDA

One of the best destination for international students in the USA
A GREAT VARIETY OF INSTITUTIONS TO LEARN ENGLISH
You will find a wide selection of universities and schools where you can learn English as a Second Language (ESL).
YOU CAN ACCESS ALL KINDS OF FACILITIES AND SERVICES
The great facilities and services offered by the different institutions, including gyms, social activities, clubs, extracurricular activities, visits to tourist locations, among others.
LOTS OF OPPORTUNITIES TO IMPROVE OUTSIDE CLASSES
Apart from excellent English language instruction, you will have numerous opportunities to have fun outside the classroom and to continue improving your English in the real world.
YOU'LL MEET PEOPLE AND NETWORK WITH FELLOW PROFESSIONALS
Studying in Florida is a great opportunity to improve your English proficiency, but also to meet new people and create professional networks that will be useful for your future or current career.
LIVE A CULTURALLY RICH EXPERIENCE
Florida is a cosmopolitan state, with residents coming from all over the world, so you will live a culturally enriching experience while you study there.
FLORIDA IS WELL CONNECTED TO OTHER STATES AND COUNTRIES
This state is well connected both internationally and domestically, with flights leaving every day to different US and international destinations, so you can visit other places in different states.
YOU CAN FIND LOTS OF TOURIST SPOTS AROUND FLORIDA
Florida is full of amazing tourist destinations, such as beaches, theme parks, museums, galleries, historical buildings, national and state parks, and much more.
3. Trends in
2023
In 2023, international students are looking for the following English language courses:
In 2023, the most popular English courses in the United States are academic English courses, preparation courses for the TOEFL or IELTS, and specific English courses for professionals such as business-focused English courses.
Many people have realized the importance of the English language, either to apply for a better job or to enhance their career, and that is why English language learning courses with a certain specialization are ideal in these times.
Due to the contingency that is currently being experienced in the world due to the pandemic (Corona Virus Covid-19), many of these English programs in the USA are being carried out online or hybrid (part online and part face-to-face) and in some parts completely in-person classes.
On the other hand, the change of government in the United States and the new policies of the new president have favored international students to study English courses and specialization programs in the USA. There are many universities and English institutes that have already started with their completely face-to-face English classes and other universities hope to resume face-to-face programs in the second semester of the year.
4.
Requirements

to take an English Course in Florida, USA

Some programs can have their own special requirements
Visa Requirements
Those wishing to study an intensive English language program in Florida (more than 18 hours a week), must obtain an F-1 student visa, for which the English language institution must send you an I-20 document. In case you are only studying a part-time course, you will not need these documents, as you will be able to study with a tourist visa or an ESTA. You can learn more about the Visa Waiver Program (VWP) by visiting this website: https://travel.state.gov/content/travel/en/us-visas/.
Age Requirements
Most English language courses are aimed at adult learners and the minimum age required will depend on the institution, but it is generally 16 or 18 years old. On the contrary, there is no maximum age for these programs, so it is never too late to begin learning a new language.
Proof of Sufficient Funds
In order to obtain a student visa, you must prove you have sufficient funds to cover the course's fees and for your own personal expenses, and how much is the amount of funds you will need to prove depends on the English language institution. These funds must be on the student's bank account or on one which belongs to a sponsor, such as a relative, a friend, a company or a government institution.
Minimum English Language Level
Most of these English language program do not require a minimum level of proficiency, since they offer programs in all levels, including basic or elementary levels. Your English language level will be determined with a placement test during your first week or first day at the institution. However, some of these programs are not offered at the basic/elementary level, so we suggest checking the requirements for each program on our website.
5.
Prices, dates and costs

of English courses in Florida 2023 - 2024

Explanation about main costs
The prices and dates for English courses in Florida, USA, will depend mainly on the city and institution where you will study, the methodology and how many hours a week you will be studying.
For a better cost comparison, you must take into consideration that some universities and institutions include unrelated items directly on the course's final cost. Some of these extra items are housing, health insurance, facilities usage, extracurricular activities, events, books, among others.
If you are looking to study an English language course in Florida, U.S., you must consider the associated costs. Most of these will depend specifically on where you wish to study, but we will explain these as much as possible.
Main costs to consider if you want to study in Florida, USA
ENGLISH PROGRAM
It will depend on which school you will study, for how long and for how many hours a week.
HEALTH INSURANCE
Some schools include the cost within the course's fees, while others don't. Prices usually begin at $100 USD a month. Have in mind that all F-1 students in the U.S. must have health insurance.
BOOKS
It will depend on each institution, but you shouldn't spend more than $100 USD for each English language proficiency level.
HOUSING
It will depend mainly on the city and the kind of accommodation. It usually goes from USD$700 to USD$1600 for a single room a month. Utilities are not normally included.
FOOD
Some accommodation options include food on the fees, while some universities offer meal plans for students. Prices will change according to housing you choose, how many meals you receive a day, and how many days a week. You can also cook at home if you're staying in an apartment-style residence or at your own place.
VISA
The cost of the student visa, plus the SEVIS number is required for students who enroll on an intensive program. The price of the F-1 visa is $160 USD and the SEVIS registration I-901 fee is $350 USD.
TRANSPORTATION
This cost will depend on how far from school you live. We advise you to live as near as possible, so you can walk or go by bike or public transport, as renting or buying a car is an expensive option.
FLIGHT TICKETS
It will depend on where you will be flying from, where you are going and the dates on which you are flying. Try checking on websites that show you different prices from several airlines at the same time. The most expensive prices are usually near the Christmas and New Year holidays. You can find offers on other dates.
6. Who studies English in Florida, USA?
Students come from all over the world to learn English in Florida
Students enrolling on these courses in Florida usually come from all over the world. Their main motivation is improving their English language proficiency level for academic and/or professional reasons. Many of these students have taken English language lessons back in their countries, but have not reached high levels of proficiency. One of the main reasons is because it is harder to learn a language in an environment where it is not being spoken and studying only a few lessons a week.
Young Students
These students usually enroll on these courses in Florida during their summer or winter vacations, in most cases looking to improve their English for academic reasons or to prepare for their future career.
Young Professionals
This age group is usually made up from freshly graduated people and professionals with only a few years of working experience that visit Florida to learn English. Their motivation tends to be improving their English proficiency for academic reasons, when they wish to partake in graduate studies, or professional reasons, such as obtaining a promotion.
Senior Professionals
This age group is made up from professionals that realized they need to learn English in order to improve their career prospects and obtain better career opportunities. Some of them ask for a leave at their work, others resign, while others are unemployed and wish to seize this opportunity in order to improve their English language proficiency by studying in Florida.
Residents
Residents or companions of people who were transferred to Florida, in the United States. They need to improve their English language proficiency in order to communicate, find better employment, understand TV shows, among other everyday needs.
7. Photos about studying English in
Florida

, USA

Look some of the photos of the ESL programs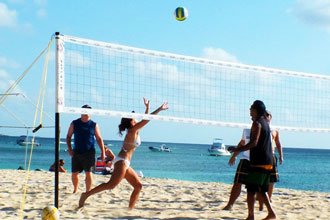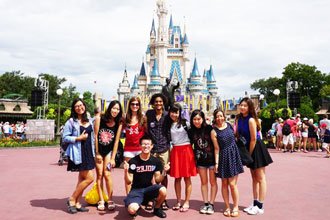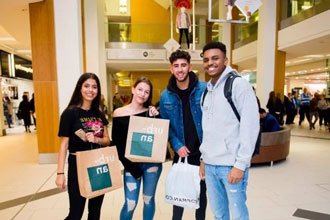 8. Videos about studying English in
Florida

, USA

Click to watch the videos
9. Information about
Florida, USA
The State of Florida, commonly known as just Florida, or by its nickname The Sunny State, is the third most populated state in the USA, located in the southern east coast. It is famous for its amusement parks; orange crops; the Kennedy Space Center; its numerous higher education institutions; and of course, its sunny beaches, lakes and swamps.
Historically, and due to its close proximity to the Caribbean, Florida (especially Miami) has been home to growing Latino communities, particularly from Cuban and Puerto Rican origins, which in turn has greatly influenced Florida's history, culture, and even language.
Originally named La Florida after its beautiful landscapes, it was first discovered by Spanish settlers during the 16th century and joined the United States during the 19th century. In the early 20th century, it grew as a popular tourist destination following the post-war economic boom, a status that continued throughout the rest of the century. Nowadays it is still renowned for being a beautiful holiday destination where people go from all over the world to spend an unforgettable vacation.
The Miami metropolitan area is the most populous urban area, Tallahassee is the state's capital and Jacksonville its biggest city in terms of area. Other important cities are Tampa and Orlando.
Some of the tourist attractions you can find in Florida are:
Walt Disney World
Kennedy Space Center
Universal Studios
Miami Beach
Everglades National Park
SeaWorld Orlando
Busch Gardens Tampa
The Ringling
And the beaches in Naples
10. Frequently Asked Questions about studying English in
Florida
Can I travel only with an ESTA permit and study a full-time intensive program if my country has an agreement with the U.S.?
You can only take a part-time English program (less than 18 hours of class a week) with an ESTA permit or a tourist visa because a full-time intensive program (18+ hours of class a week) requires an F-1 student visa.
Which are the different steps of the application process for the F-1 student visa to study an English program in Florida?
Please check with us what type of visa you need to take the program you are interested in.

All full-time programs in the U.S. require a F-1 student Visa. With an F-1 visa, you can extend your stay in the United States as long as you continue studying.
Part-time programs (less than 18 hours a week) can be taken with a tourist visa or visa waiver ESTA. With a tourist visa, you can only stay in the U.S. the duration your tourist visa allows, since your main purpose in the U.S. should be tourism.

If you need an F-1 student visa, please apply as soon as you receive your acceptance documents (I-20 form) from the English school. In some countries it can take several weeks to obtain a visa interview at the U.S. embassy.

You must confirm these steps on the website of the U.S. embassy in your country. You can look for your nearest U.S. embassy here: https://www.usembassy.gov/
Which accommodation options do I have while studying English in Florida?
The accommodation is separated from the English course. Some institutions offer housing inside campus, particularly during the summer season. Some other popular options are sharing a furnished apartment or living with a local family. The institution you apply to will give you the different options you can choose from.
Can I work and study at the same time in Florida?
Students enrolled on an intensive English program in Florida are allowed to work for up to 20 hours a week and only inside campus. Although it is in fact possible, the job availability will depend on each university, as these kind of job openings are usually reserved for undergraduate students.
Which is the best city to study English in Florida, USA?
In this case, there is no right answer as to which city is the best to study English. We recommend students to look for the city in which they feel the most comfortable in. There are universities and institutes offering English programs in big cities, while others are located in smaller cities that usually cater the university populace. You can check the different options on our website.
Where can I study English courses in Florida?
As you can see, there are English language institutions all over the Sunny State, so you can choose the one that best fits your needs, goals and budget. You can check more information on our website.
Which is the best university or language institute to study English in Florida?
All the universities and language institutes in Florida offer high-quality English language programs. We advise you to reflect on where you would like to live, what kind of course you wish to enroll on, and the budget you have for this.
Do universities offer scholarships to study English in Florida?
Universities do not offer scholarships for these English courses, since there is no selection process. However, several language institutes offer discount prices for international students. Moreover, Florida is one of the cheapest states in terms of living expenses and overall course prices.
What are the payment methods for these English language courses abroad?
The payment process for the English courses varies from one institution to the other. The most common case is that institutions ask for an initial fee of around $200USD to begin the application process, which includes the shipping costs for the documents you will need to apply for the student visa. The remaining fees are usually paid once you arrive to the institution, and the preferred payment method is by credit card.
Do I need to be currently studying in my country of origin to apply to an English language course at an American institution in Florida, USA?
No, anybody can apply to these English language courses in American universities and language institutes, and it is not necessary for you to be currently studying in your country. Some of the applicants are university students taking a course during their vacations, others ask for a leave at their place of work, while others apply during their free time in order to improve their CVs.
Is there an age limit to apply for an English course at an American institution in Florida?
Due to the fact that these English programs are aimed at adult students, universities and language institutions tend to have a minimum age limit of 16, 17 or 18 years of age; however, there is no maximum age to apply, and it is never too late to learn a new language. Nonetheless, some universities and schools offer special English language courses for children and teenagers, with contents related to their own age and full of fun activities to truly enjoy their time abroad.
Which are the main tourist attractions in the State of Florida?
Some of the main tourist attractions you can find in the Sunny State are: exciting theme parks in Orlando (Walt Disney World, Disney's Animal Kingdom, Universal Orlando Resort, SeaWorld, Epcot, among others); beautiful beaches in Miami (South Beach, Lummus Park Beach, South Pointe Park Pier, Surfside, Sunny Isles Beach, etc.); the Kennedy Space Center; the Everglades National Park; the Daytona 500 International Speedway; Busch Gardens in Tampa; and the Salvador Dali Museum in St. Petersburg.
11. Testimonials of international students
One of the best experiences of my life without a doubt. I improved my English a lot in Florida and now I can listen and speak English perfectly. The social life that I was able to do outside of class helped me a lot to reach the English fluency I wanted. I chose the state of Florida to study English because the ration quality/price was the best I found, and because I was able to stay with a relative and save money on accommodation. However I would choose Florida as a destination a thousand times more, not only because of the costs and quality of the English program but also because of the life experience that I had. There are many fun things to do, Disneyworld, Key West, all the theme parks are great, and even better when they help you improve a new language.

I loved the state of Florida and I highly recommend studying English here. It is a Cosmopolitan city with people from all over the world. This made me constantly go out with my classmates to try different foods and try outdoor activities, and that in the long run helped me a lot to loosen up to speak the English language and to feel good speaking outside of class. The best also is that it is summer in Florida all year round and the beaches are incredible. 100% recommended!
12. Benefits of studying English in Florida
In the global world we live in, mastering the English language and having experience abroad is highly valued by companies and employers.
But the benefits are not only professional, as people who study abroad develop valuable skills such as competence in a new language, cultural exposure, tolerance, adaptability, leadership, and independence. All these skills are directly fostered by learning and living abroad.
Click on the screen to watch the video
Other popular destinations to study English abroad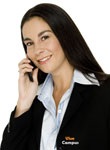 GET IN TOUCH WITH ONE OF OUR REPRESENTATIVES TO RECEIVE MORE INFORMATION ABOUT THE ENGLISH LANGUAGE PROGRAMS IN FLORIDA
You can write the message in your language
Give us a Call
+1 310 341 4337