ENGLISH LANGUAGE COURSES IN MIAMI, FLORIDA
A COMPLETE GUIDE AND LIST OF THE BEST ENGLISH PROGRAMS FOR INTERNATIONAL STUDENTS IN THE CITY OF MIAMI IN 2023

Miami is one of the top destinations for learning and studying English as a second language (ESL). The city of Miami has several English language schools, institutes, and prestigious universities that offer English classes.
Miami stands out for studying English over other cities in The United States, mainly because of its beautiful beaches along the Atlantic Coast that attract millions of tourists each year, and for being an important economic hub in the Southern Florida area. It is great for students looking to study English in a foreign country, as you can find great tourist locations and top-quality English language centers in the same area.
The city of Miami has English programs for all ages and budgets. We suggest that you read this page and click on each language school you think is a good option. All universities and language institutes listed here offer English programs that allow you to apply for a student visa. Most of the programs are also available for citizens and residents in full-time or part-time options.
The most common programs are "General English" or "Academic English Programs", which allow you to improve your English level for academic or professional purposes.
Common questions
Where to study English in Miami, Florida?
What is the best English language course in Miami?
How can I study English in Miami?
English programs near Miami?
Cheap and good English courses in Miami?
You will find the answer to these questions on this website and a complete list of English language schools available for international students and residents. Click on the specific language school or university to get more information. You will find more details about the programs on those pages, helpful resources, and tips as housing, reviews, comments, and testimonials. As a leading world agency in ViveCampus, we can guide you in all the steps to study English in Miami, USA.
1. Best places to learn English in
Miami

, USA

English courses as a second language in top universities and institutions
The greater Miami area (also known as South Florida) is famous for its beautiful beaches along the Atlantic Coast that attract millions of tourists each year, and for being an important economic hub in the Southern Florida area. It is great for students looking to study English in a foreign country, as you can find great tourist locations and top-quality English language centers in the same area.
While you study an ESL program in Miami, you will also have lots of fun interacting with other domestic and international students, so you will continue practicing your English skills and learning about other cultures even outside the classroom.
In Miami you will find some of the following tourist locations: the Art Deco Historic District in Miami Beach; South Beach; Vizcaya Museum and Gardens; the Everglades National Park; Bayside Marketplace; Little Havana and Calle Ocho; Bayfront Park; Zoo Miami; Jungle Island; Key Biscayne and Crandon Park; the Philip and Patricia Frost Museum of Science; the Miami Sea Aquarium; and many others.
In Miami and surroundings we can find the following places:
Downtown Miami
Brickell
South Beach
Wynwood
Coral Gables
Doral
Miami Springs
Coconut Grove
Key Biscayne
Aventura
Kendall
Miami Beach
Pompano
Boca Raton
Hialeah
Fort Lauderdale
Pembroke Pines
Hollywood
Miramar
Coral Springs
Miami Springs
Miami Gardens
Pompano Beach
West Palm Beach
West Palm Beach
West Palm Beach
List of English Language Schools in Miami:
Miami, Florida, USA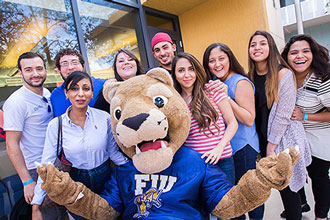 FLORIDA INTERNATIONAL UNIVERSITY
FIU ELI
Miami, Florida, USA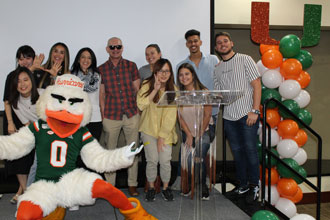 UNIVERSITY OF MIAMI
UM IEP
2.
TOP SEVEN REASONS

TO STUDY ENGLISH IN MIAMI

One of the best destination for international students in the USA
A GREAT VARIETY OF UNIVERSITIES AND INSTITUTES TO STUDY
In Miami you will find a wide variety of excellent universities and institutes where you can study ESL programs.
TOP-QUALITY FACILITIES AND SERVICES OFFERED
Schools and universities offer top-quality facilities and services for English language students, including sport areas, student organizations, extracurricular activities, and even trips to top tourist spots.
MANY OPPORTUNITIES TO IMPROVE OUTSIDE CLASSES
Not only you will find great ESL programs in Miami, but you will also have tons of opportunities to have fun outside the classroom and put your English skills into practice by interacting with native speakers.
NETWORKING AND MAKING NEW FRIENDS WHILE STUDYING IN MIAMI
While studying in Miami, you will meet new people and make new friends, so you will be able to enhance your professional network, which will be helpful for your future career, no matter your area of specialization.
A REALLY MULTICULTURAL ENVIRONMENT IN MIAMI
The Greater Miami area is composed of a really diverse community of people who trace their roots to different parts of the world, so you will be studying in a multicultural environment where you can learn more about other cultures and customs.
A GREAT CONNECTIVITY WITHIN THE MIAMI AREA
Miami has a great public transportation system that covers several places around the metropolitan area, so you will not have problems moving around the three counties.
AWESOME TOURIST SPOTS ACROSS MIAMI
Miami has great tourist spots, ranging from beautiful paradisiac beaches and exciting urban destinations, to breathtaking natural landscapes in the different parks that surround this wonderful city.
3. Trends in
2023
In 2023, international students are looking for the following English language courses:
In 2023, the most popular English courses in the United States are academic English courses, preparation courses for the TOEFL or IELTS, and specific English courses for professionals such as business-focused English courses.
Many people have realized the importance of the English language, either to apply for a better job or to enhance their career, and that is why English language learning courses with a certain specialization are ideal in these times.
Due to the contingency that is currently being experienced in the world due to the pandemic (Corona Virus Covid-19), many of these English programs in the USA are being carried out online or hybrid (part online and part face-to-face) and in some parts completely in-person classes.
On the other hand, the change of government in the United States and the new policies of the new president have favored international students to study English courses and specialization programs in the USA. There are many universities and English institutes that have already started with their completely face-to-face English classes and other universities hope to resume face-to-face programs in the second semester of the year.
4.
Requirements

to take an English Course in Miami, USA

Some programs can have their own special requirements
Visa Requirements
You can study in Miami with an F-1 Student Visa, a Tourist Visa, or even an ESTA. Which one you will need depends on your nationality and the type of program you enroll on. For example, intensive programs, usually those that consider 18+ hours of classes a week, require students to apply for a Student Visa and to register on the SEVIS (Student and Exchange Visitor Information System), all of which require a Form I-20 that the English School sends via mail with your acceptance letter. For part-time programs you will only need a Tourist Visa or a an ESTA, which will vary depending on your nationality. You can learn more about the Visa Waiver Program (VWP) by visiting this website: https://travel.state.gov/content/travel/en/us-visas/.
Age Requirements
The different ESL courses you will find in Miami are mainly designed for adult students; and therefore, schools have a minimum age limit, which is usually between 16 and 18 years of age. For those under that age, special junior programs for children and teenagers are also offered at different English schools. Moreover, ESL courses have no maximum age, so it is never too late to enroll and begin preparing for a brighter future by working on such a useful skill.
Proof of Sufficient Funds
When you apply for a visa to study in the U.S., you will have to provide a proof of sufficient funds to cover all your expenses, including the program fees and the cost of living and studying abroad. How large this amount will be, depends on which school and course you enroll on, and where you will be staying (in this case Miami), due to the variation in the cost of living, which varies from one city to the other. The funds need to be on your account or on the account of your sponsor, if your expenses will be covered by a third party, such as a relative or employer.
Minimum English Language Level
These ESL programs tend to have different proficiency levels, from beginner to expert, so only a basic knowledge of English is required (such as knowing the English alphabet and understanding basic commands). In order to place you in the proficiency level on which you belong, you will take a placement test, which is either taken online or on site on your first day of classes. Nonetheless, there are some intermediate and advanced programs that will, in some cases, require you to submit the results of an English proficiency test, such as IELTS or TOEFL.
5.
Prices, dates and costs

of English courses in Miami 2023 - 2024

Explanation about main costs
There is always a difference in dates and prices of ESL programs in Miami, which will change depending on the school and the program you choose to study. This is because costs such as tuition and application fees will vary depending on where you enroll, the type of program you choose, and the number of hours a week it has.
To help you compare the different prices and calculate your budget to study abroad in Miami, you must keep in mind that universities and institutes may include non-related items directly on the final tuition fee. Some of these items are: accommodation, insurance, use of facilities, extra activities and trips, and class materials.
Down below you will see different estimations and the factors involved in price variation for the different costs of studying abroad in Miami, so you can begin planning a sensible budget.
Main costs to consider if you want to study in Miami, USA
ENGLISH PROGRAM
This cost varies based on which course you enroll on, the institution you choose, and if it is an intensive or part-time program.
HEALTH INSURANCE
In some cases, the health insurance coverage will be included within your fees, as some universities consider it as mandatory. In other cases, English schools may consider it as optional. Whatever the case, this cost will vary depending on the school and for how many weeks you will study. You can find medical insurance for international students from $ 100 per month approximately. Have in mind that all F-1 students in the U.S. must have health insurance.
BOOKS
The cost of class materials, such as books, may or may not be included on your tuition fees. This will depend on where you enroll, and in some cases, on which course you will be enrolled on.
HOUSING
How much you need to spend on accommodation depends on the area where you will stay and the type of housing you choose. Prices usually oscillate between USD $700 and $1600, depending on whether you will stay at a student residence, private room, or in the most expensive cases, at a private apartment in an expensive area.
FOOD
Certain types of housing, such as a student residence or a homestay, may include food on the final fee, which ranges from self-catering areas, food at the cafeteria, to half or full board. You may also choose to eat out or cook for yourself at home. As a reference, the price of a fast-food combo meal in Miami is around USD $8.
VISA
Both the F-1 Student and Tourist Visa include a USD $160 application fee. For the F-1 Visa you should also consider a USD $350 I-901 SEVIS registration fee. Finally, the ESTA has a total price of USD $14, divided in an application and an authorization fee. You should also consider a courier fee in case the school has to send you documents by express mail.
TRANSPORTATION
How much you spend on commuting will be determined by how far from the school you stay. That is why our recommendation is to live as close as you can, so walking or using public transportation is possible. Other options, such as renting a car or taking a cab might be too expensive on the long run and it may be difficult if you will be studying on a budget.
FLIGHT TICKETS
There will always be a difference on the air ticket price depending on your home country and your date of arrival and departure. We recommend browsing prices on different websites on the internet so you can find the best tickets. As a hint, the most expensive prices are usually before Christmas and after New Year. In between you can find offers.
6. Who study English in Miami, USA?
Students come from all over the world to learn English in Miami
Students from all over the planet choose Miami as their place to improve their English skills by enrolling on an ESL course. Their motivation tends to be enhancing their skills in order to excel as professionals in the job market or to apply for a higher position. The reason why they choose to study abroad tends to be the fact that after studying English in their home countries, they didn't see a considerable progress, mostly because it is harder to acquire the language when you do not use it on a daily basis.
Young Students
These young students want to improve their English proficiency for both academic and future work-related purposes. They usually visit Miami to study during their holidays.
Young Professionals
In today's globalized world, companies are demanding for professionals to be able to communicate in English. That is why young professionals who have recently graduated from college see in an English program abroad in Miami an opportunity to excel in the job market, or even to apply for a graduate program in other countries.
Senior Professionals
These are more seasoned professionals with higher job positions. However, in order to be successful in today's world, they need to be able to communicate with business partners from around the globe; which is why they feel the need to enroll on an ESL program in the U.S in Miami.
Residents
They are permanent or temporary residents in Miami who need help improving their English skills in order to be able to work and communicate in a country where English is still the main language.
7. Photos about studying English in
Miami

, USA

Look some of the photos of the ESL programs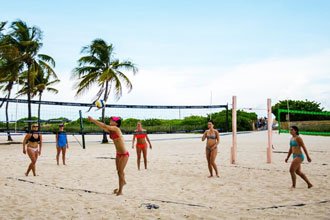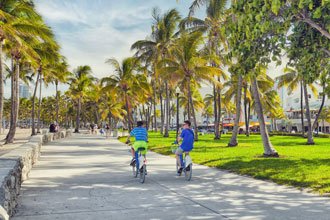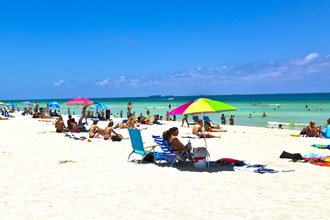 8. Videos about studying English in
Miami

, USA

Click to watch the videos
9. Information about
Miami, USA
Human settlements in Miami date back to 2,000 years before the first European colonizers arrived to the Floridian coasts. With a population of around 6 million people, the Greater Miami area is one of the most important metropolitan areas in Florida, regarded as a cultural and economic center in the southern east coast. Founded in 1825, is a relatively young city, that didn't see a significant growth until the Second World War, a time on which it became an important American military base due to its proximity to the Atlantic Ocean. Miami is famous for a wet climate between June and October, with lots of rain and humidity; and a relatively dry season during the winter.
In terms of population and cultural heritage, Miami is renowned for its large Latino population, due to its close proximity to Latin America and the Caribbean. That is why in Miami you will find a widely diverse community what will contribute to a really enlightening experience in which you will learn more about different cultures and customs.
Finally, in Miami you will find lots of different places and fun activities to do outside the classroom, so you can have fun while continuing to improve your English skills. Some of the places you can visit and activities you can do are:
Exploring the fascinating Art Deco Historic District in Miami Beach to learn more about the architectural history of Miami.
Swimming in the turquoise waters of South Beach, a wonderful place full of golden sand and fun outdoor activities.
Touring the breathtaking Vizcaya Museum and Gardens, an Italian-villa-styled mansion featuring more than 34 rooms and beautiful gardens.
Visiting the Everglades National Park, a location where you can learn more about the incredible flora and fauna of Florida.
Going to the Bayside Marketplace, where you can go shopping or try some of the delicious Miami cuisine.
Strolling around Little Havana and Calle Ochoa, home to different traditional Cuban shops and restaurants.
Paying a visit to Zoo Miami and Jungle Island, both great places to see fascinating animal species from all over the world.
Going on a day trip to Key Biscayne and Crandon Park, a perfect seaside location where you can relax and enjoy wonderful scenes of the Atlantic Ocean.
Visiting the Philip and Patricia Frost Museum of Science, to marvel with the many fascinating exhibitions.
And of course, enjoying Miami's famous nightlife entertainment.
10. Frequently Asked Questions about studying English in
Miami
Can I travel only with an ESTA permit and study a full-time intensive program if my country has an agreement with the U.S.?
Even if your country has an ESTA agreement, the intensive program (18+ hours a week) requires a F-1 student visa, is for that reason it is mandatory to apply for the visa. However, you can take a part-time English program (less than 18 hours a week) with an ESTA permit or tourist visa.
Which are the different steps of the application process for the F-1 student visa to study an English program in Miami?
Please check with us what type of visa you need to take the program you are interested in.

All full-time programs in the U.S. require a F-1 student Visa. With an F-1 visa, you can extend your stay in the United States as long as you continue studying.
Part-time programs (18 hrs/week or less) can be taken with a tourist visa or visa waiver ESTA. With a tourist visa, you can only stay in the U.S. the duration your tourist visa allows, since your main purpose in the U.S. should be tourism.

If you need an F-1 student visa, please apply as soon as you receive your acceptance documents (I-20 form) from the English school. In some countries it can take several weeks to obtain a visa interview at the U.S. embassy.

You must confirm these steps on the website of the U.S. embassy in your country. You can look for your nearest U.S. embassy here: https://www.usembassy.gov/
What kind of housing is available to stay in Miami?
For several cases, housing is not included on the final fees for the program you enroll on. Nevertheless, in some universities, you might find accommodation availability during the summer, when most students are away on vacations. Other options include sharing an apartment, living in a private residence, staying with a host family, among others. The school for which you applied can also give you more information about housing in Miami.
Is it possible to work and study at the same time in Miami?
You might be able to work on campus if you enroll on an intensive English program in Miami, up to 20 hours per week. Nonetheless, many of these on-campus job positions are taken by undergraduate and graduate students, so you might find the job availability to be low.
Where can I study ESL courses in Miami?
There is a wide variety of schools, institutes and universities in Miami. You can check on this same website a list of institutions where you can study ESL programs in Miami.
Which is the best university or language institute to study English in Miami?
Since they are all different, it is not possible to say one school is better than the other. All institutions offer great programs, taught by experienced teachers with different English teaching qualifications, so it is up to you to choose the option that best fits you. Some things you might want to consider are: what is your purpose to study English, which contents you would like to study, and the school's location within the metropolitan Miami area. You can check the different language schools located in this area on this same website.
Are there any scholarships offered to study English in Miami?
As with most language programs, no scholarships are offered for English courses in Miami. However, some language institutes and schools have special discounts for non-domestic students.
What are the payment methods for English programs in Miami?
Payment methods vary from one school to the other. The main options for international students tend to be online credit card payment and bank transfer. The first step in the payment process is usually paying the initial application fee, which sometimes covers the shipping costs for the Form I-20 and the acceptance letter. Remaining fees are paid either a few weeks before the program's start date or on site once you have arrived at the school.
Do I need to be a student currently to apply for an ESL course in Miami?
There is no need to be a student to apply for an ESL course in Miami. You only need to comply with the minimum requirements, such as minimum age and level of English proficiency. This lets all kinds of students enroll on an English language program to begin enhancing their career.
Is there an age limit to apply for an English course in Miami?
ESL programs at the different schools you can find in Miami are mainly thought for adult students, so a minimum age limit is set, usually between 16 and 18 years of age. However, there are special programs for children and teenagers, on which they will learn English in dynamic and innovative ways, while putting their skills to practice in fun activities with other students.
Which are the main tourist attractions in Miami?
Some tourist spots you can visit and activities you can try in Miami are: exploring the fascinating Art Deco Historic District; swimming in the turquoise waters of South Beach; touring the breathtaking Vizcaya Museum and Gardens; visiting the Everglades National Park; shopping and eating at Bayside Marketplace; strolling around Little Havana and Calle Ochoa; paying a visit to Zoo Miami and Jungle Island; going on a day trip to Key Biscayne and Crandon Park; visiting the Philip and Patricia Frost Museum of Science; among other fun things you can do in Miami.
11. Testimonials of international students
Studying English in Miami was an incredible experience. I improved my English level faster than I thought since the city has so much to offer, and the experience I had outside of the classes helped me to have a full immersion with the English language. Miami is a paradise in every way, it is a developed city, the beaches are spectacular, the weather is great, and you can easily go to the Disney parks too. They are all super friendly and that also made me feel good about practicing my English outside of class. I totally recommend taking English courses in Miami!

The lifestyle in Miami is unique and the 6 months I spent studying English there helped me to see all the advantages that this city offers. Furthermore, Spanish is the second language of the city, and that helped me not to feel so pressured at first since my level of English was basic. I think not having that pressure helped me participate in more conversations in the city and I was able to improve my English level faster. In addition to the beautiful beaches, the entertainment in Miami is incredible so I enjoyed so many events and activities that made my entire experience of the English courses even better. I would definitely go back to Miami to study again.
12. Benefits of studying English in Miami
In the global world we live in, mastering the English language and having experience abroad is highly valued by companies and employers.
But the benefits are not only professional, as people who study abroad develop valuable skills such as competence in a new language, cultural exposure, tolerance, adaptability, leadership, and independence. All these skills are directly fostered by learning and living abroad.
Click on the screen to watch the video
Other popular destinations to study English abroad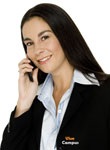 GET IN TOUCH WITH ONE OF OUR REPRESENTATIVES TO RECEIVE MORE INFORMATION ABOUT THE ENGLISH LANGUAGE PROGRAMS IN MIAMI
You can write the message in your language
Give us a Call
+1 310 341 4337