ENGLISH LANGUAGE COURSES IN PERTH, AUSTRALIA:
A COMPLETE GUIDE AND LIST OF THE BEST ENGLISH PROGRAMS FOR INTERNATIONAL STUDENTS IN THE CITY OF PERTH IN 2023

Perth is one of the top destinations for learning and studying English as a second language (ESL). The city of Perth has several English language schools, institutes, and prestigious universities that offer English classes.
Perth stands out for studying English over other cities, mainly for being the capital and the biggest city in the state of Western Australia. Like other Australian cities, It's considered as one of the most livable cities in the world, and offers a great mixture of outdoor adventures and exciting big-city life. While living in this fantastic location, you can interact with native speakers, have fun going out with your classmates, or trying one of the many outdoor sports you can do near the sea. Considering all these great advantages, Perth is an awesome destination for learning English at excelling institutes.
The city of Perth has English programs for all ages and budgets. We suggest you read this page and click on each language school you think is a good option. All universities and language institutes listed here offer English programs that allow you to apply for a student visa. Most of the programs are also available for citizens and residents in full-time or part-time options.
The most common programs are "General English" or "Academic English Programs", which allow you to improve your English level for academic or professional purposes.
Common questions
Where to study English in Perth, Australia?
What is the best English language course in Perth?
How can I study English in Perth?
English programs near Perth?
Cheap and good English courses in Perth?
You will find the answer to these questions on this website and a complete list of English language schools available for international students and residents. Click on the specific language school or university to get more information. You will find more details about the programs on those pages, helpful resources, and tips as housing, reviews, comments, and testimonials. As a leading world agency in ViveCampus, we can guide you in all the steps to study English in Perth, Australia.
1. Best places to learn English in
Perth

, Australia

English courses as a second language in top universities and institutions
Founded in 1829, Perth is the capital of Western Australia and its main city. It grew fast to become one of the biggest and most important locations in the country, and these days it's renowned for its mining and agricultural activities and for having an economy focused on the service and technological industries. Therefore, it's a fantastic location for learning English, exploring, having fun, and networking with other professionals.
In Perth and surroundings we can find the following places:
Highgate
Ashfield
Crawley
Rossmoyne
Burswood
North Fremantle
Maylands
Woodbridge
Leederville
Freemantle
Joondalup
Mandurah
Bunbury
Rockingham
Northam
List of English Language Schools in Perth:
Perth, Australia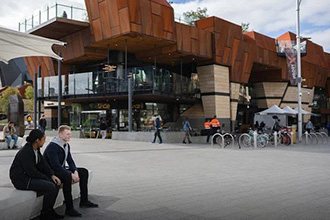 ILSC PERTH
ILSC
Perth, Australia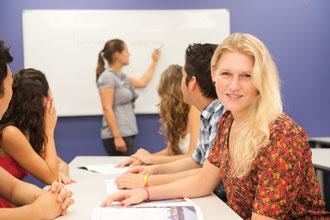 KAPLAN PERTH
KAPLAN
2.
TOP SEVEN REASONS

TO STUDY ENGLISH IN PERTH

One of the best destination for international students in Australia
FIND A WIDE VARIETY OF ENGLISH SCHOOLS
Perth is home to numerous English centers where you can study and begin improving as soon as possible.
THE BEST SERVICES AND FACILITIES AT SCHOOLS IN PERTH
Institutes and universities not only offer fantastic ESL programs, but you can also enjoy using student services and state-of-the-art facilities. Some examples are extracurricular events; student organizations; visits to tourist attractions; and access to sport facilities, student lounges and computer labs.
LEARN AT SCHOOL AND IN YOUR DAY-TO-DAY LIFE
Perth is a place that offers opportunities to improve your skills in daily-life situations, such as interacting with native speakers or just living in a city where English is the main language.
TONS OF OPPORTUNITIES FOR NETWORKING
As Western Australia's biggest area, Perth is a meeting place for professionals from all over the planet, therefore being a great networking.
LEARN MORE ABOUT OTHER CULTURES AND PEOPLE IN PERTH
Just like most Australian cities, Perth is a cosmopolitan location where you can learn more about other traditions, try different dishes, and bask in its diversified and rich culture. That's why it's a great opportunity to grow as a person.
LOTS OF FUN ACTIVITIES IN A WONDERFUL CITY
Perth it's rich in activities you can do outside the classroom, including great experiences outdoors or at museums, galleries or restaurants. So, no matter what you enjoy the most, you'll always have lots of fun.
FIND MANY AWESOME TOURIST ATTRACTIONS
Perth is home to a wide variety of marvelous tourist attractions you can visit in your free time, which includes: Kings Park; Swan River; Fremantle Prison; Cottesloe Beach; Perth Mint; Perth Zoo; The Bell Tower; Art Gallery of Western Australia; Scitech; Aquarium of Western Australia; Aviation Heritage Museum; Adventure World; and much more.
3. Trends in
2023
In 2023, international students are looking for the following English language courses:
In 2023, Australia continues to be an appealing destination for international students pursuing English as a second language (ESL) studies. Its world-class educational institutions, diverse culture, and stunning natural landscapes make Australia a top choice. For those looking to study abroad and immerse themselves in the Australian way of life, several trends are enhancing the ESL experience in Australia.
A significant trend in Australian ESL education is the incorporation of experiential learning. Beyond traditional classroom teaching, Australian ESL schools are integrating real-world experiences into their curriculum. Students can engage in community volunteering, cultural excursions, and internships, allowing them to practice their English skills in authentic settings and immerse themselves in Australian culture.
Furthermore, the rise of specialized ESL programs tailored to students' specific needs and goals adds to the appeal of studying in Australia. Whether students are interested in business, academic preparation, or conversational fluency, Australia offers ESL courses to help them acquire the language skills necessary for their chosen field. These targeted programs ensure that students are well-prepared for their future endeavors.
Technology is playing an increasing role in ESL education in Australia. Virtual classrooms, interactive language apps, and online resources have become essential tools for ESL students. These technologies provide a more flexible and engaging learning experience, allowing students to practice their English skills at their own pace and receive instant feedback.
Australia's multicultural environment is another draw for international students. Many ESL programs in Australia include cultural exchange and language partner programs, giving students the opportunity to practice English with native speakers and learn about Australian culture from various perspectives. This enriching experience not only improves language skills but also fosters cross-cultural understanding and global perspectives.
One of the most appealing aspects of studying in Australia is the opportunity for international students to work while pursuing their studies. Australia's policies allow international students to gain valuable work experience while studying, helping them to practice their English skills in real-life settings and become more independent. The ability to study and work gives students a more well-rounded experience and better prepares them for their future careers.
Australia's strong commitment to student support is also noteworthy. Australian ESL institutions offer a wide range of services to help international students adapt to their new environment, such as orientation sessions, counseling services, and study skills workshops. This comprehensive support ensures a positive and successful ESL learning experience.
In conclusion, Australia remains an attractive destination for studying English as a second language in 2023. With trends such as experiential learning, specialized ESL programs, technology integration, a multicultural environment, and the opportunity to study and work, Australia is an excellent choice for international students. By studying and living in Australia, students can improve their English skills and enjoy a unique and unforgettable cultural experience.
4.
Requirements

to take an English Course in Perth, Australia

Some programs can have their own special requirements
Visa Requirements
To be granted entry into Australia and being able to study in the country, you must apply for a visa or authorization. These will vary according to your nationality and for how long you want to study, and include the following documents: Electronic Travel Authorization, eVisitor, Visitor Visa, Working Holiday Visa, and Student Visa.
With an Electronic Travel Authorization, an eVisitor or a Visitor Visa, you can study for up to three months, and each one has different requirements, costs, and processing times. For example, only people with certain nationalities may apply for an Electronic Travel Authorization or an eVisitor, whereas Visitor Visas are available for everybody.
Moreover, only students from certain countries may benefit from the Working Holiday Visa agreement, and they must be between 18 and 30 years old (up to 35 in some cases). With this visa you can study for up to 17 weeks.
Furthermore, there is the Student Visa, which is valid for up to 5 years, although it's final valid date it's determined by the duration of your studies. With this type of visa, students can work part time up to 40 hours every two weeks and bring their spouse and/or children as dependents. Another requirement is for the school to be a registered institution, so it can issue a CoE (Confirmation of Enrolment), and the course must be an English Language Intensive Course of Overseas Students (ELICOS). Finally, students must have an OSHC health insurance, that can also be arranged by the English center.
Finally, there are certain requirements for every visa and authorization. Students must meet health and character requirements and sometimes give their biometrics at a Visa Application Centre or an Australian Biometrics Collection Centre.
If you want to know more about visas and requirements, you can check the following website of the Australian government.
Age Requirements
The ESL programs available at English centers in Perth are designed for older students, so there's a minimum age requirement needed to apply for these. Normally, you must be between 16 and 19 years old, and there's no maximum limit. Nonetheless, in some cases you may find institutes that have courses for teenagers and children, with activities and lessons prepared for them.
Proof of Sufficient Funds
Most kinds for visas require for the student to submit a proof of sufficient funds for covering the expenses of staying and studying in Australia. How much you need to show proof of changes based on the type of visa and the number of weeks you'll stay in Australia. Moreover, you may have to pay the complete tuition fee or at least a part of it in advance. Other costs you need to show proof you can pay for are air tickets, accommodation, and any remaining school fees. Finally, the money must be on an account you have direct access to and can be belong to a sponsor if a close relative will pay for your course.
Minimum English Language Level
Another requirement set by English institutes and universities in Perth is a minimum English language level. This will change depending on each course, and they are normally available from beginner to advanced levels, so only a basic level of language proficiency may be required. The level on which students belong is determined with a placement test taken online, or on site once students arrive in the school. For intermediate or advanced levels, you may need to submit a proof of proficiency, such as a TOEFL, IELTS , and in some cases, the Cambridge test.
5.
Prices, dates and costs

of English courses in Perth 2023 - 2024

Explanation about main costs
As you probably imagine, different schools mean different prices and dates for ESL courses in Perth, so there are always variations depending on which center and course you choose.
However, on top of tuition costs, you should also consider extra expenses, such as housing, OSHC health insurance, access to facilities and student services, extracurricular activities, trips to nearby tourist attractions, and books.
Down below we'll list some of those items, so you can calculate how much you'll need to study in Perth.
Main costs to consider if you want to study in Perth, Australia
ENGLISH PROGRAM
Tuition costs change depending on the English center and course you choose; on top of the number of hours and weeks you'll be studying.
HEALTH INSURANCE
Student visa holders must have an OSHC insurance, for health costs coverage in Australia. This coverage is acquired from the English center or from an authorized insurance company. Travel insurance is also recommended.
BOOKS
You may need to pay extra for books depending on the school you enroll on, as some don't include them within the tuition fees.
HOUSING
As we mentioned before, Perth is a wide city, with different residential areas where you can live. Therefore, you'll spend money depending on where and for how long you'll stay. For reference, a 45m2 furnished studio apartment located in a non-expensive area in Perth can cost over a thousand Australian Dollars per month, without utilities. You can also try renting a room or staying at a homestay.
FOOD
You'll spend on food based on where you eat, whether it's at your own house or outside at a restaurant. For reference, a fast food meal costs around AUD $11. Moreover, some housing options might include food for an extra cost.
VISA
Electronic Travel Authorization: Online Application Service Charge. eVisitor: free of charge. Visitor Visa: standard fee. Working Holiday Visa: standard fee. Student Visa: a fee for the main student, another for partners, and one for each dependent child.
TRANSPORTATION
In Perth there are train, bus and ferry services you can use to move around the city. We recommend living as close as possible to your school, so you go walking or cycling.
FLIGHT TICKETS
Depending on where you fly from and the dates you choose, you may spend a big portion of your budget in air tickets, which is why we recommend looking for good prices on travel websites. As a reference, the most expensive dates to fly are holidays such as Christmas and New Year's Eve. You can find offers in between.
6. Who study English in Perth, Australia?
Students come from all over the world to learn English in Perth
Foreign students travel from different parts of the world to learn English in Perth, since it's considered by many as a terrific destination, where they can interact with native speakers and other students, and improve not only their English skills, but also enhance their professional network. Moreover, Perth is a beautiful city full of tourist attractions and fun outdoor activities, so in top of being able to grow as students, they can also have lots of fun studying abroad, a considerable advantage in comparison to learning English in their home countries.
Young Students
Young students enrolled on high school or college, who wish to learn English as way of improving their career prospects. Normally, they travel during their vacations.
Young Professionals
Less experienced young professionals that have recently graduated from College. Their purpose for studying English abroad is mainly to stand out in the job market, and/or to apply for a graduate program abroad.
Senior Professionals
Senior professionals who normally have higher job positions, and therefore interact daily with partners from other countries. This is mainly the reason why they choose to learn English abroad.
Residents
Residents who are living temporarily or permanently in Australia. They need to learn English so they can interact with native speakers and function in everyday life in an English-speaking country.
7. Photos about studying English in
Perth

, Australia

Look some of the photos of the ESL programs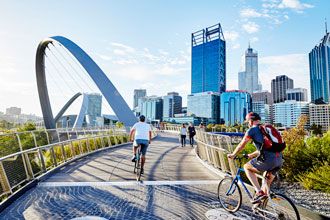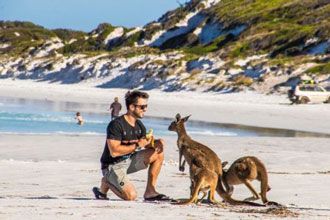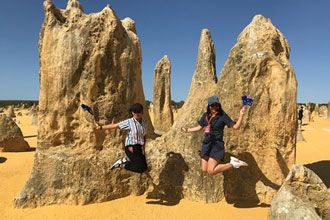 8. Videos about studying English in
Perth

, Australia

Click to watch the videos
9. Information about
Perth, Australia
Founded in 1829, Perth is the capital of Western Australia as well as its main city. Unlike other Australian cities, the city's original purpose was to be an administrative center for the Swan River Colony. In later years, it grew in part thanks to the Western Australia gold rushes in the 19th century and became the most important economic center in the state, which is also famous for its mining and agricultural activities, while on the other hand, Perth is renowned for an economy focused on the service and technological industries.
Like many other Australian cities, Perth is famous for being a cosmopolitan metropolis, with a population of two million people from different origins, and it's often listed as one of the most livable cities in the world. There you can bask in its rich cultural scene, try outdoor sports, or visit fascinating tourist attractions, all of which are great ways of putting into practice your English skills outside the classroom and enhance your professional network. Taking into consideration all of these advantages, Perth is often considered as a great city for foreign students looking to enroll on ESL programs at excelling English centers.
Down below you can see some of the best tourist attractions you must visit while studying in Perth.
Kings Park: one of the largest urban parks in the world, it's a real oasis in the middle of city, where you can relax and spend a quiet afternoon.
Swan River: this beautiful river that crosses Perth is a fantastic location to do different outdoor sports or go cycling in the different bike trails available.
Fremantle Prison: built in 1855, it's Western Australia's only building listed in the UNESCO World Heritage. It worked as a prison until 1991 and nowadays you can tour its facilities or even stay at a hostel inside a real cell.
Cottesloe Beach: one of Perth's most popular beaches, with turquoise waters, golden sands, and beautiful pine trees. You can spend a great day swimming, snorkeling, or surfing.
Perth Mint: a wonderful place to learn more about the history of gold in Western Australia.
Perth Zoo: founded in 1898 and located around 3km away from the city center, there you can discover Australia's exuberant natural beauty, including kangaroos, koalas, wallabies and much more.
The Bell Tower: at 82.5 meters tall, from there you can enjoy a great view of the city from its observation deck.
Art Gallery of Western Australia: home to numerous art collections, particularly focused on Australian pieces, including fascinating indigenous art.
Scitech: an interactive museum where the whole family can learn more about science and technology.
Aquarium of Western Australia: opened in 1988, it was once the country's biggest aquarium, and a place offering great exhibits about Australia's fascinating aquatic fauna.
Aviation Heritage Museum: this museum, around 15km away from Perth, boasts fantastic displays about the history of aviation, including planes and smaller artifacts.
Adventure World: a terrific theme park where you can have a wonderful day getting on great rides, including waterslides and rollercoasters.
10. Frequently Asked Questions about studying English in
Perth
How do I apply for a visa or permit to learn English in Perth?
Once you have a valid passport, you must obtain all the documents you'll need to apply for the necessary visa or permit. Later, you fill in an online application, and depending on each case, you may need to give extra information, such as the results of a medical checkup or your biometrics. Afterwards, you'll receive a confirmation stating whether your application was approved, and you're ready to study in Australia. More information about visas and permits can be found on this website of the Australian government.
What kind of housing options can I find in Perth?
Since housing probably will not be included within your tuition fees, you must find accommodation. English centers can sometimes offer homestays or student residences, or you could try renting a room or sharing an apartment with other students.
Is working allowed for those learning English in Perth?
Student Visa holders may work part time, for 40 hours every two weeks. If you hold a Working Holiday Visa, you can work for longer. Other types of visa or permits don't allow students to work.
Which English centers are available in Perth?
You'll find a wide variety of English language institutes and universities available in Perth. Check our website for a list of institutions.
What's the best English center in Perth?
Different schools offer different experiences, as schedules, prices, contents, and courses differ between institutions. Thus, the best English center will probably be the one that best fits your needs. Check our website to see a complete list of institutions.
Can I earn a scholarship to learn English as a second language in Perth?
There are no scholarships for students of English as a second language in Perth. Nonetheless, you may be eligible for discounts available for foreign students.
How can I pay for the English course? How does that process work?
Usually, English language schools and institutes allow for students to pay by online credit card payment and/or by wire transfer. In terms of the general payment process, you may need to pay the complete tuition fee in advance, or at least half of it, if you'll be studying for longer than 26 weeks. Finally, you'll most likely have to pay in advance for other costs, such as the OSHC.
Am I eligible for these English programs if I'm not a student in my country?
Yes, there's no problem. You can always apply, whether you're a student or not, and you only need to worry about the minimum requirements of the English course you selected.
What's the minimum age limit for ESL programs in Perth?
Normally, English Centers establish their minimum age limit at 16 to 19 years old, depending on each case. However, some schools offer special courses for younger students.
If I want to have a great time, which tourist attractions should I visit?
Some tourist spots you must visit in Perth are:

Kings Park, Swan River, Fremantle Prison, Cottesloe Beach, Perth Mint, Perth Zoo, The Bell Tower, Art Gallery of Western Australia, Scitech, Aquarium of Western, Australia, Aviation Heritage Museum, and Adventure World.
11. Testimonials of international students
Perth is an excellent city to practice your English, is a good mix between Australians and people from all over the world. I love it! I studied English in Perth before starting a program in mining at Curtin University.

I enjoyed my time in Perth. People are friendly, and the quality of living is good. I felt safe in this city day and night. You can walk or ride a bike anywhere.
12. Benefits of studying English Abroad in Perth
In the global world we live in, mastering the English language and having experience abroad is highly valued by companies and employers.
But the benefits are not only professional, as people who study abroad develop valuable skills such as competence in a new language, cultural exposure, tolerance, adaptability, leadership, and independence. All these skills are directly fostered by learning and living abroad.
Click on the screen to watch the video
Other popular destinations to study English abroad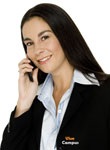 GET IN TOUCH WITH ONE OF OUR REPRESENTATIVES TO RECEIVE MORE INFORMATION ABOUT THE ENGLISH LANGUAGE PROGRAMS IN PERTH
You can write the message in your language
Get a Quote / Contact Us
To request a quote, please complete the following form. If you don't know the dates yet, please provide an estimate.
Give us a call
+1 310 341 4337