> USA
> English Courses in Santa Barbara
ENGLISH LANGUAGE COURSES IN SANTA BARBARA, CALIFORNIA
A COMPLETE GUIDE AND LIST OF THE BEST ENGLISH PROGRAMS FOR INTERNATIONAL STUDENTS IN THE CITY OF SANTA BARBARA IN 2023

Santa Barbara is one of the top destinations for learning and studying English as a second language (ESL). The city of Santa Barbara has several English language schools, institutes, and prestigious universities that offer English classes.
Santa Barbara stands out for studying English over other cities in The United States, mainly because it's located in the American West Coast, in the state of California, near the metropolitan area of Los Angeles. It's famous for its Mediterranean climate and its beautiful sights of the Pacific Ocean, so it's perfect if you're looking for a quieter location, away from bustling LA, but you still want to have lots of fun and spend time interacting with native speakers.
The city of Santa Barbara has English programs for all ages and budgets. We suggest you read this page and click on each language school you think is a good option. All universities and language institutes listed here offer English programs that allow you to apply for a student visa. Most of the programs are also available for citizens and residents in full-time or part-time options.
The most common programs are "General English" or "Academic English Programs", which allow you to improve your English level for academic or professional purposes.
Common questions
Where to study English in Santa Barbara, California?
What is the best English language course in Santa Barbara?
How can I study English in Santa Barbara?
English programs near Santa Barbara?
Cheap and good English courses in Santa Barbara?
You will find the answer to these questions on this website and a complete list of English language schools available for international students and residents. Click on the specific language school or university to get more information. You will find more details about the programs on those pages, helpful resources, and tips as housing, reviews, comments, and testimonials. As a leading world agency in ViveCampus, we can guide you in all the steps to study English in Santa Barbara, USA.
1. Best places to learn English in
Santa Barbara

, USA

English courses as a second language in top universities and institutions
Santa Barbara is a smaller city, located northwest of Los Angeles, right next to the Pacific Ocean, in the Santa Barbara county. It's sometimes considered as a single place with nearby locations such as Goleta and Carpinteria.
In Santa Barbara and surroundings we can find the following places:
Goleta
Isla Vista
Oak Park
North State
Montecito
Summerland
Toro Canyon
Carpintería
Ventura
Oak View
Mira Monte
List of English Language Schools in Santa Barbara:
2.
TOP SEVEN REASONS

TO STUDY ENGLISH IN SANTA BARBARA

One of the best destination for international students in USA
NUMEROUS ENGLISH LANGUAGE INSTITUTES IN SANTA BARBARA
In Santa Barbara, you can find numerous English language institutions, offering a wide array of high-quality English language programs.
GREAT FACILITIES AND STUDENT SERVICES AT SCHOOLS
Apart from their English courses, schools and universities in Santa Barbara also offer top-quality facilities and student services, including sport facilities, extracurricular activities, student organizations, trips to nearby tourist attractions, computer labs, recreation areas, and more.
LEARN ENGLISH IN REAL LIFE
You'll have plenty of opportunities to improve your English on an everyday basis, while you explore this great city and its surrounding areas.
NETWORKING OPPORTUNITIES FOR EVERYONE
In Santa Barbara you'll meet lots of other people, including professionals from other industries, which is incredibly helpful for networking and making new contacts.
A PRIME LOCATION TO LEARN ENGLISH
Santa Barbara is smaller in comparison to other cities such as Los Angeles and San Francisco, so you won't have any problems moving around the city, as well as visiting LA, since there are several bus and rail services, but also bike trails for commuting inside the city.
A WONDERFUL LOCATION FOR OUTDOOR FUN
Santa Barbara is perfect for people who love having fun outdoors, since it has beautiful beaches, a great weather throughout the year, and awesome places you can visit.
FANTASTIC TOURIST ATTRACTIONS
In Santa Barbara you can try different activities and visit great tourist spots, such as: Old Mission Santa Barbara; Stearns Wharf; Santa Barbara County Courthouse; Santa Barbara Zoo; Santa Barbara Museum of Art; Inspiration Point; Santa Barbara Botanic Garden; Lotusland; Santa Barbara Museum of Natural History; Paseo Nuevo; Santa Barbara Maritime Museum, Santa Barbara Harbor; among others.
3. Trends in
2023
In 2023, international students are looking for the following English language courses:
The United States of America, known for its diverse culture, world-renowned educational institutions, and lively cities, has long been a preferred destination for international students aspiring to study English as a second language (ESL) in 2023. With multiple institutions to choose from, such as private language schools or prestigious universities offering ESL programs, the US offers unparalleled opportunities for students seeking to enhance their English language skills and immerse themselves in a unique and exciting environment.
The trend of experiential learning is on the rise, where schools are integrating real-life experiences into their ESL programs. By participating in local events, interacting with native speakers, and engaging in activities that mirror everyday life, students have the chance to practice their language skills in a natural setting. This hands-on approach not only improves language proficiency but also helps students gain a deeper understanding of American culture and customs.
Another trend in the US ESL sector is the increasing focus on technology-driven learning. Schools are incorporating online platforms, interactive language apps, and digital resources into their curricula. These tools provide students with a flexible and engaging learning experience, allowing them to practice their English skills at their own pace, receive instant feedback, and access resources from anywhere. This trend is particularly beneficial for those who wish to continue their language studies after returning to their home countries.
One significant advantage of studying ESL in the US is the diverse range of institutions available. Whether you're interested in attending a private language school that focuses solely on ESL or enrolling in a prestigious university that offers ESL programs as part of a broader curriculum, the US has options to fit every need and preference. These institutions often provide additional support services, such as orientation sessions, academic counseling, and extracurricular activities, ensuring a positive and successful ESL learning experience.
The US also offers a wide variety of settings for ESL study, from bustling urban centers like New York and Los Angeles to picturesque college towns and quieter suburban areas. Students can choose a location that suits their preferences and immerse themselves in the American way of life. The exposure to different accents, regional expressions, and cultural nuances further enriches the language-learning experience.
In conclusion, the United States is an excellent destination for studying English as a second language in 2023. With its diverse range of institutions, innovative learning approaches, and vibrant settings, the US provides an enriching and immersive experience for international students. By studying and living in the US, students can not only improve their English skills but also gain valuable insights into American culture, broaden their horizons, and create lifelong memories.
4.
Requirements

to take an English Course in Santa Barbara, USA

Some programs can have their own special requirements
Visa Requirements
ESL students in Santa Barbara need a document to enter the USA and study an English course, which can be an F-1 Student Visa, a Tourist Visa or an ESTA. All of these have certain differences, such as requirements or the type of programs you're allowed to study. For example, with an F-1 Student Visa, you can enroll on intensive English programs consisting of more than 18 hours a week, for which you'll also need to be registered on the SEVIS (Student and Exchange Visitor Information System). In order to do this, the ESL school will send you a Form I-20 and an acceptance letter via post mail, that are both needed for the visa application process.
On the other hand, there are part-time programs with less than 18 hours a week that only require the student to hold a Tourist Visa or an ESTA. Which one you'll need to enroll on such programs will depend on your nationality. On this website you can read more information regarding visas and the Visa Waiver Program.
Age Requirements
English courses in Santa Barbara have minimum age requirement set between 16 and 18 years old, as these are intended for adult students. However, students below that minimum age limit can enroll on special programs for teenagers and children.
Proof of Sufficient Funds
As part of the visa application process, you'll need to prove that you have sufficient funds to pay for the different English course fees and other expenses while staying in the USA. The minimum amount of money your bank statement must include depends on how much does your program cost and for how long you'll stay in the USA. Such funds must be on a bank account that belongs to you or a sponsor covering your expenses.
Minimum English Language Level
In Santa Barbara, there are numerous English programs, offered at different levels of English, normally from beginner to advanced, so all kinds of students have to possibility of enrolling on ESL courses in California. Usually, a placement test is used to assess the current level of the students, so they can begin learning with other people at the same level. However, sometimes, for programs at higher proficiency levels, schools may ask you for the results of an English test, such as IELTS or TOEFL.
5.
Prices, dates and costs

of English courses in Santa Barbara 2023 - 2024

Explanation about main costs
When you enroll on English courses in Santa Barbara, you may notice that dates and costs are different based on where you study and the course you choose. For instance, a longer intensive program will be more expensive than others.
On top of the course, you must also take into consideration other expenses, such as: accommodation, health insurance, cost of extra services and facilities, extracurricular activities, books, among others.
You can check down below the items for which you may need to spend money while studying English in Santa Barbara, California.
Main costs to consider if you want to study in Santa Barbara, USA
ENGLISH PROGRAM
The price of the English program depends on its length, its schedule (full time or part time), as well as the school where you'll enroll.
HEALTH INSURANCE
The health insurance may be included on the final price of the course, and in some cases, it could be mandatory. Whatever the case, it'll cost depending on the number of weeks it'll cover you.
BOOKS
Books are either included with the course or bought separately. If it's the second case, it's usually a standard fee and the book changes depending on your proficiency level.
HOUSING
In comparison to Los Angeles, Santa Barbara is a smaller city surrounded by others such as Goleta and Carpinteria, which is sometimes where college students stay, as they are relatively close to the city center. As an example, a 45m2 (480sqft) apartment in a non-expensive area in Santa Barbara costs around USD $1600 a month, utilities not included.
FOOD
Food is another expense you need to consider. Sometimes, accommodation, such as homestays or residences, might include food for an additional fee, although in most cases you'll have to pay out of pocket. As an example, the average price for a fast food meal is USD $7.
VISA
Application fee for student or tourist visa: USD $160.
SEVIS registration fee for student visa: USD $350.

TRANSPORTATION
In Santa Barbara there are bike trails, and bus and train services, to move around the city and go to nearby L.A. How much you'll spend on this item will depend on the distance between your accommodation and the English school, so we suggest living as close as possible.
FLIGHT TICKETS
You'll spend on air tickets based on where you fly from and the dates you choose. We recommend quoting on different travel websites, so you can get the best prices. The most expensive dates to travel are usually in holidays, such as Christmas and New Year's Eve.
6. Who study English in Santa Barbara, USA?
Students come from all over the world to learn English in Santa Barbara
All kinds of foreign students consider Santa Barbara as an attractive destination where they can enroll on English courses in universities and English schools. That's because this city gives students the opportunity to learn English at exceling institutions, to continue practicing outside the classroom, and to interact with native speakers and other students, which is also great for networking. These offer an advantage compared to learning English in their home countries, as they don't use the language on their everyday lives and can't interact with native speakers as often as they would while studying and living in the USA. With all of this mind, students choose Santa Barbara, since it's an awesome location to not only improve their English, but to also grow as a person.
Young Students
Young high school and college students see in studying an English program abroad in the U.S. a fantastic opportunity to grow as a person and as a future professional. They normally travel abroad during their summer and winter recess.
Young Professionals
Younger professionals are usually considered to be less experienced, so they seek other ways to excel in the job market. One of these is studying English abroad in an English-speaking country, a great and effective way of obtaining faster results.
Senior Professionals
Due to their higher job positions, senior professionals hold certain responsibilities, such as communicating with partners from other countries, which is why they enroll on ESL programs abroad.
Residents
As they live in an English-speaking country, temporal and permanent residents must be able to understand and use English in everyday situations, for which they study English at institutes and universities.
7. Photos about studying English in
Santa Barbara

, USA

Look some of the photos of the ESL programs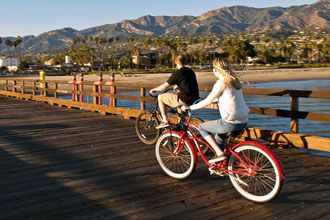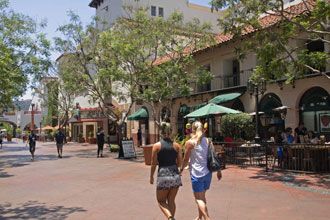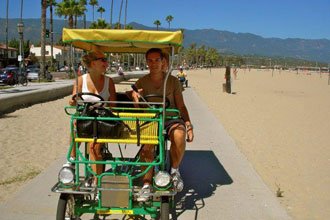 8. Videos about studying English in
Santa Barbara

, USA

Click to watch the videos
9. Information about
Santa Barbara, USA
Santa Barbara is a small seaside city located in Southern California, near Los Angeles. Founded during the late 18th century, this city is named after Saint Barbara and was part of the Spanish Empire, Mexico and later the USA. This is evidenced in the names and architectural styles of several buildings, such as the famous Santa Barbara Mission.
Moreover, apart from its Spanish colonial style architecture, Santa Barbara is also famous for its beautiful Mediterranean weather and the incredible coastal sights you can enjoy there, which makes it perfect for relaxing and spending time doing fun outdoor activities, while continuing to improve your English, away from urban bustling metropolises such as Los Angeles or San Francisco.
While in Santa Barbara, you can visit lots of tourist spots, such as:
Old Mission Santa Barbara: one of Santa Barbara's most famous landmarks, is a must-visit destination to learn more about the city's history.
Stearns Wharf: go shopping, have a nice meal or just relax enjoying great views of the Pacific Ocean in a pier that dates as far back as the 19th century.
Santa Barbara County Courthouse: built in 1929, anybody who is fond of beautiful architecture must visit this classic building.
Santa Barbara Zoo: 30 acres of natural beauty populated by a diverse selection of animal species from all over the planet, this is a fantastic place to learn and have fun.
Santa Barbara Museum of Art: this museum is home to thousands of art pieces from different parts of the world and from all over human history.
Inspiration Point: a great hiking destination from where you can enjoy fantastic sights of Santa Barbara and its surroundings, such as different Channel Islands.
Santa Barbara Botanic Garden: an incredible place to relax, enjoy a quiet afternoon and clear your mind, away from the city.
Lotusland: enjoy a guided tour through the beautiful gardens found in Lotusland, full of tropical and subtropical flora.
Santa Barbara Museum of Natural History: divided in two different locations, this museum has enlightened visitors for over a century, with exhibitions about the fascinating native nature of Santa Barbara.
Paseo Nuevo: located in downtown Santa Barbara, this picturesque shopping mall is perfect for spending time browsing the numerous stores that can be found there.
Santa Barbara Maritime Museum: explore this wonderful museum full of exhibits regarding the city's history, including the Chumash natives, fishing and diving equipment, model ships, historical photographs, its military history and information about the Channel Islands.
Santa Barbara Harbor: enjoy staring at a beautiful sunset, strolling around the pier, or having a good meal in one of the restaurants serving delicious seafood.
10. Frequently Asked Questions about studying English in
Santa Barbara
How do I enroll on an English course in Santa Barbara? How does the process work to apply for an F-1 Student Visa?
The first step is to apply for the English course, by submitting the documents the school requires, before sending you the acceptance letter and the Form I-20 via express post mail. These two documents are needed to apply for an F-1 Student Visa at the nearest U.S. embassy in your country. The process usually begins with requesting an appointment for an interview at the embassy; however, we suggest visiting the U.S. embassy website (www.usembassy.gov) to read more information regarding the specific visa application process for your country of residence.
What options do I have to book housing in Santa Barbara?
Housing is usually booked separately, since it's not included within the English course fees. Some options are student residences, private rentals, homestays or external housing offered by universities. The English school or university may also offer you more information about housing in Santa Barbara.
Is working allowed if I'm studying an English course in Santa Barbara?
Working is allowed for F-1 Student Visa holders who are enrolled at a University, and only inside the school's campus. They may work up to 20 hours a week. However, this type of employment is normally taken by regular university students, so the job availability may be scarce.
At which English school can I enroll to study an English program?
There are numerous institutions that offer ESL programs in Santa Barbara. Check our website for a full list of schools.
Which is the best institution offering English courses in Santa Barbara?
All institutions are different, with a diverse selection of English programs being offered, so it's difficult to say one is better than the other. The best school is most likely the one that best fits your needs, since there are courses for all proficiency levels, with a wide variety of different themes (i.e. English for business, English for hospitality, etc.), and different start dates. For a better selection, you can see our website to see the different ESL schools found in Santa Barbara.
Can I receive a scholarship for ESL courses in Santa Barbara?
No, there are no scholarships offered for English language courses in Santa Barbara, although you may still be eligible for special discounts for foreign students.
What payment methods are available for the English courses? How does the process work?
To pay for the English program you enroll on, you can make it via online credit card payment, a wire transfer, an international money order or a check issued by an American banking institution. The different steps of the payment process are to first pay for the application fee, which in some cases covers the shipping costs of the acceptance letter and Form I-20, and then make the final payment, either before or on the English program's start date.
Can I study an English course in Santa Barbara if I'm not a student?
English courses are available for anyone that wishes to study. You only need to meet the ESL program's minimum requirements.
What is the age limit to enroll on an English course in Santa Barbara?
The age limit is normally set between 16 and 18 years. Students that don't meet this requirement may still enroll on programs for children and teenagers.
Which are some of the main attractions I should visit in Santa Barbara?
Some of the main attractions in Santa Barbara are:

Old Mission Santa Barbara, Stearns Wharf, Santa Barbara County Courthouse, Santa Barbara Zoo, Santa Barbara Museum of Art, Inspiration Point, Santa Barbara Botanic Garden, Lotusland, Santa Barbara Museum of Natural History, Paseo Nuevo, Santa Barbara Maritime Museum, and Santa Barbara Harbor
11. Testimonials of international students
I recommend studying English in Santa Barbara. It is a small city, but it is just one hour from Los Angeles if you need something else. Santa Barbara has everything I was looking for, like amazing beaches, shopping centers, and restaurants. It is a beautiful and fun place to live. There are a lot of university students here. Therefore, it is easy to practice English.

I came to Santa Barbara because a friend of mine studied here. I love this city, the weather is amazing, you can surf after classes, and it has great nightlife. I feel very safe here, you can walk at night, and you always will see people in the streets. I recommend taking the train. It goes all around California around the coast.
12. Benefits of studying English Abroad in Santa Barbara
In the global world we live in, mastering the English language and having experience abroad is highly valued by companies and employers.
But the benefits are not only professional, as people who study abroad develop valuable skills such as competence in a new language, cultural exposure, tolerance, adaptability, leadership, and independence. All these skills are directly fostered by learning and living abroad.
Click on the screen to watch the video
Other popular destinations to study English abroad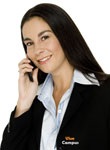 GET IN TOUCH WITH ONE OF OUR REPRESENTATIVES TO RECEIVE MORE INFORMATION ABOUT THE ENGLISH LANGUAGE PROGRAMS IN SANTA BARBARA
You can write the message in your language
Get a Quote / Contact Us
To request a quote, please complete the following form. If you don't know the dates yet, please provide an estimate.
Give us a call
+1 310 341 4337