ENGLISH LANGUAGE COURSES IN SEATTLE
A COMPLETE GUIDE AND LIST OF THE BEST ENGLISH PROGRAMS FOR INTERNATIONAL STUDENTS IN THE CITY OF SEATTLE IN 2023

Seattle is one of the top destinations for learning and studying English as a second language (ESL). The city of Seattle has several English language schools, institutes, and prestigious universities that offer English classes.
Seattle stands out for studying English over other cities in The USA, mainly because of its deep cultural roots, as it was the epicenter of 90's grunge music; its great location in the west coast near Portland and Vancouver, in Canada; for being home of the famous Starbucks café chain; its numerous museums; and the exuberant nature that surrounds the city.
The city of Seattle has English programs for all ages and budgets. We suggest that you read this page and click on each language school you think is a good option. All universities and language institutes listed here offer English programs that allow you to apply for a student visa. Most of the programs are also available for citizens and residents in full-time or part-time options.
The most common programs are "General English" or "Academic English Programs", which allow you to improve your English level for academic or professional purposes.
Common questions
Where to study English in Seattle, Washington State?
What is the best English language course in Seattle?
How can I study English in Seattle?
English programs near Seattle?
Cheap and good English courses in Seattle?
You will find the answer to these questions on this website and a complete list of English language schools available for international students and residents. Click on the specific language school or university to get more information. You will find more details about the programs on those pages, helpful resources, and tips as housing, reviews, comments, and testimonials. As a leading world agency in ViveCampus, we can guide you in all the steps to study English in Seattle, USA.
1. Best places to learn English in
Seattle

, USA

English courses as a second language in top universities and institutions
Seattle stands out for studying English over other cities, mainly because of its deep cultural roots, as it was the epicenter of 90's grunge music; its great location in the east coast near Portland and Vancouver, in Canada; for being home of the famous Starbucks café chain; its numerous museums; and the exuberant nature that surrounds the city.
In Seattle and surroundings we can find the following places:
Downtown
Chinatown District
International District
Fremont
Pioneer Square
Queen Anne
SoDo
University District
Waterfront
Ballard
Capitol Hill
Belltown
West Seattle
Bacon Hill
Madison Park
List of English Language Schools in Seattle:
Seattle, WA, USA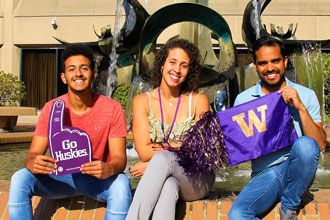 UNIVERSITY OF WASHINGTON
UW IELP
Seattle, Washington, USA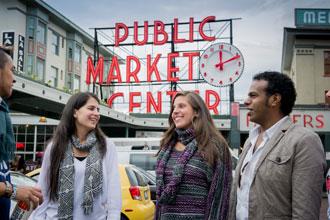 KAPLAN SEATTLE
KAPLAN
2.
TOP SEVEN REASONS

TO STUDY ENGLISH IN SEATTLE

One of the best destination for international students in the USA
A FANTASTIC VARIETY OF ENGLISH SCHOOLS
There is a wide and high-quality selection of universities and English centers where you can improve your English skills and become familiar with the language.
HAVE LOTS OF FUN WITH EXTRACURRICULAR ACTIVITIES
The universities and language institutes offer a great opportunity to socialize with native speakers in extracurricular activities, such as student and sports clubs.
KEEP PRACTICING OUTSIDE THE CLASSROOM
Seattle offers amazing possibilities to improve your English inside and outside the university campus while you have fun.
ENDLESS OPPORTUNITIES FOR NETWORKING
Being able to meet new people and have networking opportunities while you improve your English proficiency is useful for young and senior professionals.
AN INCREDIBLY DIVERSE PLACE FOR LIVING
This city has an ideal mixture of vibrating and fun urban life and exciting outdoor activities, where you can also experience long seashores, beautiful hills, contemporary architecture and renowned theaters and music festivals.
A WONDERFUL CUISINE AND COFFEE CULTURE
The most popular dishes in Seattle are seafood and dairy dishes; however, due to a mixture of Korean and Japanese culture, one of the most famous dishes is the Seattle style teriyaki. The city is also famous for its coffee culture and for being home of the first Starbucks café.
A PRIVILEGED LOCATION IN THE AMERICAN WEST COAST
Seattle is near other cities such as Vancouver and Portland. Moreover, it is also near different national parks and forests you can visit to get in touch with nature. Finally, you can visit lots of tourist spots while you study in Seattle.
3. Trends in
2023
In 2023, international students are looking for the following English language courses:
In 2023, the most popular English courses in the United States are academic English courses, preparation courses for the TOEFL or IELTS, and specific English courses for professionals such as business-focused English courses.
Many people have realized the importance of the English language, either to apply for a better job or to enhance their career, and that is why English language learning courses with a certain specialization are ideal in these times.
Due to the contingency that is currently being experienced in the world due to the pandemic (Corona Virus Covid-19), many of these English programs in the USA are being carried out online or hybrid (part online and part face-to-face) and in some parts completely in-person classes.
On the other hand, the change of government in the United States and the new policies of the new president have favored international students to study English courses and specialization programs in the USA. There are many universities and English institutes that have already started with their completely face-to-face English classes and other universities hope to resume face-to-face programs in the second semester of the year.
4.
Requirements

to take an English Course in Seattle, USA

Some programs can have their own special requirements
Visa requirements
You can study in Seattle with an F-1 Student Visa, a Tourist Visa, or even an ESTA. Which one you will need depends on your nationality and the type of program you enroll on. For example, intensive programs, usually those that consider 18+ hours of classes a week, require students to apply for a Student Visa and to register on the SEVIS (Student and Exchange Visitor Information System), all of which require a Form I-20 that the English School sends via mail with your acceptance letter. For part-time programs you will only need a Tourist Visa or a an ESTA, which will vary depending on your nationality. You can learn more about the Visa Waiver Program (VWP) by visiting this website: https://travel.state.gov/content/travel/en/us-visas/.
Age Requirements
Depending on the university or English institution, there will be a minimum age of between 16 and 18 years old, as most of these programs are aimed at adult students.
Proof of Sufficient Funds
To be eligible for a student visa (F1), you must provide evidence of sufficient funds to cover the institution's fees and your living expenses. How much money you will need to prove you have will depend mostly on the institution and specific English course and you choose. It should be noted that the funds must be in your bank account or in an account belonging to your sponsor, which can be, family member or your company.
Minimum English Language Level
Usually, students require a minimum English level, which involves understanding and being able to say simple sentences and ask and answer simple questions because you will arrive in an English-speaking city. Courses are usually offered from the basic to the advanced level, and your current proficiency will be assessed with a placement test upon your arrival. However, other programs do require a minimum level of English. In case of any doubts, do not hesitate to contact us for more information regarding this requirement.
5.
Prices, dates and costs

of English courses in Seattle 2023 - 2024

Explanation about main costs
Prices and dates for ESL courses in Seattle will depend on the institution where you choose to study and how many hours a week you will be studying.
You need to consider the fact that some universities and ESL institutions include other items on the final course fee. Some extra items that you might need to consider are accommodation costs, health coverage, course materials and supplies, extracurricular events, etc.
Studying English in Seattle involves some expenses that you have to take into account. Consider that the details below are just estimates, and the final fee will depend on the course and the institution. However, you can use this price list as a guide to calculate how much you will need to study English abroad.
Main costs to consider if you want to study in Seattle, USA
ENGLISH PROGRAM
This depends on which English course you choose (intensive or part-time, for how long, for how many hours a week, etc.).
HEALTH INSURANCE
Some institutions offer to include health insurance costs in the final price, with fees starting at $150 USD per month, while others recommend some health insurance providers you can choose from. Have in mind that all F-1 students in the U.S. must have health insurance.
BOOKS
The cost of books and supplies will depend on each institution. Prices are around $100 USD.
HOUSING
Some institutions have dormitory housing on campus, with prices starting at around $860 USD per month. Off campus options include homestay (living with a local family), or renting a private apartment, with prices starting at $1500 USD a month for a studio apartment.
FOOD
Some institutions or homestay options include food meal plans which could be basic or more elaborated. Prices will vary depending on accommodation option, how many meals a day, and how many days a week.
VISA
Both the F-1 Student and Tourist Visa include a USD $160 application fee. For the F-1 Visa you should also consider a USD $350 I-901 SEVIS registration fee. Finally, the ESTA has a total price of USD $14, divided in an application and an authorization fee. You should also consider a courier fee in case the school has to send you documents by express mail.
TRANSPORTATION
The cost depends on the time of day and distance you travel. Seattle offers different means of transportation, such as bus services, bikes, water taxis and rail travel. You can also share a vehicle with other people on a vanpool.
FLIGHT TICKETS
The cost depends on where you begin your travel, if you are flying on peak or off season, and the class you choose. Try looking at sites that look for values on several airlines and in several days. The most expensive prices are usually before Christmas and after New Year. In between you can find offers.
6. Who study English in Seattle, USA?
Students come from all over the world to learn English in Seattle
The students who enroll on these ESL courses in Seattle come from different places around the world, motivated by the opportunity to improve their academic or professional career. Usually, these students have already taken English language lessons in their countries, but do not speak the language in their everyday life, so they did not progress as they may have expected.
Young Students
Younger students tend to be people who are currently studying in school or college and usually enroll in Seattle during their summer or winter vacations. They are normally looking to improve their English skills for an academic purpose.
Young Professionals
These professionals tend to be people who already graduated from a higher-education institution and do not have many years of work experience. They are looking to learn and practice their English in Seattle to obtain a better job or enter a postgraduate program.
Senior Professionals
These are people with many years of working experience and that usually hold senior positions in companies, but have realized that their current level of English is not enough to communicate with other professionals at an international level. They ask for a leave of absence, others resign, while others use time between jobs by taking an English course in Seattle.
Residents
They are permanent American residents or temporary residents, who are usually companions of people who have been transferred to work in Seattle in the U.S. These students are looking to improve their overall English language proficiency in order to communicate on a daily basis and to understand the American mass media.
7. Photos about studying English in
Seattle

, USA

Look some of the photos of the ESL programs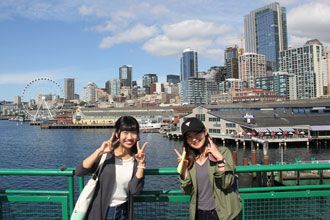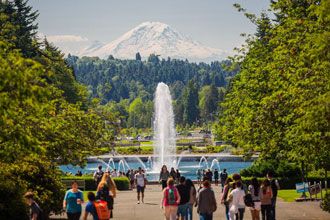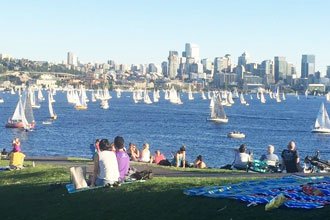 8. Videos about studying English in
Seattle

, USA

Click to watch the videos
9. Information about
Seattle, USA
Seattle, also known as Emerald City, is the biggest city in the State of Washington and it is located beside the Pacific Ocean on the west coast. It is estimated that more than 600,000 people live there. It is world famous for its grunge music scene, due to popular bands such as Nirvana and Alice in Chains, as well as by its different festivals during summers. This city has a well-known coffee culture, since it is the home of Starbucks Coffee, which the first one in the world which was opened at Pike Place Market. This market is the city's first farmers market, it is located on Seattle waterfront and is open 363 days a year.
This city has many famous landmarks such as the Space Needle, which is an observation tower that you must visit for the spectacular full city plus mountains view you will get, also has a deck of 500 ft with a rotative 360° restaurant called SkyCity. Located next to the Space Needle you can find the Chihuly Garden and Glass, an extraordinary museum which contains glass exhibits, a fall or spring gardening workshop, barre fitness, etc. Also, Seattle has many other extraordinary museums, such as the Museum of Pop Culture, Seattle Art Museum, Museum of flight and Frye Art Museum.
If you love animals you cannot miss visiting the Seattle Aquarium, which has daily activities, such as the diver show, whales of the Salish Sea and story time, in which you can participate and enjoy a great experience. Explore northwest trek, with their amazing tour, where you can choose what kind of tour you want to take depending of your preference.
Seattle's rainy weather make it an extraordinarily clean city surrounded by impressive nature, wonderful hiking trails, parks and gardens. Finally, you must take into account that in the summer the maximum temperature can reach almost 102°F degrees and in the winter the temperature can go as low as 3.2°F.
10. Frequently Asked Questions about studying English in
Seattle
Can I travel only with an ESTA permit for a full-time intensive program (18+ hours a week) if my country has an agreement?
An intensive English program (18+ hours of classes a week) requires a F-1 student visa, so even if your country has an ESTA agreement or if you already have a tourist visa, you must have an F-1 student visa to take an intensive English program You can only take a part-time English program (less than 18 hours a week) with an ESTA permit or tourist visa.
Which are the different steps of the application process for the F-1 student visa to study a certificate program in Seattle?
Please check with us what type of visa you need to take the program you are interested in.

All full-time programs in the U.S. require a F-1 student Visa. With an F-1 visa, you can extend your stay in the United States as long as you continue studying.
Part-time programs (18 hrs/week or less) can be taken with a tourist visa or visa waiver ESTA. With a tourist visa, you can only stay in the U.S. the duration your tourist visa allows, since your main purpose in the U.S. should be tourism.

If you need an F-1 student visa, please apply as soon as you receive your acceptance documents (I-20 form) from the English school. In some countries it can take several weeks to obtain a visa interview at the U.S. embassy.

You must confirm these steps on the website of the U.S. embassy in your country. You can look for your nearest U.S. embassy here: https://www.usembassy.gov/
Is there an age limit to enroll on an English course in Seattle?
For some universities or English language institutions, the minimum age is between 16 and 18 years old. However, there is no maximum age limit.
Which is the best university or institution to study English as a second language (ESL)?
On this same website you can see the best English language institution; therefore, you can choose any institution you wish based on your needs and goals.
Can I obtain a scholarship if I enroll in an intensive or part-time program?
Unfortunately, universities and institutions do not offer scholarships for English language courses. However, some institutions offer price discounts for international students. So do not hesitate to contact us if you need further information regarding prices.
Can I work while I study an English program in Seattle?
According to the F1 student visa regulations, you can work on the University campus 20 hours at most per week, but unfortunately, the institutions reserve these jobs for degree students, so English language students do not have many opportunities. Moreover, the ESL schedule does not have many free hours to work on campus.
Which payment methods are available for ESL programs?
The payment methods available depend on the university or English center you choose. Usually the institutions ask for an initial fee around $200 USD, which covers the shipping cost of the documents you will need to apply for the student visa. The program cost is usually paid once you arrive at the institution, and the payment method is preferably credit card. We can help you If you need help with this process.
How much money will I need while I stay in Seattle?
It is recommended that you make an estimated cost sheet with the fees and extra items. It is important that you have a cash cushion, in case of any emergency, so you are not caught by surprise.
Which neighborhood is better for living?
It depends on your lifestyle. If you want a quieter neighborhood, entertainment areas or a place near the University campus. In consequence, some people could love and think they are living in the best neighborhood, while others may think otherwise. That is why the choice is up to you.
11. Testimonials of international students
Learning English in Seattle was an incredible experience. The atmosphere of this city is without a doubt the best. The people are very friendly, even with my basic English I felt confident speaking in the stores and places I visited, and that I think was the key to be able to move to an intermediate/high level which was my main objective. However, beyond the fact that I learned English, what I value the most is my life experience in Seattle. It is a technological and cosmopolitan city, with people who have come from all over the world, so being an international student here is very easy. I 100% recommend studying English in Seattle.

Deciding to take an English course in Seattle was the best decision of my life. Seattle is a dream city, I was fascinated by the lifestyle that I have here, all the attractions, the musical culture, outdoor activities, and without a doubt, the coffee...haha. There are many places to visit like the historic Pike market place, the ferris wheel, the zoo, and all the parks are amazing. Every week we visited at least 2 different places with my classmates so it was easy for me to practice English outside of classes and I was able to have an immersive experience with the language that made me achieved the fluency I wanted. Seattle is now my favorite city to live.
12. Benefits of studying English Abroad in Seattle
In the global world we live in, mastering the English language and having experience abroad is highly valued by companies and employers.
But the benefits are not only professional, as people who study abroad develop valuable skills such as competence in a new language, cultural exposure, tolerance, adaptability, leadership, and independence. All these skills are directly fostered by learning and living abroad.
Click on the screen to watch the video
Other popular destinations to study English abroad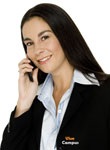 GET IN TOUCH WITH ONE OF OUR REPRESENTATIVES TO RECEIVE MORE INFORMATION ABOUT THE ENGLISH LANGUAGE PROGRAMS IN SEATTLE
You can write the message in your language
Give us a Call
+1 310 341 4337